The 19 Best Halloween Shirts for Adults for 2023
Pumpkin spice season is in full swing, which means that spooky season is right around the corner. Whether you're looking for something to wear to a Halloween party, a low-effort costume, or just an easy way to share your autumnal excitement, you'll need a unique Halloween shirt that shares your spooky spirit with your adult friends, family or co-workers. There are plenty of adult Halloween shirts to consider, depending on whether you want to trick readers with a spooky design or treat them to a themed laugh. You can choose a classic Halloween shirt like a jack-o-lantern or pick your favorite show or movie series to show you've got the Halloween spirit. Or, if you're trying to get a laugh, funny Halloween shirts for adults can be a great conversation starter and "costume" for parties.
2023's Best Halloween Shirts for Adults
Looking for the best Halloween shirts for adults? Look no further. We've scoured the Internet to put together a list that's sure to have something for everyone – and just like the pumpkin patch, you can pick the one that's right for you. No matter what you're trying to say about the Halloween season, we've got a shirt recommendation that'll captures attention, aligns with your interest, draws a laugh, and gets people into the spooky spirit. From classics to funny tees to cultural references; we've handpicked 19 of our favorite Halloween shirts we've seen for 2023.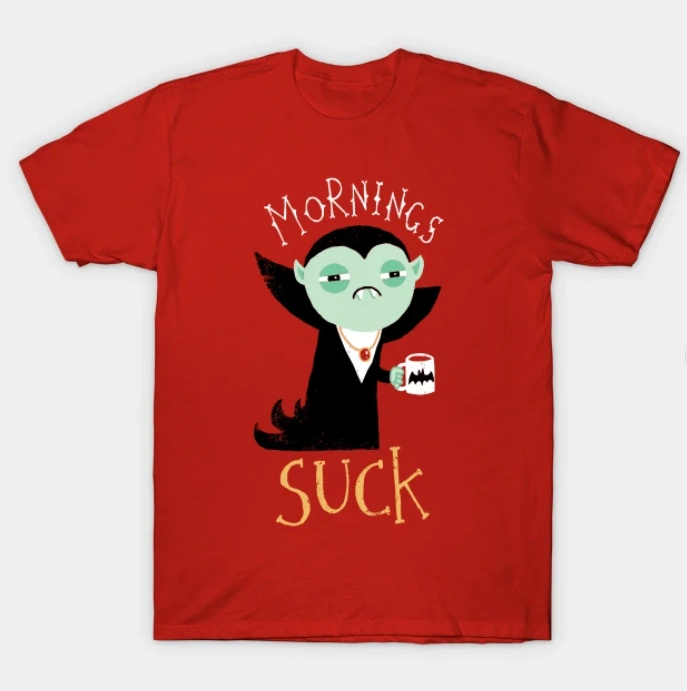 Creatures of the night and humans share a disdain for mornings that sometimes only coffee can fix. Does anyone like getting out of their bed (or coffin)? With this vampire tee, you can share your feelings with the world while also sharing in the holiday spirit.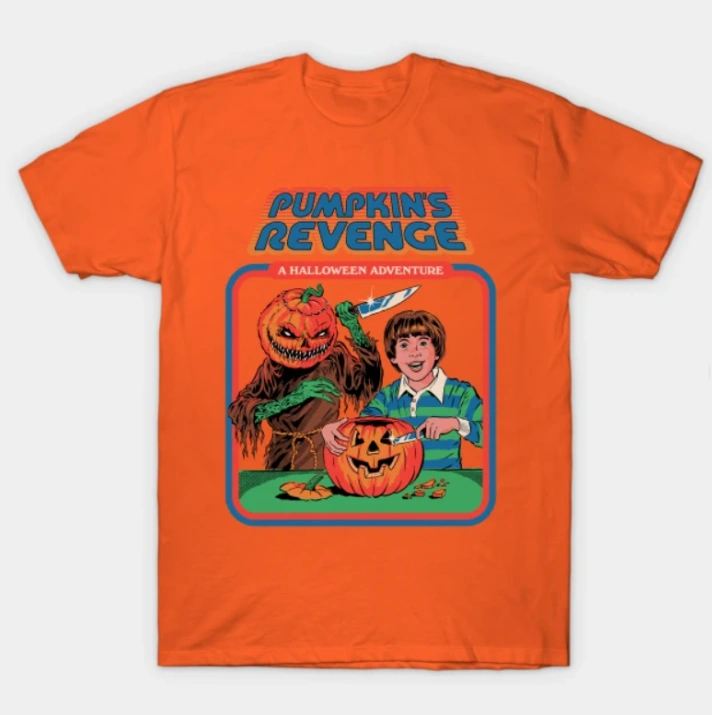 Jack-o'-lanterns are an iconic Halloween tradition that everyone can get involved with, whether you're carving the pumpkin's face or scooping out its guts. This tee is great for fans of dark humor and retro video games from yesteryear – or anyone who's ever wondered how pumpkins feel about all of this Halloween celebratin'. And you don't have to get it in orange, this tee comes in multiple colors.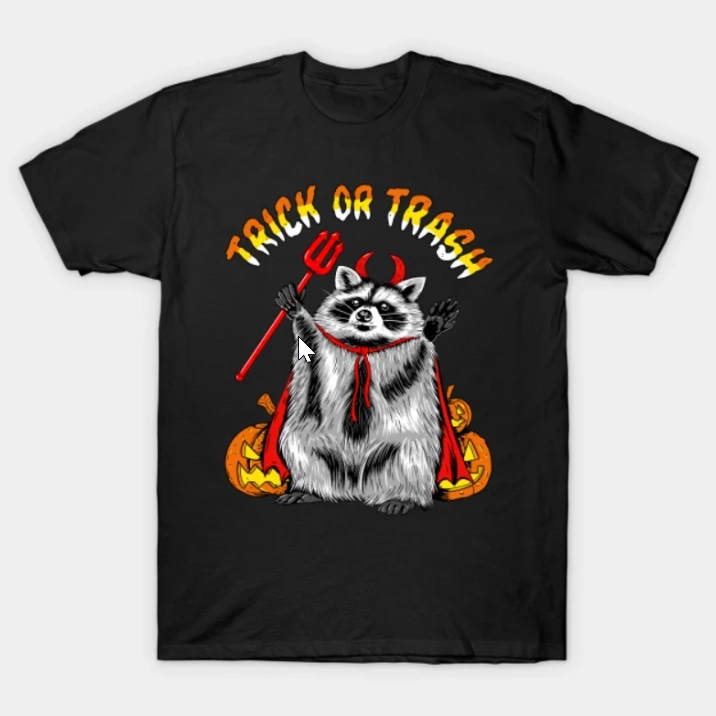 Maybe raccoons are your 'spirit animal' or maybe you just love those funky little trash pandas, as they've been nicknamed. This tee's raccoon doesn't care about candy, but he would like your trash – and he even wore a Halloween costume to ask for it!

If you've ever dressed as a vampire for Halloween, you've probably uttered the phrase "I want to suck your blood" in your best attempt at a Transylvanian accent but this vampire's therapist wants you to know vampires are more than that.
People will try to tell you that Christmas is the best holiday, but we all know it's Halloween. We love this straight forward shirt from our friends at Wicked Clothes. If your vibe is more of a black and orange than green and red, this shirt is perfect for rockin' around the spooky tree.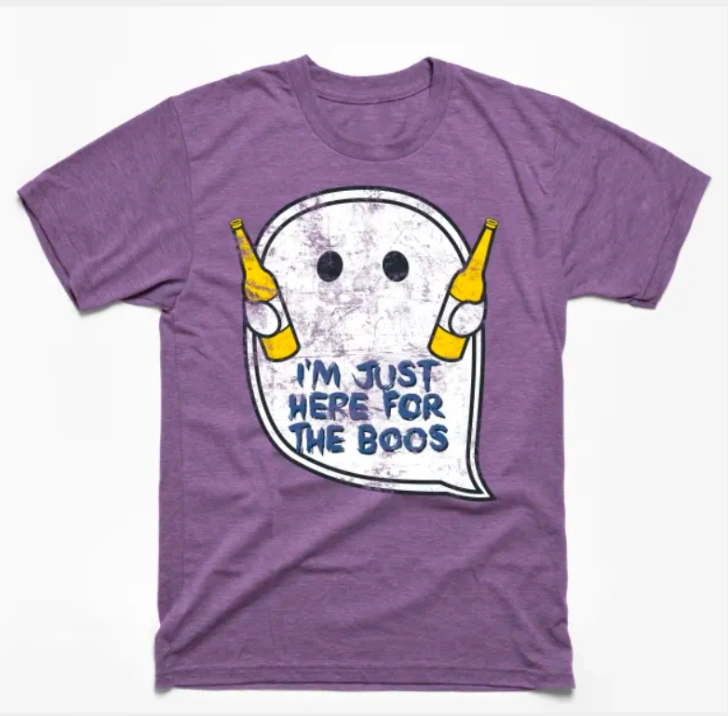 "Boos," get it? Are you an introvert with an extroverted partner or the type to agree to plans as long as there will be booze? Or maybe you're just a party animal. Whatever your preference, let it be known with this tee that you're only here for the booze – er, boos. Boo.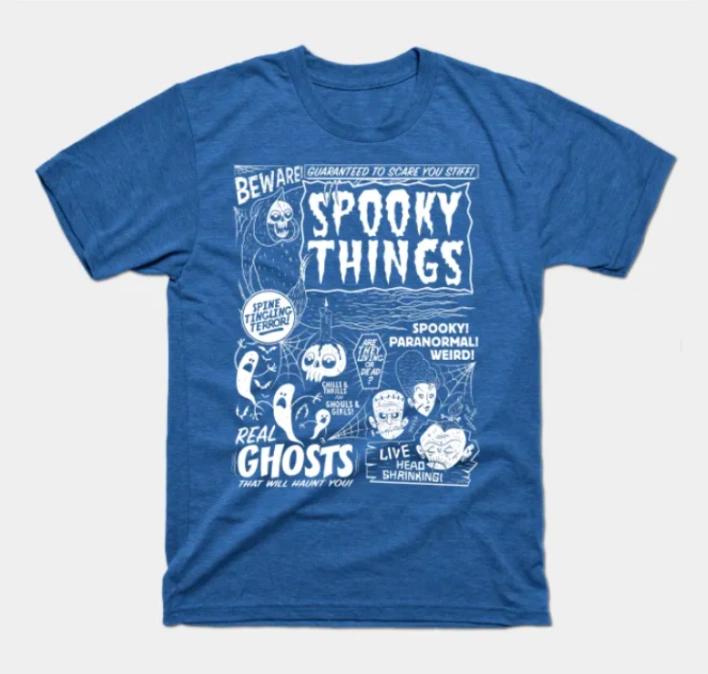 Vintage horror films introduced the world to some of our favorite monsters. Vampires, mummies, zombies, ghosts, and even Frankenstein were all brought to new levels of popularity. This Spooky Things tee, aptly named and decorated with monsters, allows you to express your love for all things, well, spooky.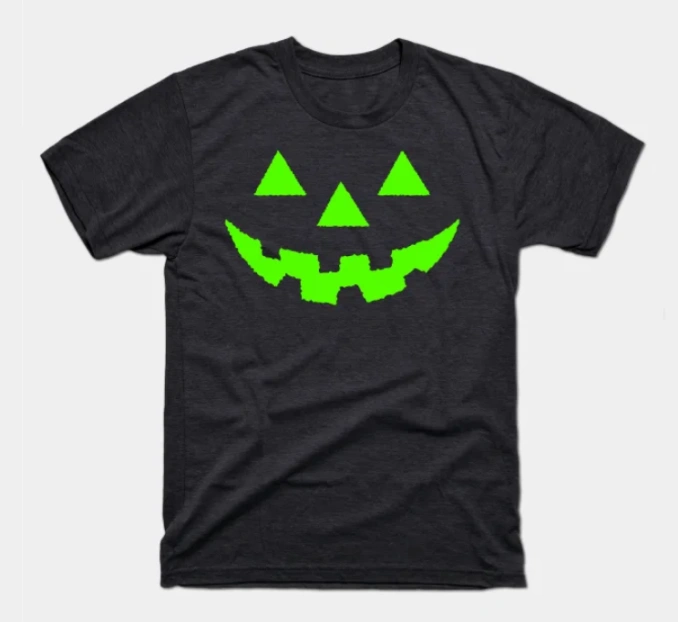 Jack-o'-lanterns are a Halloween staple, and one of the best (and easiest) ways to show your Halloween spirit. This tee adds to the fun, with a glow-in-the-dark design to help you stand out amongst creatures of the night.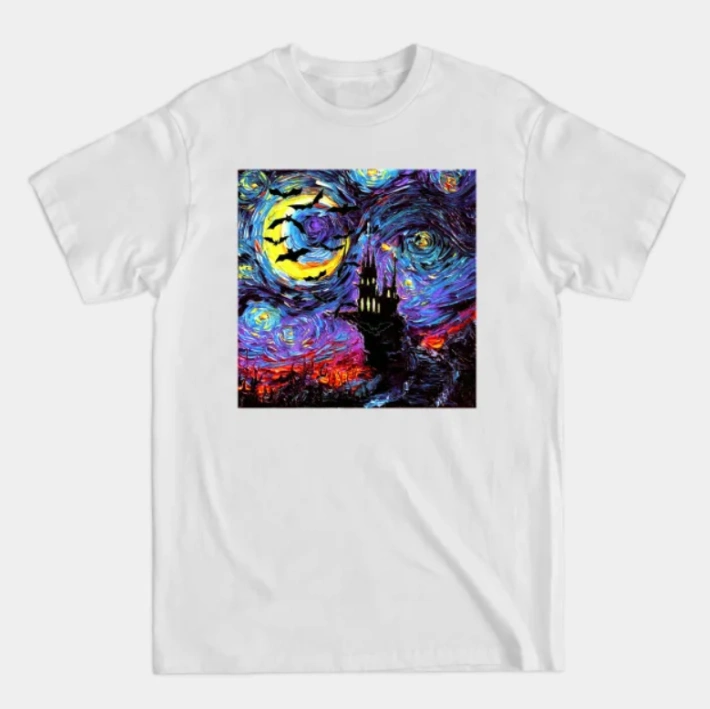 A perfect Halloween tee for the art enthusiasts out there, this design combines Van Gogh's The Starry Night with the Gothic aesthetic of Transylvania, home to everyone's favorite vampire – Dracula. And this Vincent Van Gogh-inspired shirt comes in dozens of colors.
Halloween parties are the perfect excuse to drink but don't get absolutely Hallowasted. This T-shirt is great for partiers, drinkers, or anyone who wants to just have a little fun this Halloween. Just don't spill your guts on the pavement like this tee's pumpkin did. (Editors Note: For some reason, Spirit's page isn't loading the Hallowasted product page anymore)
Taylor Swift's impact was definitely felt this year in more ways than her multi-continent tour. Swift's tour may have ended, but you want to keep the Eras Tour going in the last few months of 2024. It's hard to argue. Represent both Swifties and Halloween with this five-star-rated Eras Tour Ghost tee featuring each of Taylor Swift's albums as an era-appropriate ghost. It's the perfect gift for any fan, without the scare of Eras Tour ticket prices.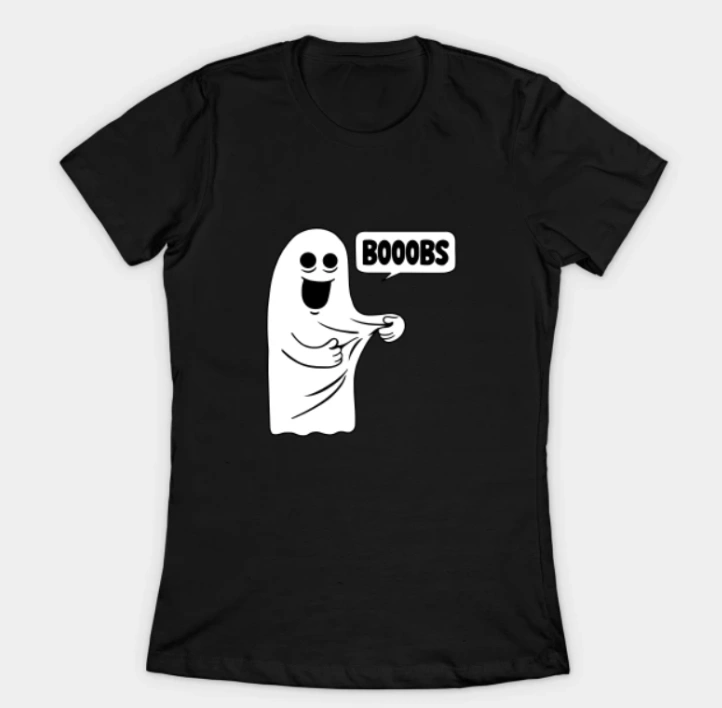 If you're looking to get a laugh out of someone, there's nothing better than a pun! This party-ready, play on words t-shirt turns everyone's favorite exclamation to scare people into a joke about one of their favorite body parts.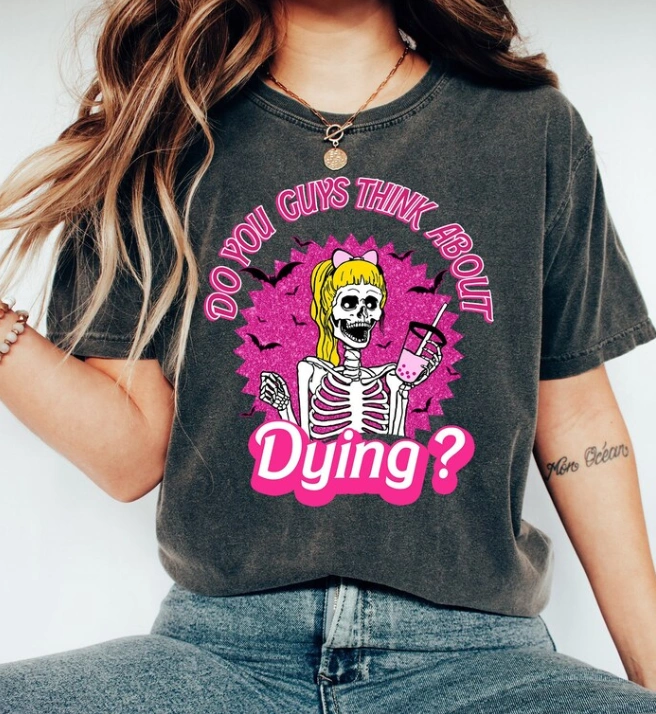 There's a few pop culture phenomenon that defined this year. Barbie was certainly one of them. The blockbuster launched several iconic quotes into the lexicon. And Barbie's existential crisis felt a little too familiar. Maybe you're contemplating mortality or maybe you're really comfortable with it. Be the star of your own Barbie movie this Halloween with this tee that asks her show-stopping question, featuring a never-before-seen Skeleton Barbie. You can pick it up from Etsy.
While your partner may be your dream man, is he the man of your dreams? What about Freddy Krueger? This punny tee allows you to unleash your inner nightmare, stand out amongst the darkest of dreams, and make your love for Freddy known.
Finding the right shirt for a Halloween costume can be stressful and time-consuming, and sometimes it's easier to just pull on a tee shirt for a DIY costume. Instead of cutting holes in a bedsheet to be a ghost this Halloween, grab this tee announcing your "boo sheet" costume.
For over three decades, Beetlejuice has been a Halloween staple, with its popularity only growing as it was adapted into a musical. Whether you're a fan of the movie or the stage show, you'll love this tee as everyone who reads it helps you summon your favorite demon.
Scream's iconic slasher Ghostface wants to know your favorite scary movie, so it's time to settle in on the couch and get down to business (or maybe up to something else). Grab a partner to "chill" with, all your favorite horror films, and maybe this five-star-rated Halloween T-shirt.
Black cats and pumpkins are among the most popular Halloween symbols, and this tee combines both with a jack-o'-lantern in the shape of a cat's face. If you're a cat owner or just love the combination of sweet and spooky, this five-star-rated Halloween T-shirt is the one for you.
Do you count down the days to Halloween, waiting for it to be socially acceptable to express your excitement for the spooky season? Well, get ready, it's time! This tee, featuring a black cat, ghost, jack-o'lantern, and grim reaper, invites you on a ride to the spooky side.
Find A Scary-Good Halloween Shirt This October
The best part of Halloween is being able to dress up, but not every Halloween has to be a production that requires multiple layers, way too hot, and a one-time use before it ends up in the back of the closet. From the start of Spooktober through to All Hollow's Eve, there are plenty of Halloween t-shirts options that can help you get in the "spirit" and double as everyday wear for when you're feeling monstrous. Choose the options that express how you feel about the costumed occasion, add some humor to the season, and put a little bit of spookiness to your wardrobe year-round. No matter which you choose, you're sure to pick a Hallo-winner from our list of the best adult Halloween t-shirts.