The 31 Best 50th Birthday Gifts for Men
Do you have a dad, friend, partner, or other male loved one who is about to celebrate their 50th birthday? Whether they welcome the second half of their life or would rather avoid talking about getting older, it's a special occasion that deserves a meaningful gift for your quinquagenarian. Over the past 50 years, your loved one has had time to accumulate experience, knowledge, and most of all, a lot of stuff. It's hard to know what to get for the man who has just about everything at this point. So, we've compiled the best 50th birthday gifts for men to celebrate their half-century milestone with a unique, sentimental, or funny gift that matches how they feel about hitting the halfway mark.
31 Of The Best 50th Birthday Gifts for Men
From somber acknowledgment to excited celebration to outright (sarcastic) hatred for their birthday, we've found the perfect 50th birthday gift for your dad, uncle, partner, or friend. We've compiled a long list of 50th birthday shirts and other clever gifts for that 50 year old dude in your life.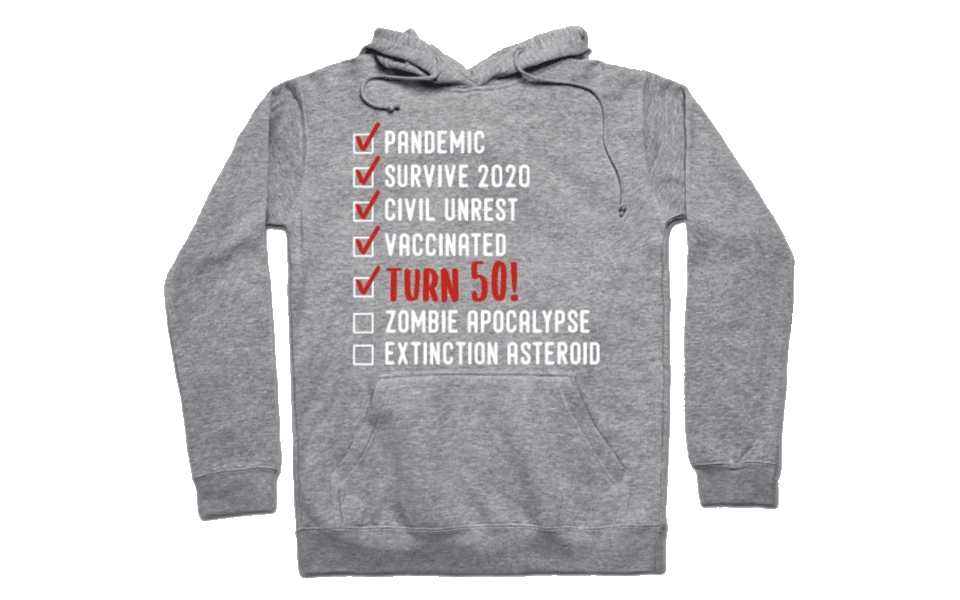 Hoodie | TeePublic | by ZOHAN | 6 colors
Some men wear their age like a badge of honor, an accomplishment only some can achieve. Turning 50 is now something your loved one can check off his bucket list, along with surviving a global pandemic and getting vaccinated. With this hoodie, he can stay warm and share his pride.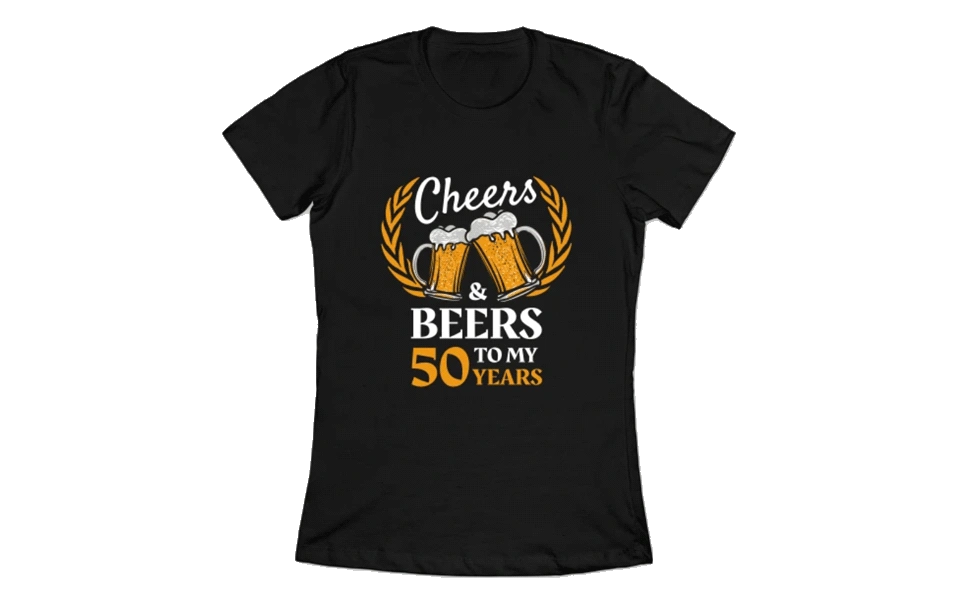 T-Shirt | TeePublic | by Havous | 2 colors
Planning a night of drinks for your friend or family member's 50th birthday? Ready to knock back some beers and cheers to the birthday boy? Help him get in the party spirit with this fun 'Cheers & Beers' t-shirt, a perfect gift for his birthday celebration.
T-Shirt | TeePublic | by XanderWitch Creative | 21 colors
In recent years, it's become a new trend to measure one's years in weeks, days, hours, and minutes. For the younger generation, it's easy. But when Dad is turning 50, that probably feels like way too much math – and this jesting t-shirt would agree. Screw it, he's old.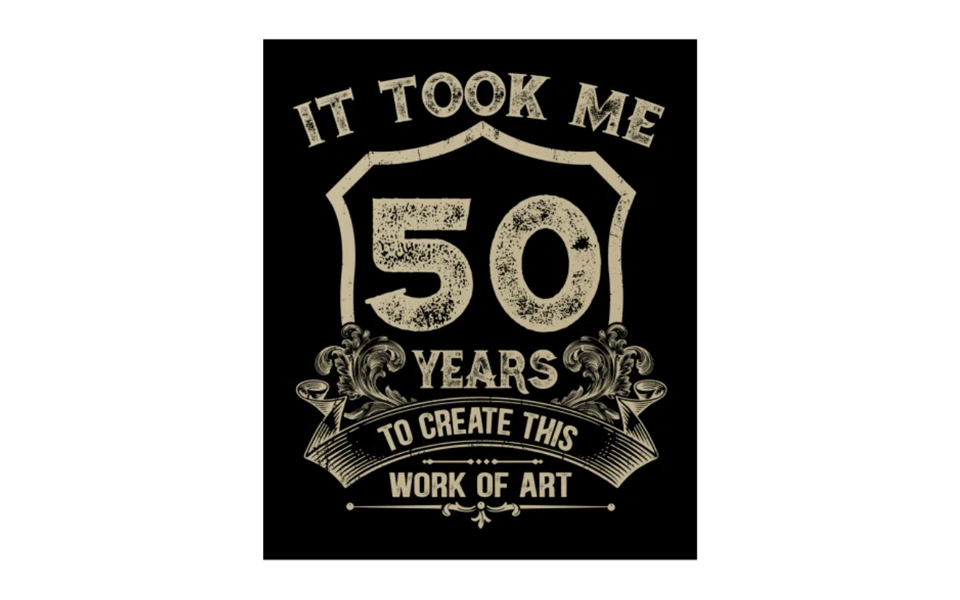 Poster | TeePublic | by Jandjprints
Looking good at 50 is a blessing that not many experience. Your loved one, though, is one of the lucky ones who is fortunate enough to age gracefully. Let him and anyone who enters his home know that he's a work of art, a masterpiece crafted over 50 years.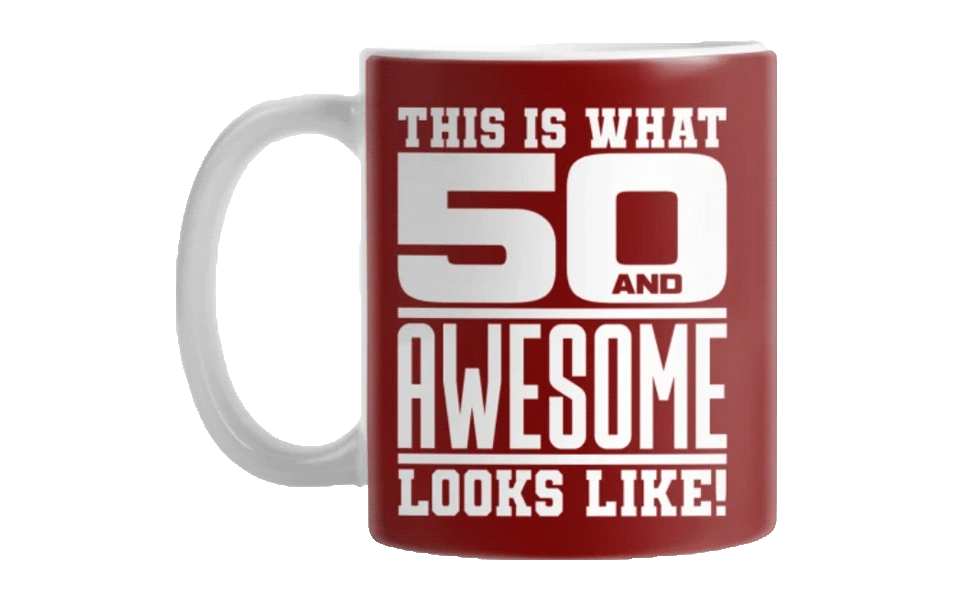 Mug | TeePublic | by colorsplash
You know that your dad, uncle, or brother is awesome, but is he aware of his awesomeness? Whoever he is to you, he deserves to know how you feel, and what better time to tell him than his 50th birthday? With this endearing mug, he'll be reminded every morning.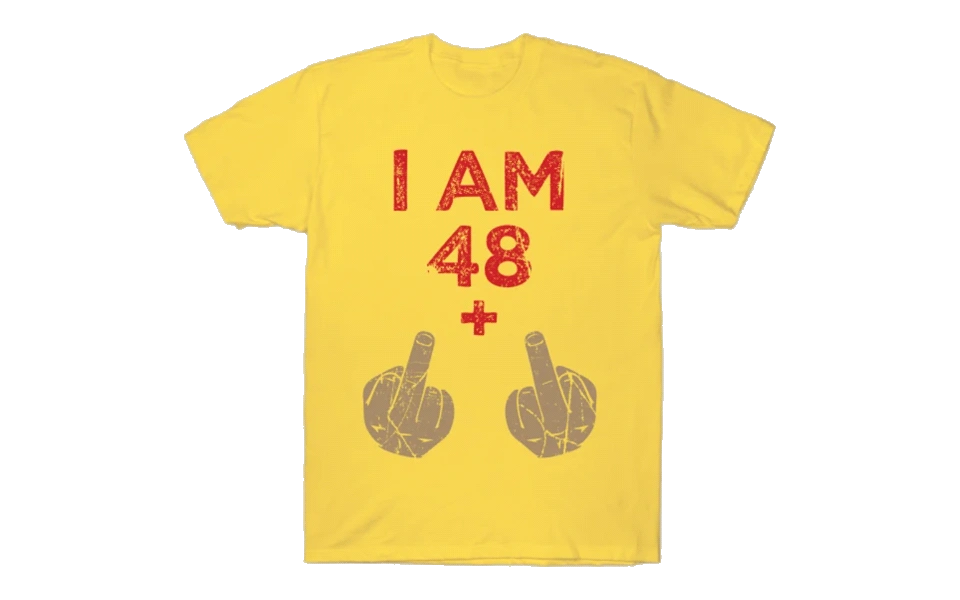 T-Shirt | TeePublic | by ourwackyhome | 28 colors
Does your friend absolutely hate that he's turning 50? Do you love teasing him just to watch him get riled up? If he has a playfully mean sense of humor, consider gifting him this humorous double middle-finger birthday tee (available in 28 colors) that's sure to earn some laughs.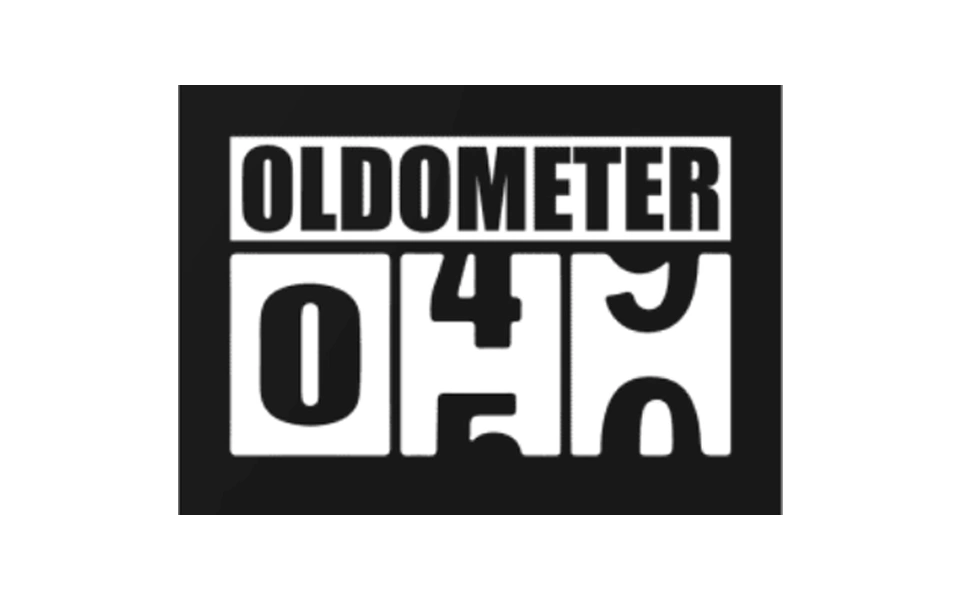 Art Print | TeePublic | by TrendJunky | 27 colors
As Dad crosses over the threshold to 50, he's officially entering "old" territory. With this tee, aging can be more fun than scary. Like the analog odometer in his first car or two, this "oldometer" design tracks the mileage of his life, with numbers ticking from 49 to 50.
T-Shirt | TeePublic | by thingsandthings | 21 colors
While society as a whole treats 50 like it's the new 90, it's really only half of a person's life. 50 years old? No, they're 50 years young! Help your loved one view their age in a new light with this funny 50% loaded life t-shirt.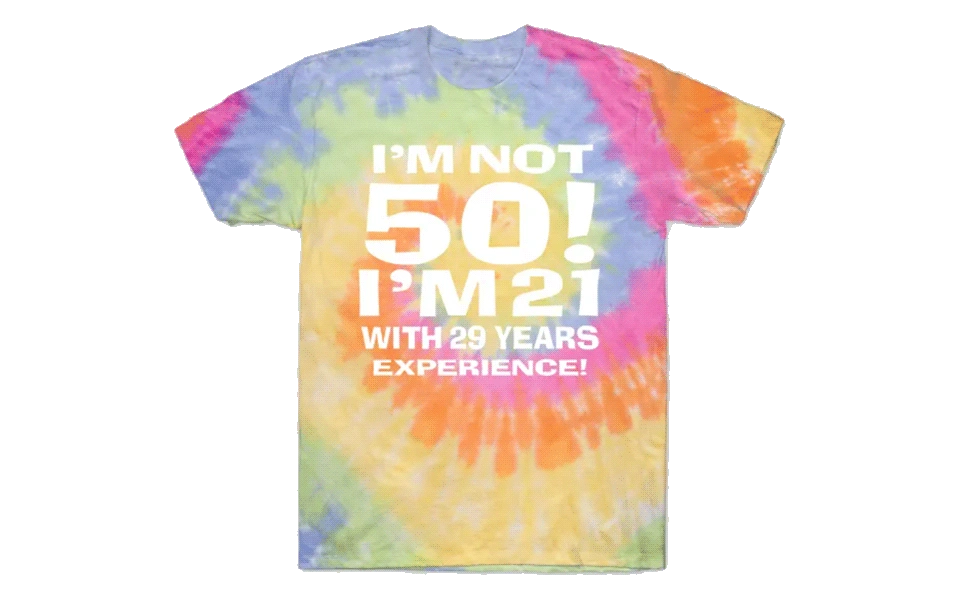 T-Shirt | TeePublic | by Edward L. Anderson | 21 colors
Does Dad drink like he's still in his 20s? Can he keep up with the college-aged kids at family barbecues, matching them beer for beer? If he's a young soul in an old body, he'll love this playful 'I'm 21 with 29 years experience' tee. Math is mathing with this 50th birthday shirt.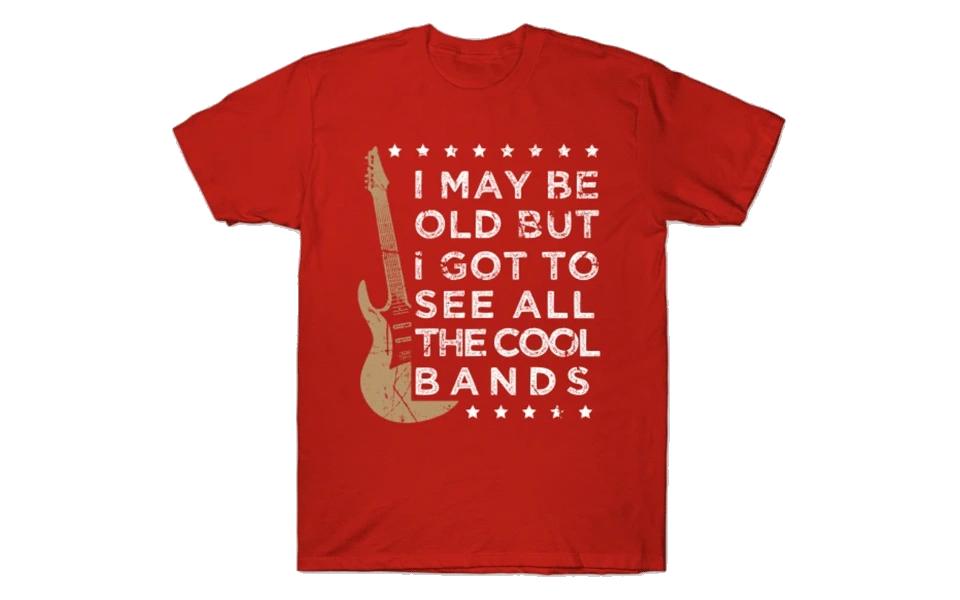 T-Shirt | TeePublic | by

ourwackyhome

| 28 colors
While the kids may rag on him for being old, can
they
say they got to see Nirvana live? What about Guns N' Roses? Black Sabbath? What about Metallica – for less than $30? Remind the old man of his bragging rights with this cheeky tee for his birthday.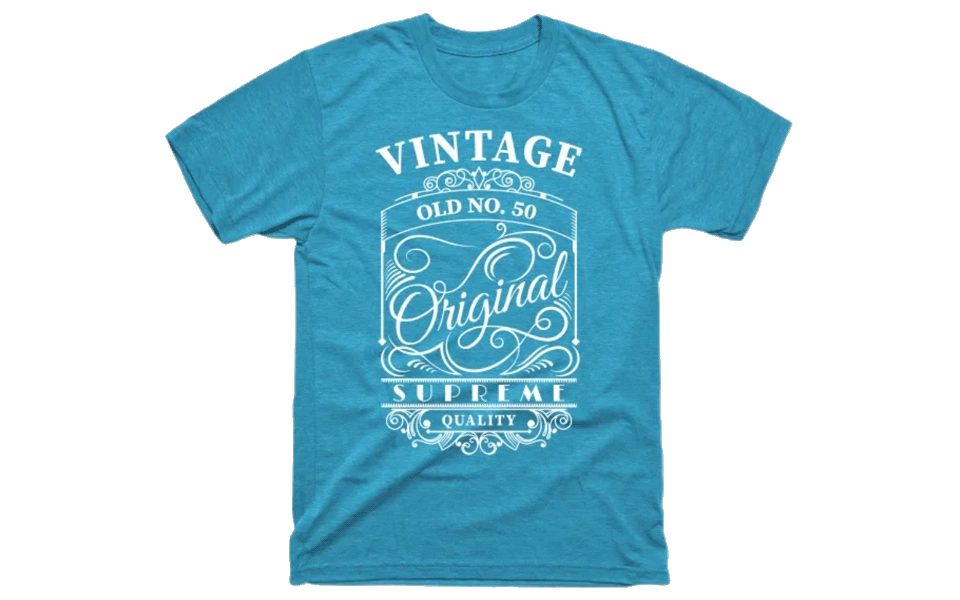 T-Shirt | TeePublic | by captainmood | 21 colors
Stylized like a whiskey label, this t-shirt proclaims its wearer as "vintage," making the added note of old a little less harsh. And just like his favorite vintage whiskey, the man in your life has only gotten better with age. With this tee, make him feel seen on his birthday.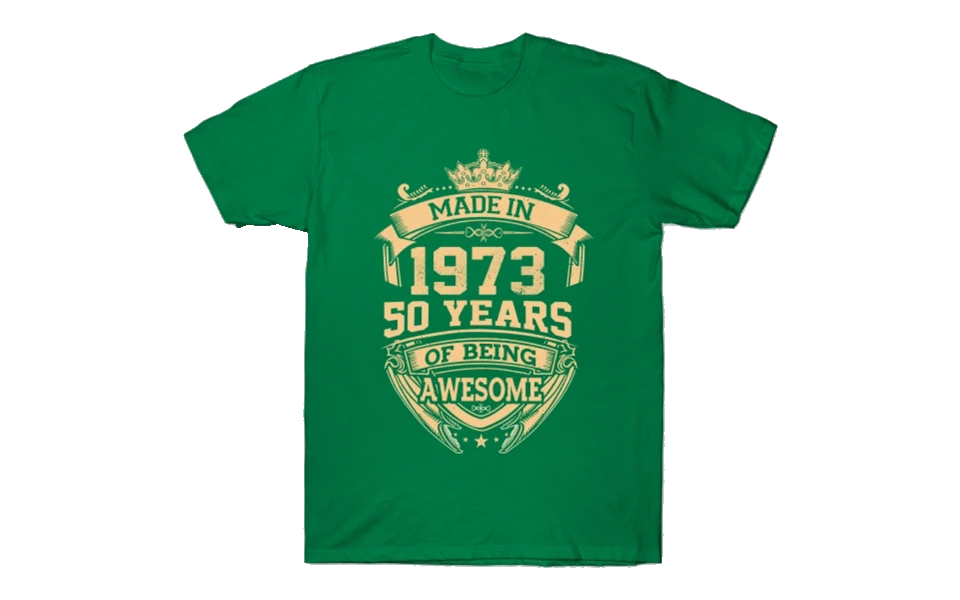 T-Shirt | TeePublic | by Mhoon | 28 colors
1973 was a year of some historic events, including the first mobile phone call and the invention of ethernet. But most importantly, it was the year that your loved one was born – and they've been awesome ever since. Let them tell everyone they meet with this stylish tee.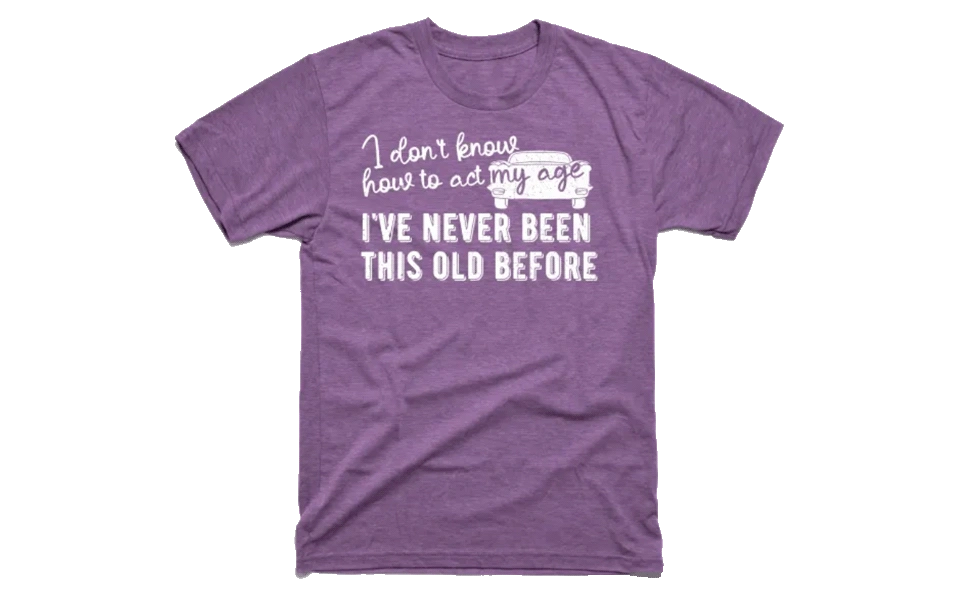 T-Shirt | TeePublic | by Gaming champion | 20 colors
Everyone knows that maturity and age do not always go hand-in-hand. Some folks hold onto their youth well into their later years, never losing their childlike joy and wonder. If your loved one is buckets of fun, they'll love the gift of this funny 'never been this old before' tee.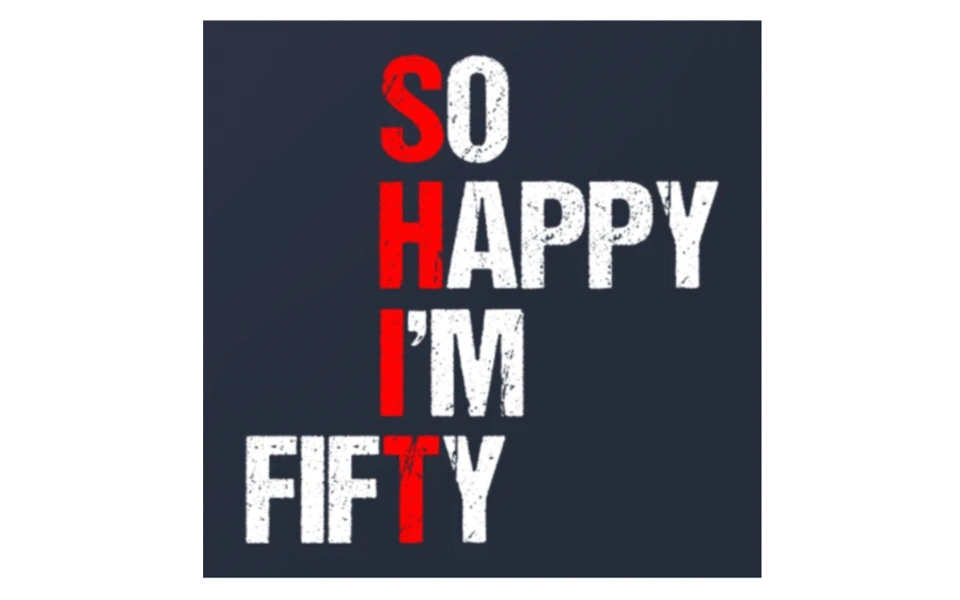 Art Print | TeePublic | by setupniness
Everyone dreads getting older, especially the closer they get to reaching middle-aged. We're sure your old man is no exception. With this humorous print's subliminal messaging, you can help him express his excitement and disdain about his 50th birthday simultaneously.
Mug | TeePublic | by Prescillian Art
Any fan of rap or hip-hop will appreciate this N.W.A. stylized mug. And even those who don't care for that kind of music will still appreciate the lighthearted approach the mug takes to aging, with "straight outta my forties" making any man's 50th birthday a little less daunting.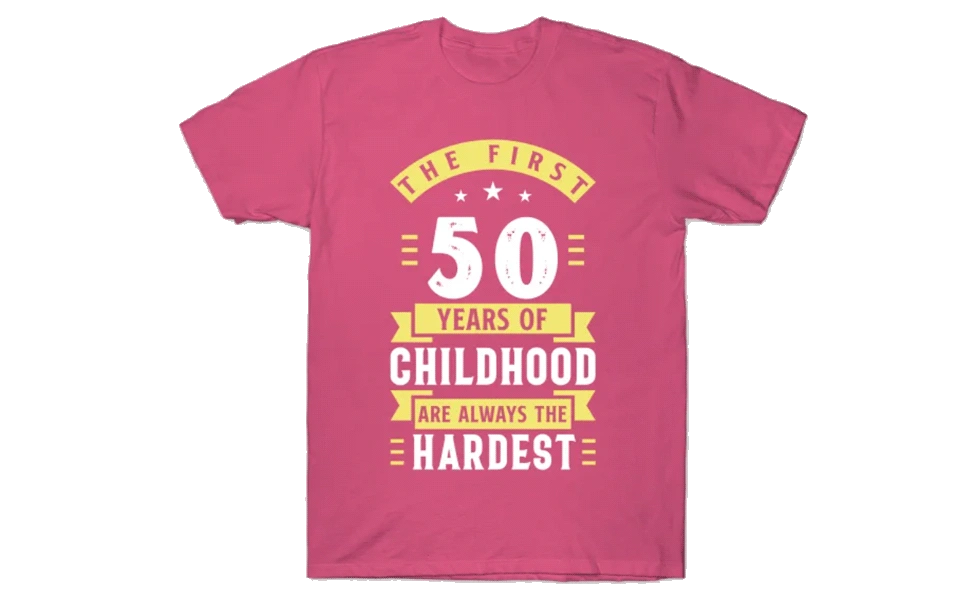 T-Shirt | TeePublic | by Teewyld | 28 colors
Who says childhood has to end? When you can live to 100, the first 50 years of your life are essentially all childhood – and they're hard. While a man's life gets easier after 50, it wasn't always, and this playful tee helps acknowledge that while still celebrating his birthday.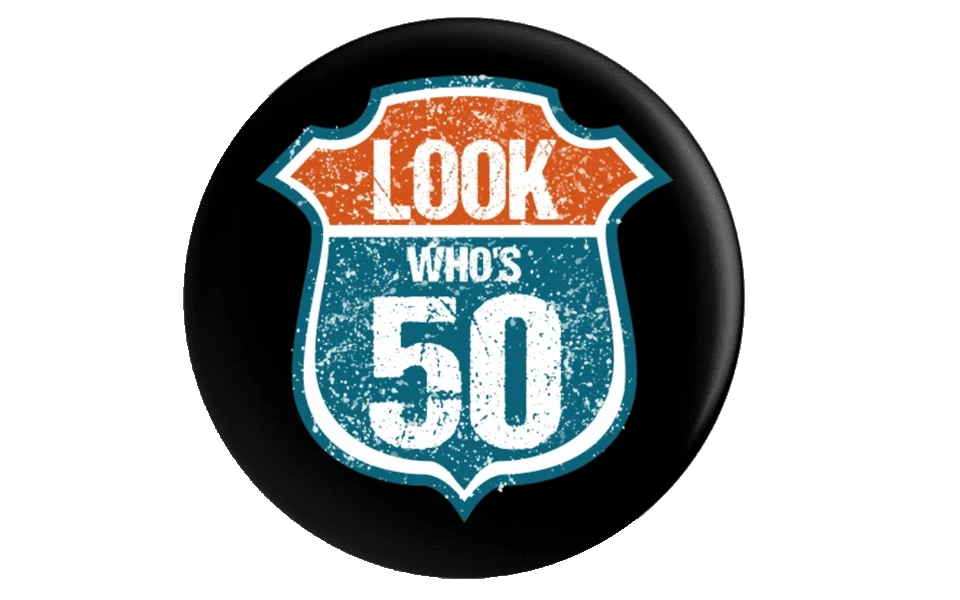 Pin | TeePublic | by Hemdfrau
Turning 50 is a major milestone that is worth celebrating, a mile-marker on the highway that is life. With this flashy pin, you can let your loved one be the star of the show, the center of attention, as he wears his age on his chest.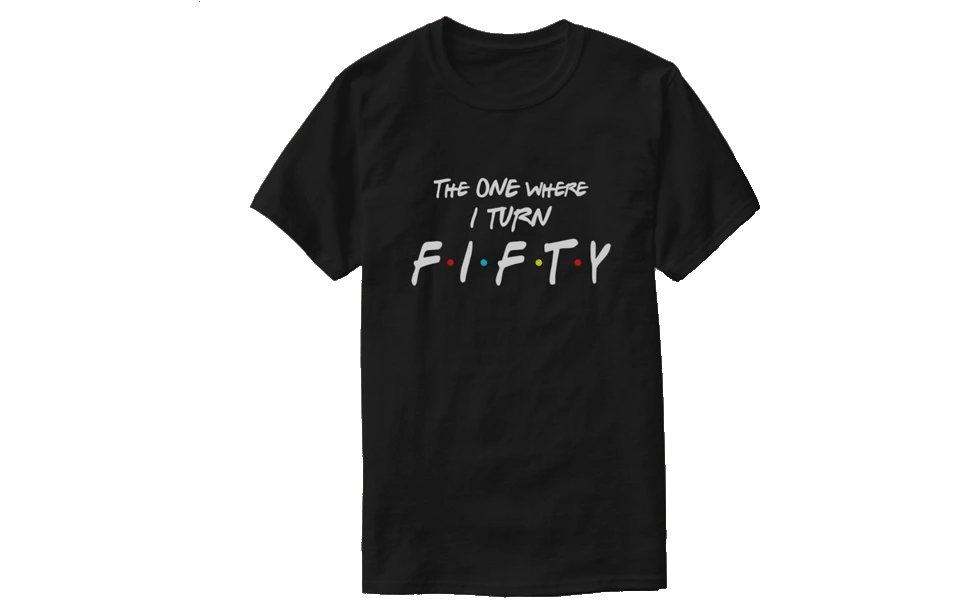 T-Shirt | Zazzle | by TarynLadonna | 17 colors
Back in his younger days, your dad probably watched Friends as it was airing, when he was a similar age to the characters in the show. Whether his love for the show is newer or dates back to his 20s, he'll appreciate this Friends episode title-stylized 50th birthday shirt.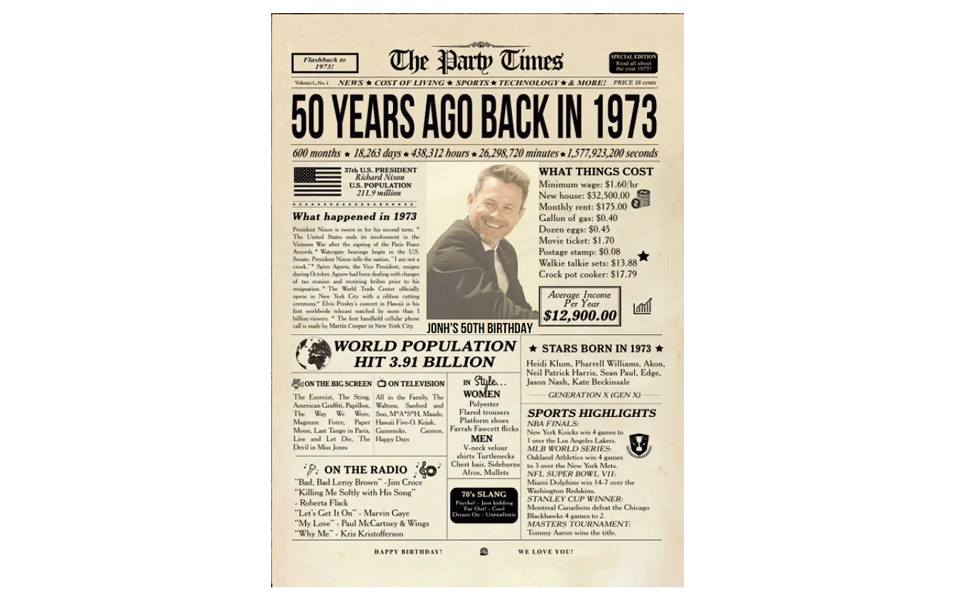 Poster | Gerbera Story
Who doesn't love reminiscing on their youth? The '70s were a great time with lots of iconic styles, though maybe sideburns should stay there. With this nostalgic print, your loved one can learn about everything that happened the year he was born while remaining the star of the show.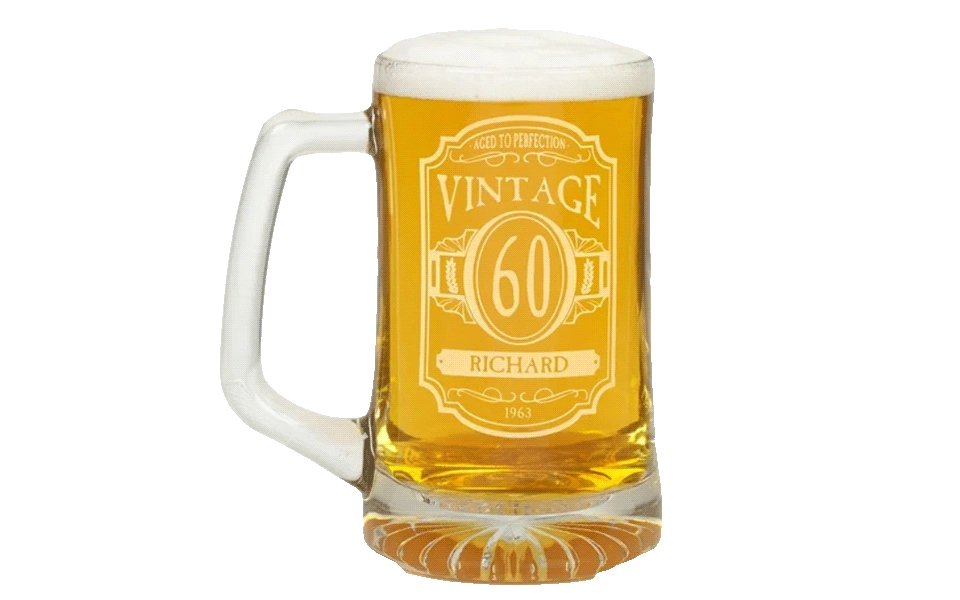 Beer Mug | Personalization Mall
As he celebrates his 50th birthday, let the man in your life know he's "aged to perfection" with this customized beer mug that's etched with his name and age. At 25 ounces, it holds two full bottles of beer, so he'll be the life of the party every day.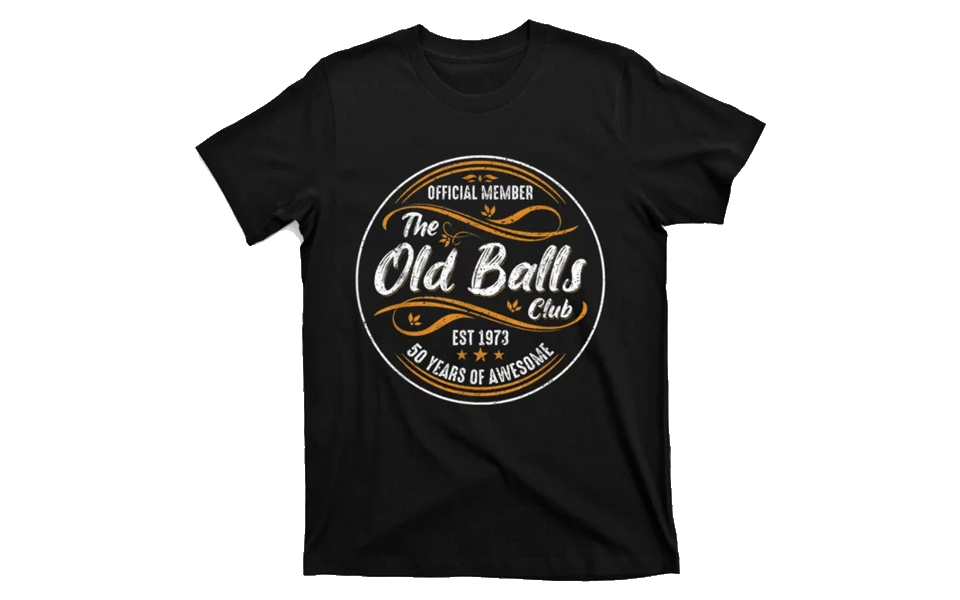 T-Shirt | Tee Shirt Palace | by marc.0110 | 19 colors
Now that your friend or family member is turning 50, he is officially a member of the Old Balls Club. While there's no formal induction process for new members, you can still welcome him to the club with this cheeky tee, available in sizes up to 6XL.
Blanket | GodMerch
Your loved one is full of admirable qualities – and so is this blanket. With a crossword design, it's a gift and a game to see who can find more words (and the hidden 50th birthday message). The fleece will warm his body while the thought of it warms his heart.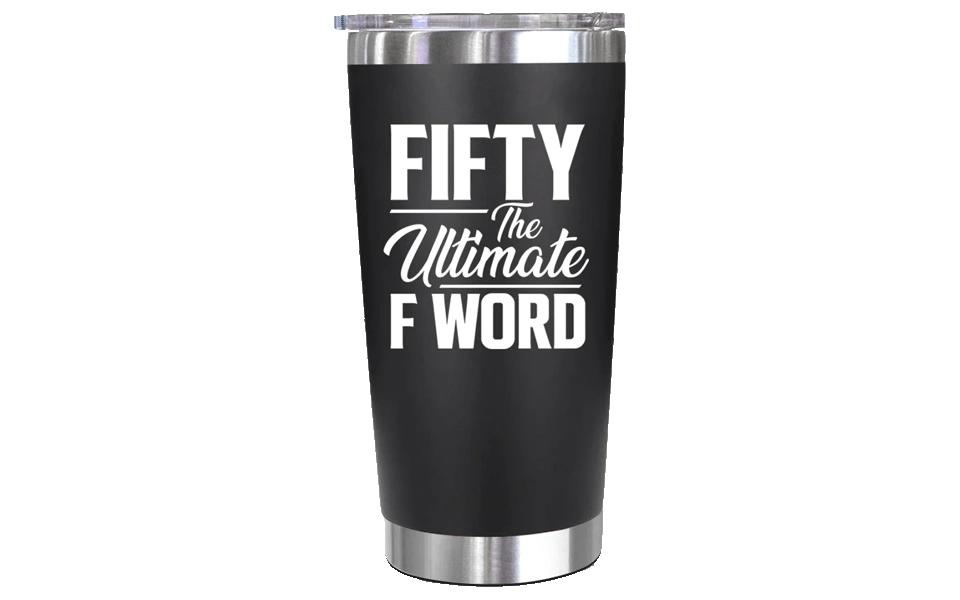 Tumbler | NewEleven
Age can be a touchy subject, especially once people start calling you old. For your friend turning 50, his age may be the ultimate f-word, worse to hear than any actual curse. This durable tumbler is lighthearted enough to bring lots of laughs – and he can bring it anywhere.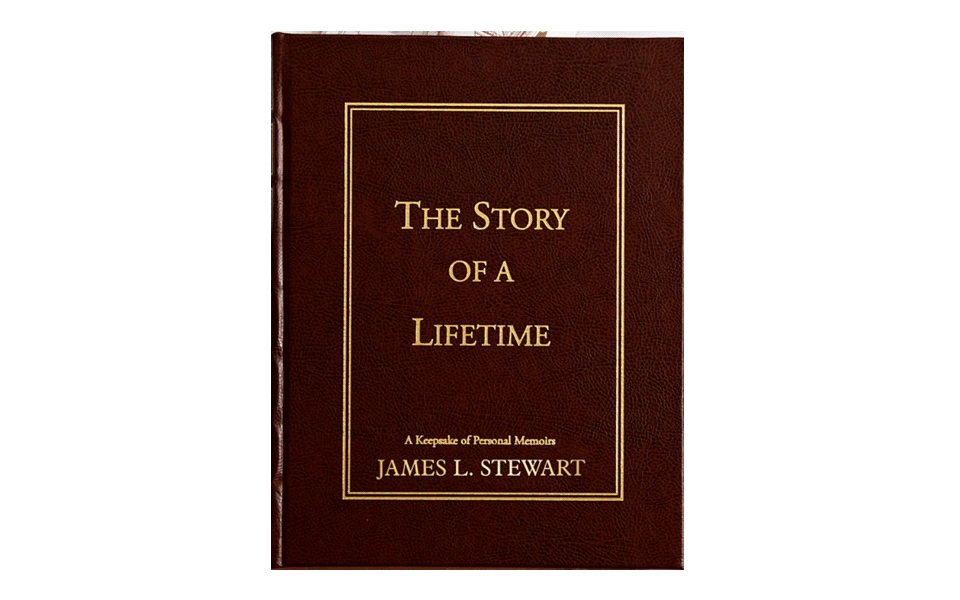 Book | gifts.com | 2 colors
In the digital era, having physical keepsakes is rare – but it doesn't have to be. Make Dad feel cherished. This thoughtful and thought-provoking personalized leather (or leatherette, depending on color) notebook features nearly 500 questions about his life to ensure he knows he's remembered forever, especially on his birthday.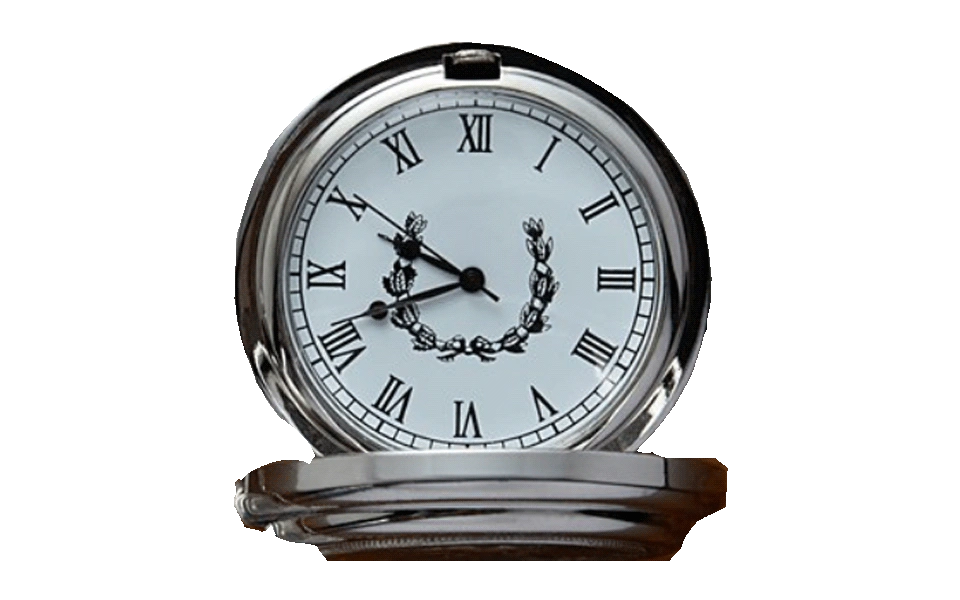 Pocket watch | gifts.com
It might be a little old-school, but a pocket watch is a timeless gift for special occasions and what's more special than a loved one's 50th birthday? Even the design itself is special, featuring a half-dollar coin from his birth year (to commemorate 50 with 50¢) and his monogrammed initials.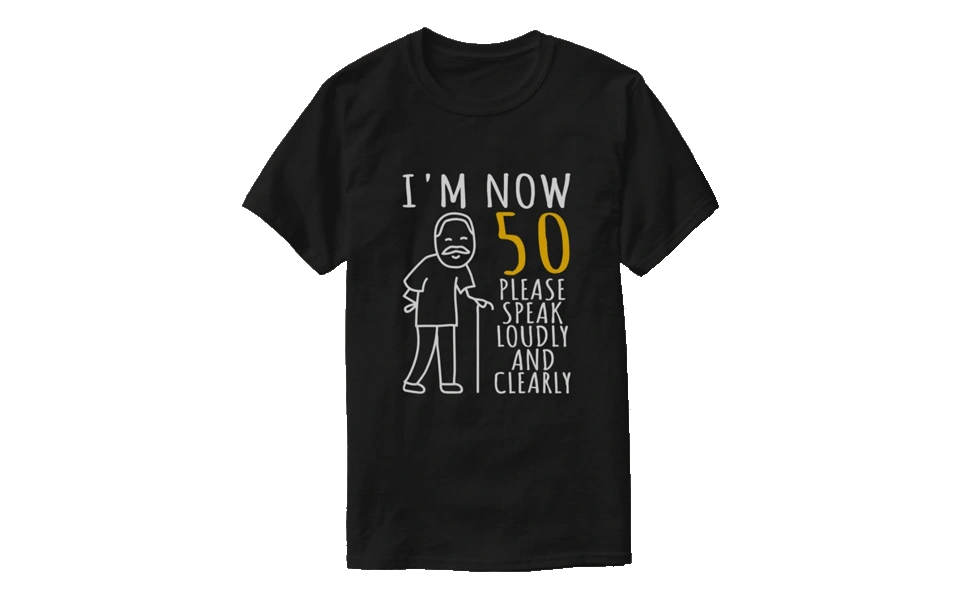 T-Shirt | Zazzle | by BlankenbeckleNaloni1 | 17 colors
Do you feel like you're always repeating yourself? Convinced that Pop is definitely going deaf? While 50 isn't that old, he seems like he's getting up there in years. If you're tired of being asked to speak up, poke fun at his hearing (and his age) with this playful tee.
T-Shirt | Redbubble | by deepstone | 19 colors
As you age, it's easy to feel like you're no longer important. With this 'Old Lives Matter' tee, you can remind the birthday boy that he still matters, even as he turns 50. Not only is it sweet, but it's also a gift that's sure to bring plenty of laughs.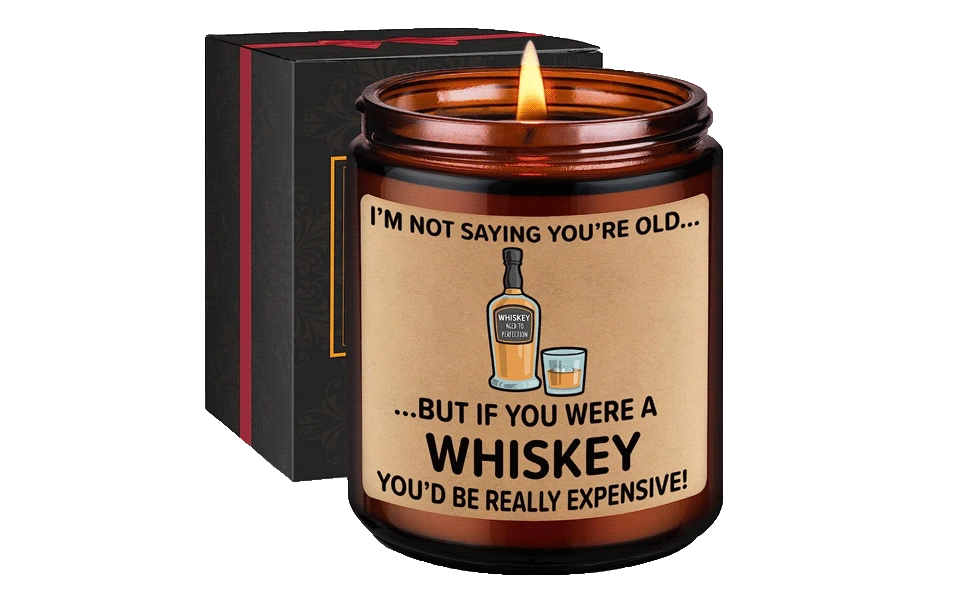 Candle | Amazon | by GSPY | 2 colors & scents
There's no polite way to call someone who's 50 old, but this candle at least does it gently. Like whiskey, your friend has only gotten better with age – whether in looks or in spirit. And if he were a whiskey, he'd be the top-shelf stuff. Isn't that nicer than "old"?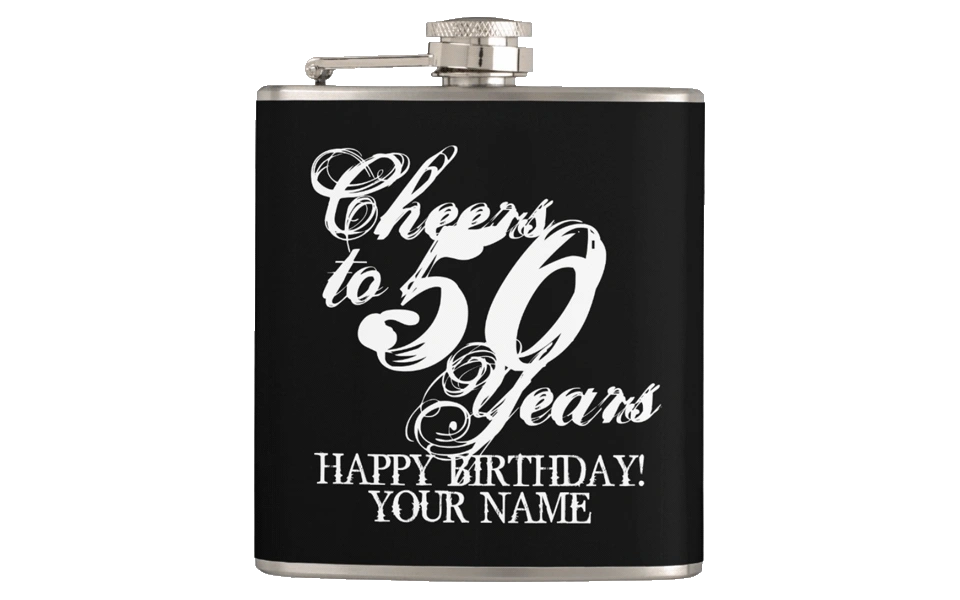 Flask | Zazzle | by logotees
Is the fact that he is turning 50 driving Uncle John to drinking? Is he less of a beer guy and more of a bourbon fan? Sometimes the old man needs a discreet drink after a long day, and what better gift to give him than this unique, customized flask?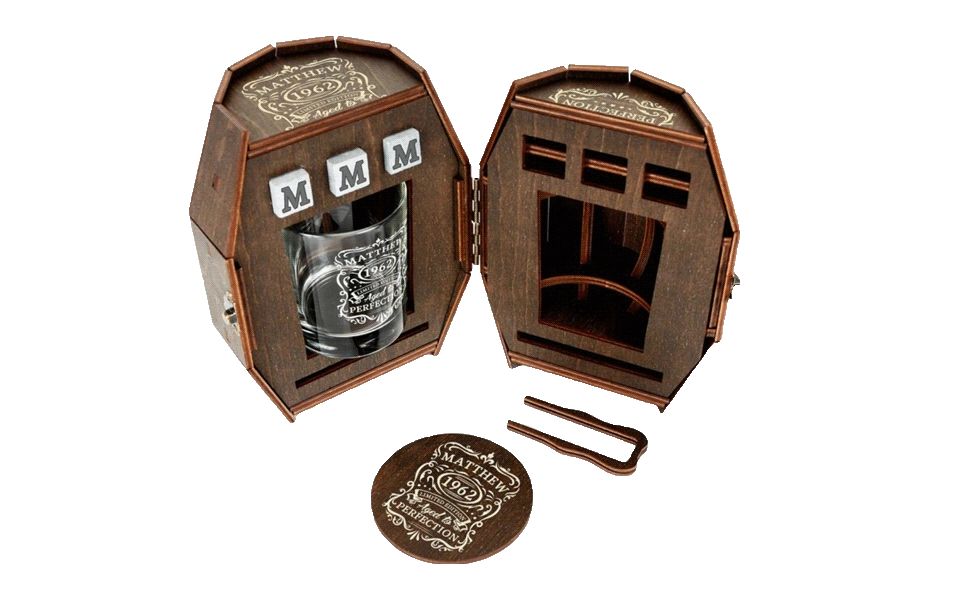 Whiskey Glass Set | Etsy | by KitchenBarStore
Few things are nicer than settling down by the fire with two fingers of whiskey. Whether your husband, dad, or friend is a connoisseur or just a simple whiskey enthusiast, this custom whiskey glass set (including a wooden barrel) is the perfect way to help him celebrate his 50th birthday.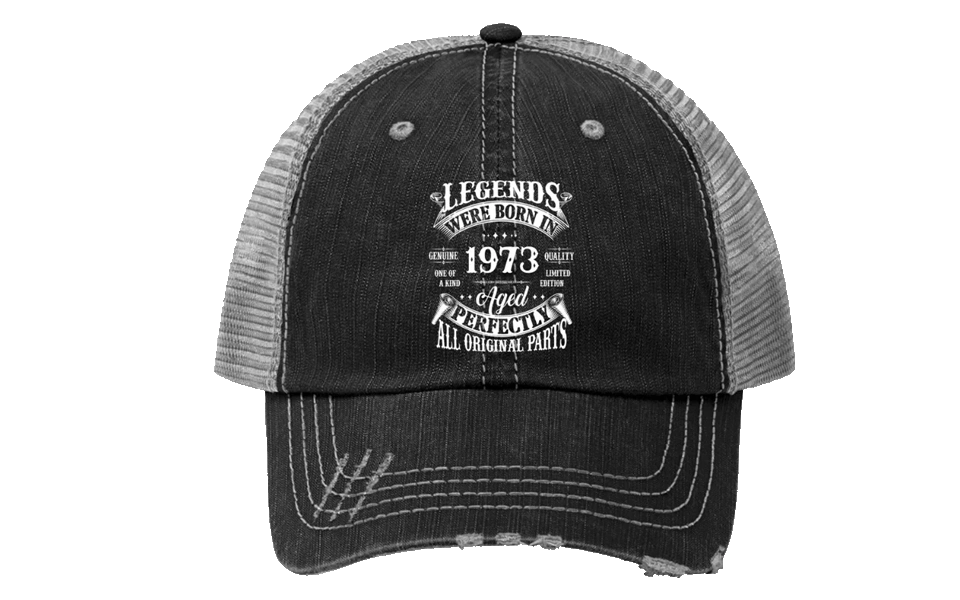 Hat | Printerval | by Coyote Uzbek | 3 colors
While some may say "legends aren't born, they're made," you know better. Born in 1973, your old man is a legend among men, someone worthy of praise. Want others to share in your admiration of your Pops as he turns 50? When he wears this hat, now they can.
Mark their Mid-Life Milestone With 50th Birthday Gifts for Men
They say age is just a number, but 50 is a significant accomplishment that's worth celebrating. People say that they're at their happiest in their 50s, so they've got a lot to look forward to. Whether it's your father, brother, son, partner, or even grandfather, it's important to give a personalized birthday gift that makes the occasion special.
With one of our 50th birthday gifts for men, you'll be able to give them a gift that acknowledges their age – with or without an "old" joke thrown in. Choose from wearables to decorations to everyday items that let them represent the five-decade club and let everyone know how they feel about it.