About Our Products: Part 1
Hey Gang!

A lot of folks out there are concerned with the provenance of their products, and that's great! We also know that a lot of folks probably wonder how our products are made and where, too. As the first of this two-part series, we'll dive into our apparel and focus on their special details. The second of two parts will focus on the nitty-gritty of how we chose the products and why, so stay tuned for that!

With no further ado:

A Glossary of Special Terms
Ringspun Cotton: From our friends at Bella Canvas,
Ring-spun cotton is smoother and longer than open-end yarn. The term "ring spun" means that the yarn goes through an innovative spinning process that's designed to thoroughly soften and straighten each fiber. Fewer impurities mean a smoother surface to print on.
30-Singles Cotton [t-shirts]: A "single" refers to the thickness of the yarn, determined by the number of times you twist the fiber. Again, our friends at Bella say, "Most cheap shirts are made from 18 or 20 singles," and you know the feel of a cheap, thin tee when you feel one! Ours are 30-singles. No skimpy shirts here!

20-Singles Face Cotton [fleece sweatshirts]: You know already know what singles are since you're smart and you've read this far. Here's where things get interesting, though! The singles concept is flipped when we talk about fleece: the lower the number, the thicker the yarn. Our sweatshirts are 20-singles, which means that we use the thickest fleece possible. You might be wondering, if the yarn is thick, will that mean a compromised printing area for my fave design? NOPE! We achieve a superior printing area despite the thickness of our singles by using cotton thread, which is perfectly absorbent for the printing process we use. NOICE.

French Terry: You know terry cloth because of your towels, right? Of course, you do! French Terry is a bit more special than the stuff you use every day, though; it's a knit that features piles of comfy fabric on one side and a soft, smooth surface on the other side. It means that you get a flexible, warm, moisture-wicking sweatshirt. From working out to lounging around, this sweatshirt can do it all.
Split-Stitch Double Needle Sewing: A finishing technique using two needles at once meant to give you a super-durable product, no matter what you put your apparel through!

Coverseamed: Have you ever turned a t-shirt inside out and looked at the interior seams? Sure you have! "Coverseamed" refers to the finishing technique of parallel stitching, all meant to give you a good-looking, sturdy product!
Our Commitment to the Environment
TeePublic's printing partners use sustainable, non-hazardous, and toxin-free production standards. Inks are 100% biodegradable, water-based, contain no animal by-products, and are vegan-friendly! They're also Oeko-Tex certified.
Tl;dr They adhere to very strict human health and environmental standards!
Third-party manufacturers hold current Social Compliance Certifications and are required to meet a Code of Conduct. No inventory is stocked (no accumulated waste each season) and any apparel misprints from the production line are set aside for quarterly donation at each print facility. Any returned items are also recycled or donated by each facility and the home office (more than 13k items saved from landfills to date).
Apparel orders are also shipped in bags that are made up of 10% recycled materials and are themselves 100% recyclable

Whew! With that out of the way, let's check out how this relates to some of our most popular products:
More About Some of our Best Products*:
* this information is valid for current domestic products only.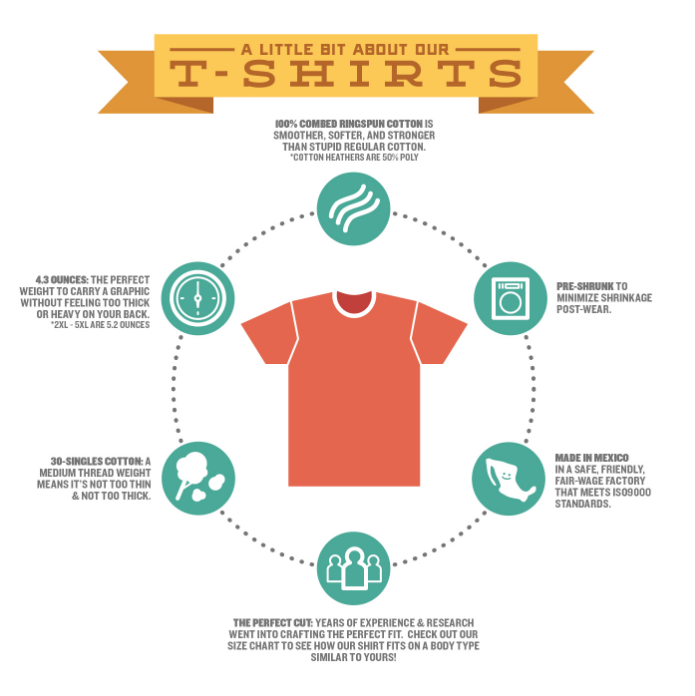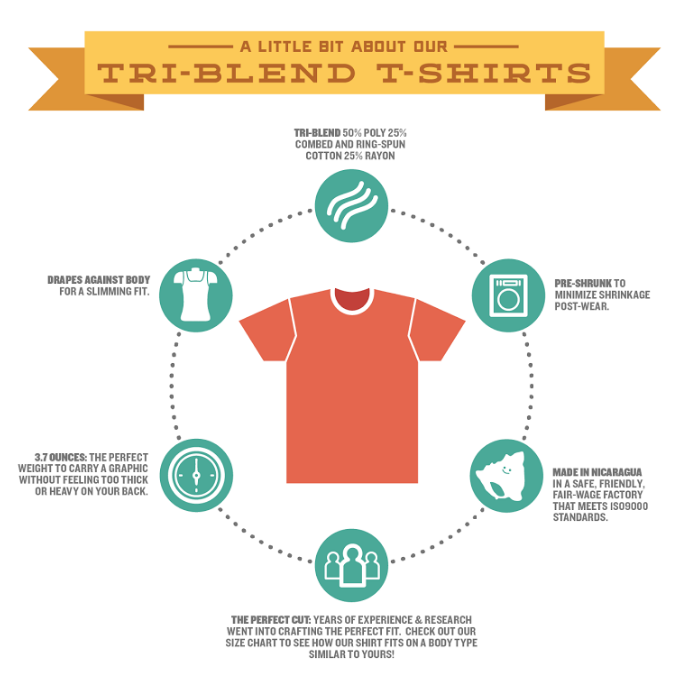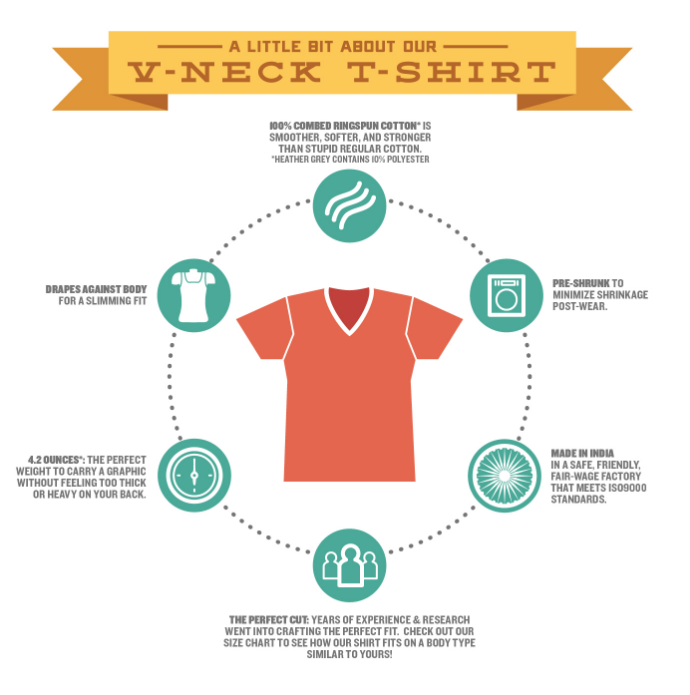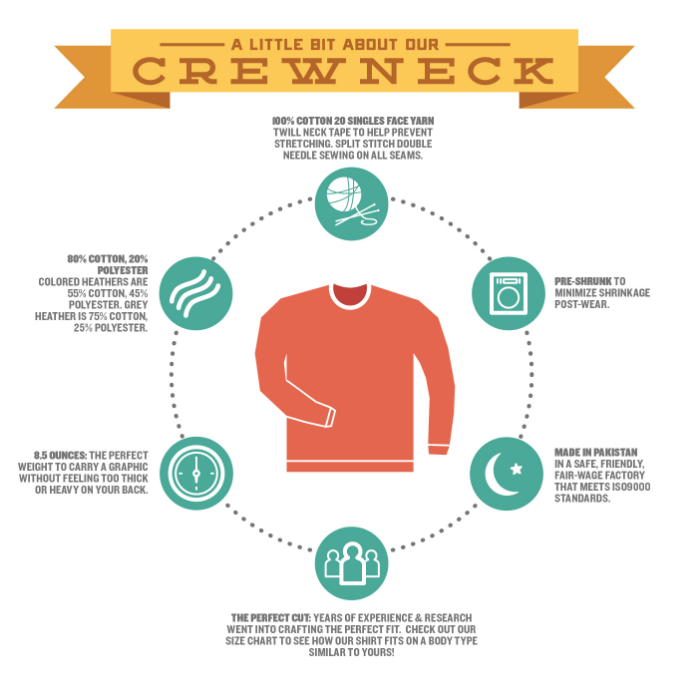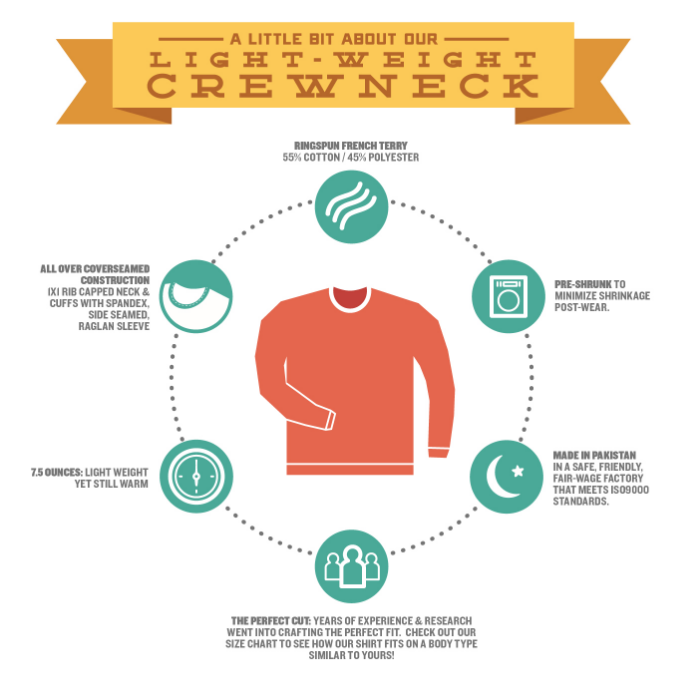 There you have it: a few specialized details about some of our most popular products! If you ever want to find out more about any other products of ours, just click LEARN MORE on a product page, and you'll see a pop-up window similar to the ones above, describing the product you wish to learn more about.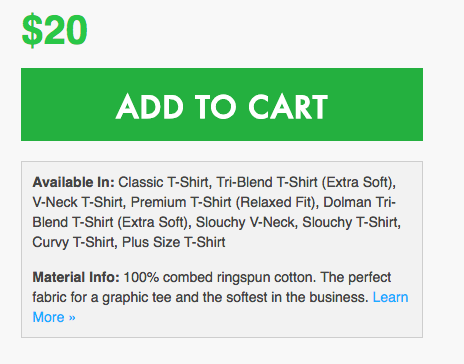 Hope you learned a little something today; stay tuned for the second part of the apparel journey, dropping soon!

XO, TeePublic