Announcing: 2019 Inktober Design Contest!
WE'RE DOING IT AGAIN: Another Inktober Design Contest on TeePublic throughout the month of October!
The ultimate inspiration has come around again, and we couldn't be more excited to see what you all come up with! You can join in on the fun daily, weekly or just once in the month but the point is to really get inspired by all things Inktober and create some amazing art :)
So, get your fave Inktober designs off your social platforms and onto TeePublic, for a chance to win all kinds of cool swag on our site, including an artist feature on our blog and a takeover of our TeePublic Instagram Account.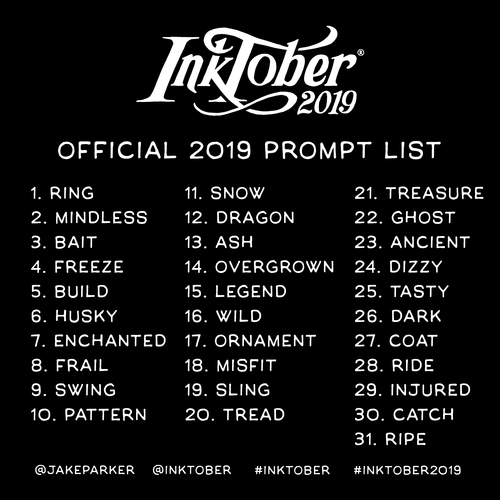 The Deets:
How To Enter
Upload new Inktober black line drawings between October 1-31 and use the secondary tag "TPInktober2019"

Enter as many times as you want :)

W

e'll feature all entries in a special shop advertised/linked on our homepage to get participants some extra exposure and will also drive traffic to it via social promos throughout the month!
Winner Selection
Our prize winners will be chosen by a panel of judges from TeePublic. Judging criteria will include creativity, originality, and popularity/sales (for the grand prize winner).
GRAND PRIZE
TeePublic Swag (hoodie, phone case, tote)

Promotion on TeePublic's social channels
Homepage Placement in Editors' Picks

Dedicated Artist Interview on TeePublic Blog

One Day Takeover of TeePublic's Instagram Account

Design Inclusion in our Black Friday newsletters
WEEKLY WINNERS: Each week on Monday we will select a winner from the following week's entries
TeePublic Swag (T-shirt and sticker pack)

Promotion on TeePublic's social channels
Homepage Placement in Editors' Picks
For updates and reminders throughout the contest, follow us on Facebook, Twitter, Instagram, and here, our blog.
Also, check out the official Inktober Twitter and Instagram for more inspo.
For inquiries, please contact [email protected]
Good luck and have fun--can't wait to see your trickiest treats of work!
Inktober Contest Rules
1. DESCRIPTION: Inktober is a worldwide event where artists draw something in ink every day for the month of October. In order to promote the creation of independent art, TeePublic is hosting a design contest to celebrate Inktober.
2. HOW TO ENTER: The Entrant must follow the steps below to enter the Contest:
Upload an original design to TeePublic within the subject matter, and make one of the design's secondary tags

"TPinktober2019"

.

In order to qualify and be within the Contest's subject matter, the design

must use only black

, to keep within the spirit of ink drawings. Please e-mail

[email protected]

for any clarification on the subject matter.

The entry must comply with federal intellectual property law, and with our Intellectual Property Policy

or face disqualification and further consequences in the discretion of TeePublic.
3. WINNING DESIGN SELECTION: Determining the grand prize winner for the Contest will commence after the conclusion of the Contest period on October 31st. Other weekly winners will be determined each Monday. All prize winners will be chosen by a panel of judges from TeePublic. The three factors that will each weigh as equally as possible into the determination is creativity (art skill/quality), originality (uniqueness), and popularity (sales).
4. ELIGIBILITY REQUIREMENTS: The Contest starts on 12AM EST on October 1st, and ends on 6PM EST on October 31st, 2019. Time, for all intents and purposes of the Contest, will be kept based on EST time zone, the time zone of TeePublic headquarters. Employees of TeePublic and its affiliates, agents, and each of such employee's immediate family members (persons with whom they are domiciled) are not eligible.
a. In the event of a dispute regarding the identity of the person submitting an online entry, entries will be declared made by the authorized account holder of the e-mail address submitted at the time of entry. "Authorized account holder" is defined as the natural person who is assigned to an e-mail address by an Internet Access provider, online service provider, or other organization (e.g., business, educational institution, etc.) responsible for assigning e-mail addresses for the domain associated with the submitted e-mail address.
5. PRIZES:
Weekly Prize
TeePublic t-shirt and sticker pack

Promotion on TeePublic's social channels.

TeePublic homepage placement.
Grand Prize
TeePublic hoodie, phone case, tote (with the design of their choosing).

Promotion on TeePublic's social channels.

TeePublic homepage placement.

Dedicated artist interview on the TeePublic Blog.

One-day takeover of TeePublic's Instagram.

Design inclusion in our Black Friday newsletters.



Grand Prize winner

(1):
No alternative prize, cash equivalent, or other substitution is permitted except by TeePublic in the event of prize unavailability. All federal, state and/or local taxes are the sole responsibility of the Winners. Any change in prizes will be duly communicated to parties involved.

Prizes will be awarded provided a sufficient number of entries are received. Taxes (if any) and other expenses not specified herein are Winner's responsibility. This Contest is subject to all federal, state and local laws.
6. TO CLAIM PRIZE: Potential winners' claims to prizes are subject to verification by TeePublic. Failure of a Potential Winner to return correspondence within 72 hours of initial contact from TeePublic will result in forfeiture of his/her prize and selection of an alternate Winner from the remaining eligible entries by the same judging criteria as the original winner selections.
a. If any prize correspondence (including e-mail) is returned as non-deliverable, an alternate winner might also be selected by the same judging criteria as the original winner selections. The course of action in this scenario will be in the sole discretion of TeePublic and duly communicated to parties involved.
7. Entries generated by a script, macro or other automated means will be disqualified. Entrants must provide all information requested to be eligible to win. Eligible entrants must submit their entry in accordance with these Official Rules. TeePublic's decision not to enforce a specific provision of these Official Rules does not constitute a waiver of that provision or of the Official Rules generally.
8. TeePublic and its agencies assume no responsibility for lost, interrupted or unavailable network, server or other connections; miscommunications; failed phone or computer hardware or software or telephone transmissions or technical failures; ISP/network/website accessibility or availability; garbled or jumbled transmissions; injury or damage to any participant's or to any other person's computer related to or resulting from participating in this Contest or downloading materials from or use of the website; and/or other errors of any kind, whether human, mechanical or electronic, including, without limitation, the incorrect or inaccurate capture of online entry information.
9. RELEASE: By entering and/or participating in the Contest, winners and participants agree to indemnify and hold TeePublic and its affiliates, subsidiaries, advertising and promotion agencies and the agents and employees of each harmless from any and all liability, damages or causes of action (however named or described) with respect to or arising out of the Contest and the use of bonus awarded. Entering and/or participating in the Contest constitutes permission to use winner's name and/or likeness and address for the purpose of advertising, publicity and promotion without further compensation except where prohibited by law.
10. RIGHT TO DISQUALIFY: TeePublic reserves the right, in its sole discretion, to disqualify any individual found, in TeePublic's sole discretion, to be tampering with the entry process or the operation of the Contest, or website, or to be acting in violation of the Official Rules; to be acting in violation of the terms of use of the website, or to be acting in an unsportsmanlike or disruptive manner, or with intent to annoy, abuse, threaten or harass any other person. This includes any design posted on TeePublic for whatever reason that does not comply with our Terms & Conditions.
TeePublic reserves the right to suspend or terminate this Contest without notice if, in TeePublic's sole discretion, the Contest becomes infected or otherwise corrupted; in such event, TeePublic will select winners from all eligible entries received prior to and/or after (as appropriate) the action taken by TeePublic.

Any attempt by an entrant to deliberately damage or undermine the legitimate operation of the Contest is in violation of criminal and civil laws and should such an attempt be made, TeePublic reserved the right to seek remedies and damages from any such entrant to the fullest extent permitted by law, including criminal prosecution

.
11. The failure of TeePublic to comply with any provision of these Official Rules due to an act of God, act of domestic terrorism, hurricane, war, fire, riot, earthquake, terrorism, act of public enemies, actions of governmental authorities outside of the control of either (with the exception of compliance with applicable codes and regulations) or other force majeure event will not be considered a breach of these Official Rules.
12. INFORMATION COLLECTED AND TERMS: Participants acknowledge and agree that any information collected in connection with this Contest may be used by TeePublic for market research, and will not be shared with other organizations for commercial and other purposes. Once received, all entries and any optional submissions of comments or suggestions will become property of TeePublic. Any submissions may be published on TeePublic's website or in other collateral materials at TeePublic's discretion, and by entering participants grant TeePublic a license to do so. Any information submitted to TeePublic in connection with the Contest is subject to TeePublic's Privacy Policy, and TeePublic's Terms & Conditions. If you have any questions or concerns about this, please email [email protected]
13. TeePublic has sole discretion for how to resolve any Contest-related issue that is not mentioned within these Official Rules. Any course of action for an issue falling under this clause will be duly communicated to those involved. All federal, state and local laws and regulations apply.