The 25 Best Gifts For Electricians in 2023
Electricians are an essential trade that "empowers" all of society. Without electricity, we'd still be reading by candlelight and relying on typewriters instead of reading this article on our computer or phone. If you have someone who lights up your life (literally) with a birthday coming up, you'll need to find the best gifts for electricians to make the occasion special. It's no shock (sorry) that electricians can be hard to buy a gift for if you don't know anything about the industry. However, they're sure to appreciate our novelty electrician gift recommendations – especially as a gift from a partner, niece, nephew, or child that also appreciates electricity the same way they do..
25 Gifts That Are Perfect for Electricians
From funny wearables to mementos to everyday items with an electrician's theme, we've got something for everyone. Pick your favorite – or favorites – and spark some joy in your electrician's life. Give them an outlet to express themselves with these perfect gifts for electricians.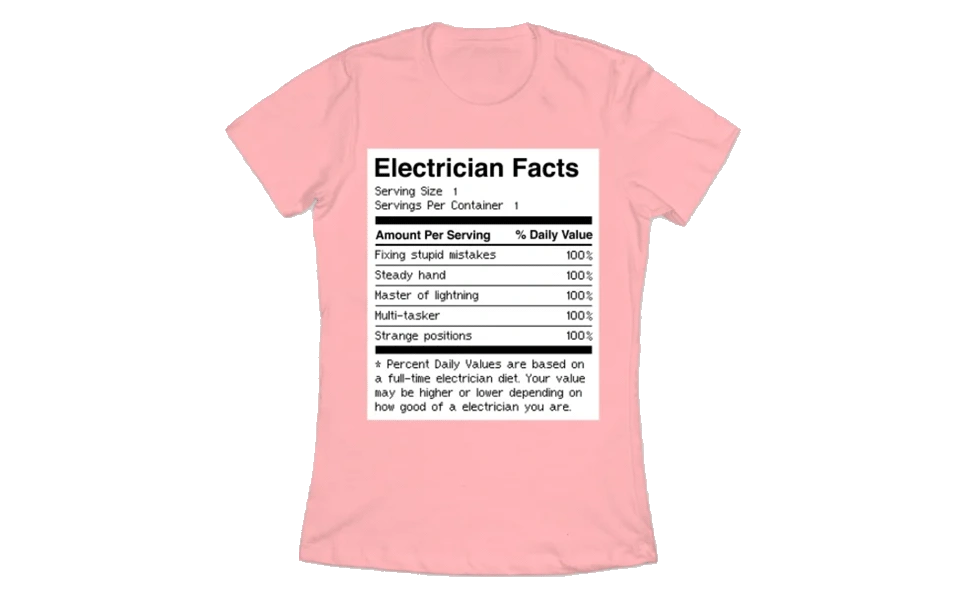 T-Shirt | TeePublic | by MeatMan | 28 colors
Like the nutrition facts on a bag of chips, this t-shirt tells you everything you need to know about an electrician. The label-stylized design lets everyone they meet know that they're a master of lighting and they've got steady hands, but daily values may vary by the electrician's skill level.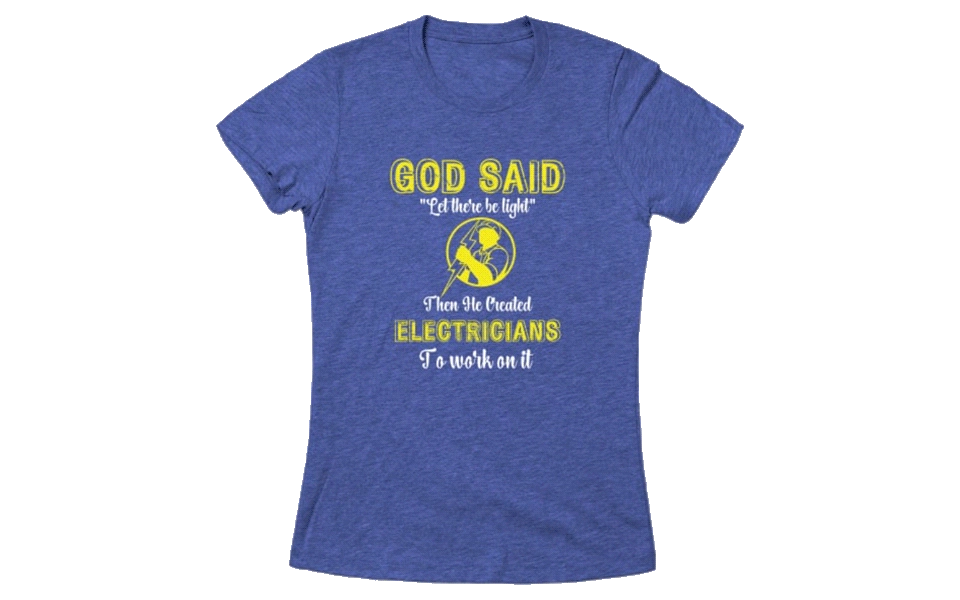 T-Shirt | TeePublic | by Top Best Selling | 28 colors
If you've got an electrician in your life, shine some light on all of the work they do and give them gratitude with a little ego boost, too. This cheeky tee includes electricians in the biblical creation story, with God creating light and then creating electricians to work on it.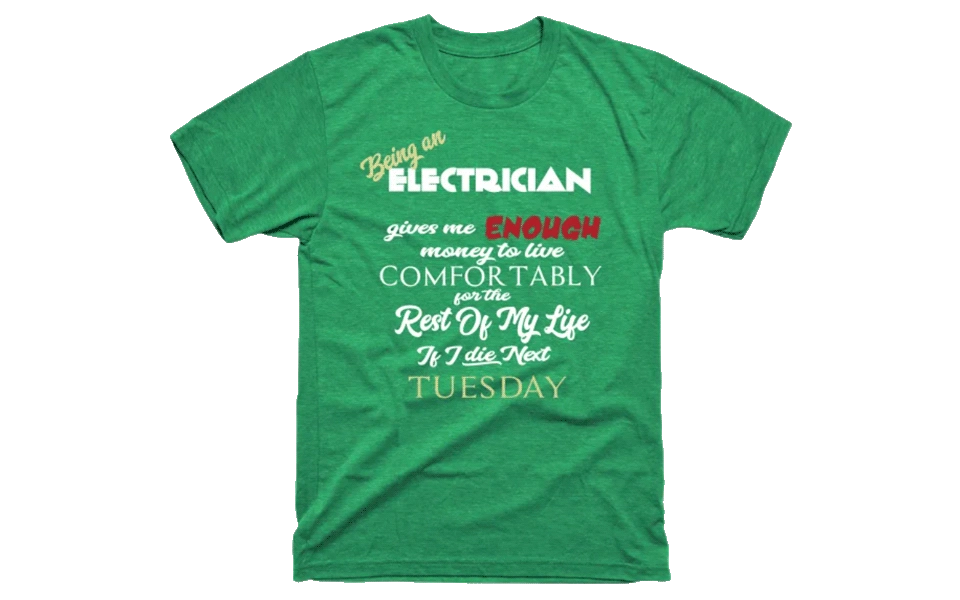 T-Shirt | TeePublic | by AshStore | 28 colors
Being an electrician is a risky business, putting your life on the line – literally. Sure, the salary is decent, but is it enough given the dangers of the job? If your buddy constantly complains about his pay and the hazards he faces, poke a little fun with this sarcastic tee.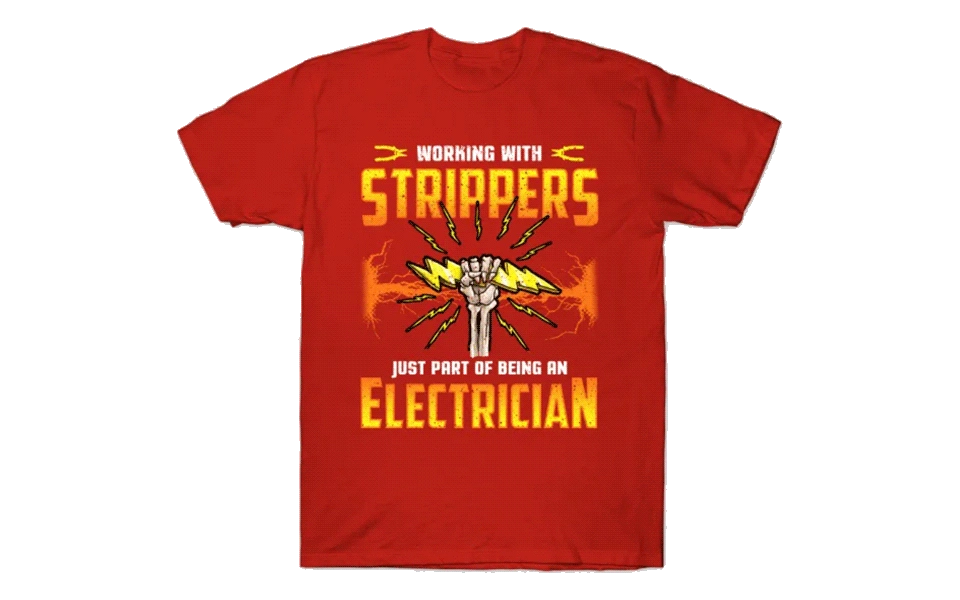 T-Shirt | TeePublic | by Tee Styley | 20 colors
This shirt has a lot of voltage. Are you looking for the perfect novelty gift for an electrician friend? Look no further than this humorous t-shirt that states working with strippers is just part of the job – but not the risque kind. Wire strippers, of course, are a necessary tool for almost every electrical project.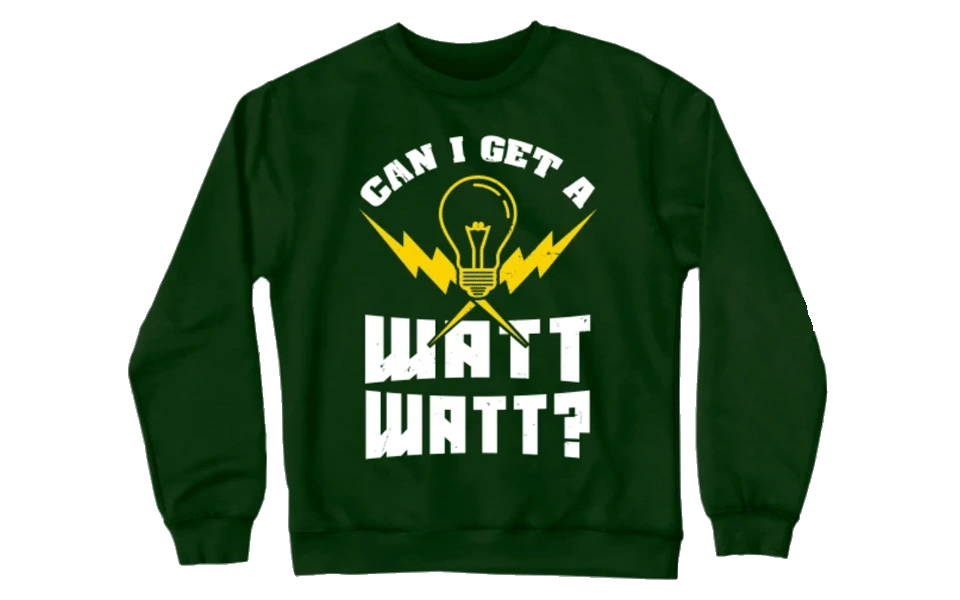 Sweatshirt | TeePublic | by Shirtbubble | 6 colors
This silly crewneck sweatshirt is the perfect gift for any electrician who brightens up a room. Are they the life of the party, a fan of electric puns? While others want a "what what," they'll ask for a "watt watt" with this light design available in sizes up to 5XL.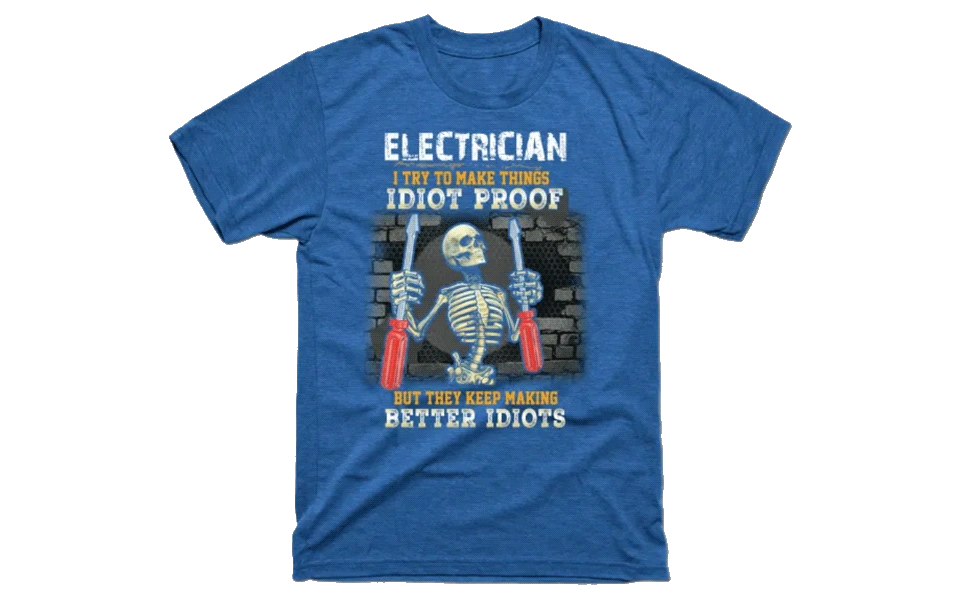 T-Shirt | TeePublic | by lamchozui | 27 colors
While electricians constantly put themselves at risk, their job entails keeping you safe by fixing faulty wiring. There's only so much they can do, though, if you do something idiotic. If you're friends with an electrician who's got a slightly abrasive sense of humor, consider gifting them this sarcastic tee.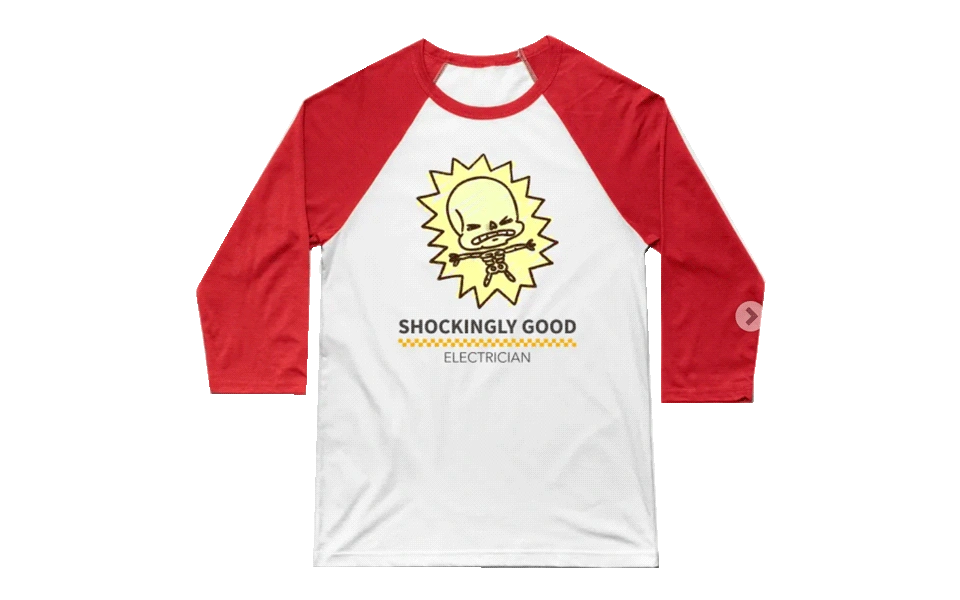 Baseball T-Shirt | TeePublic | by MindfulTees | 5 colors
Every tradesman has developed their own specialized skill set, and for electricians, that involves a large amount of precision to avoid electrical shock. Whether they've been shocked one time or a dozen times, the electrician in your life will love this "shockingly good" baseball-style tee.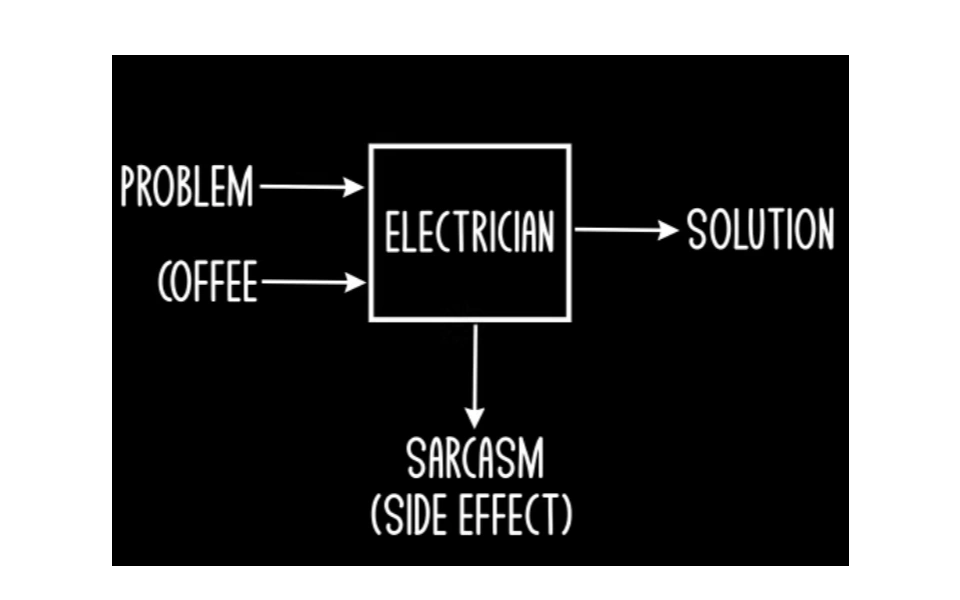 Mug | TeePublic | by mrsmitful01 | 2 styles
Present an electrician with a problem and some coffee, and they'll find the solution. With this funny flowchart-style mug, they can solve electrical problems from the breakfast table or on the go. You may have to deal with some sarcasm as a side effect, but we think it's worth it.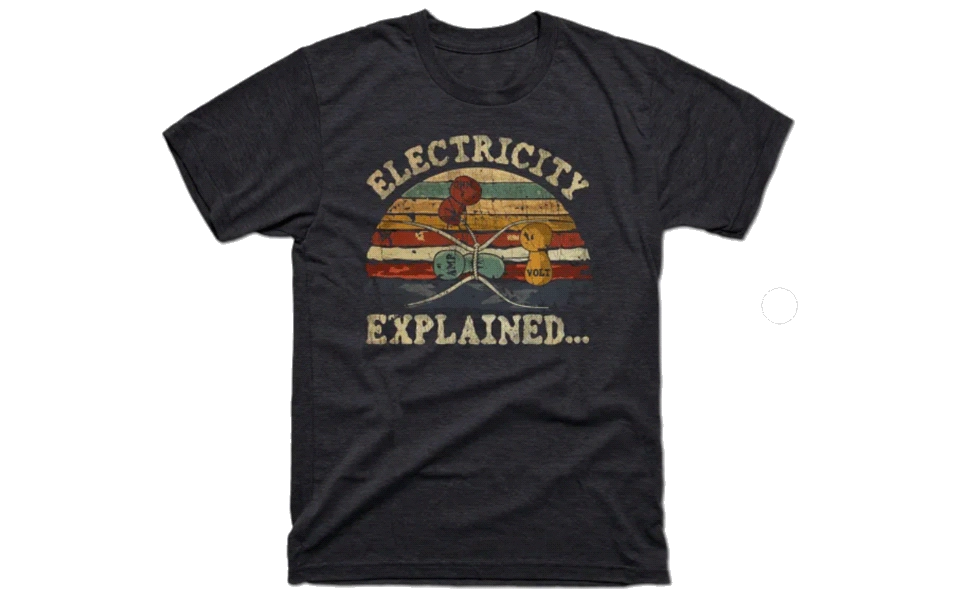 T-Shirt | TeePublic | by sepatubau77 | 28 colors
For those not in the electrical trade, understanding just how electricity works can be confusing. It isn't any easier to explain, but drawings always help, right? Make an electrician friend's life easier with this vintage-style tee that explains things so they don't have to.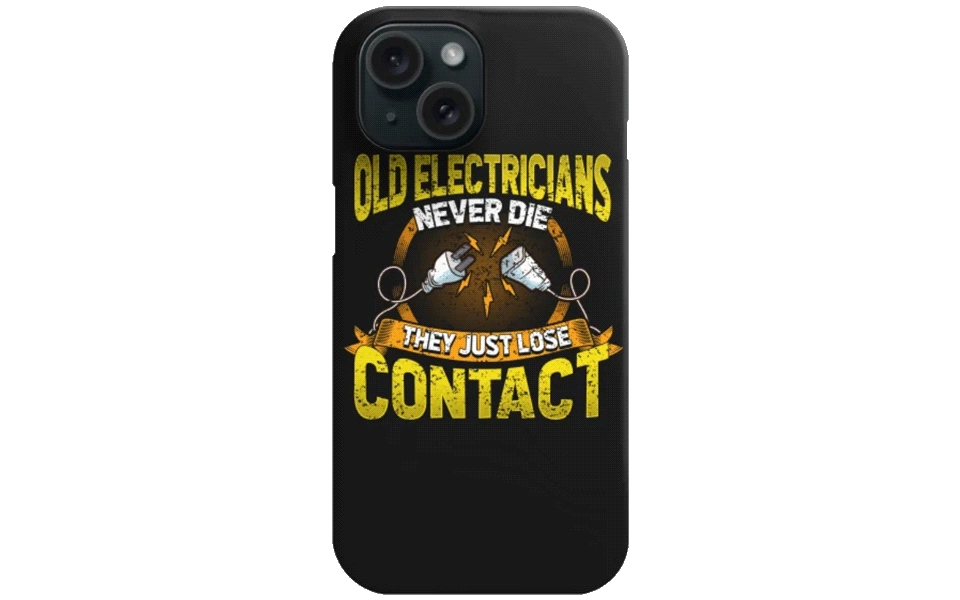 Phone case | TeePublic | by Tee Styley
Over time, the metal contact points in outlets can wear out. Retired electricians are similar, as this playful case suggests – as they age, they lose contact, too. So don't take it personally if you don't hear from them as often, maybe they just lost your contact in their phone.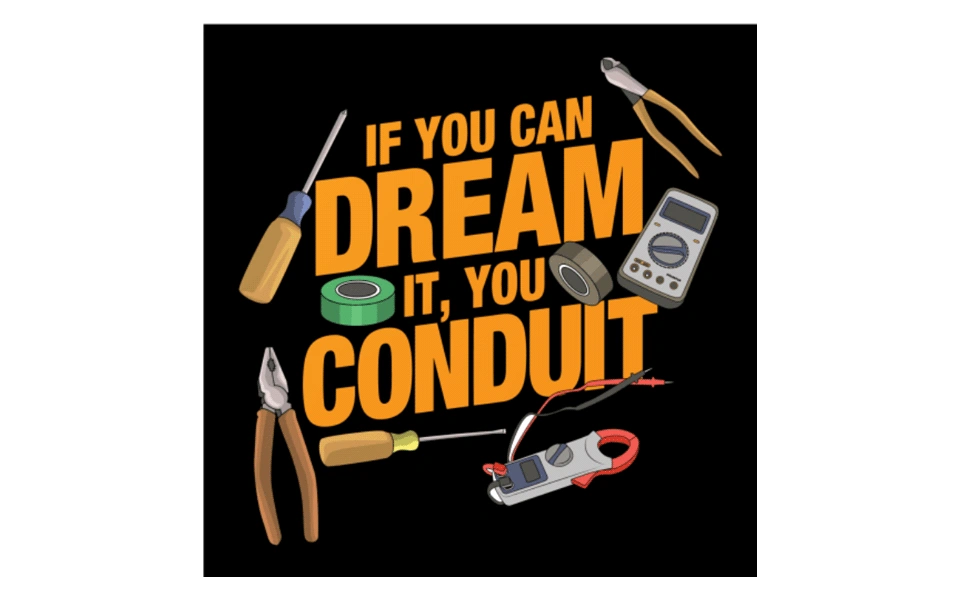 Art Print | TeePublic | by Shirtbubble | 4 Print Sizes
This clever "you conduit" print is a great gift for any tradesman or their apprentice, available in multiple sizes to fit anywhere in the office. Its punny design reminds them that dreams are attainable, offering inspiration, a spark of humor, and a tool-centric design.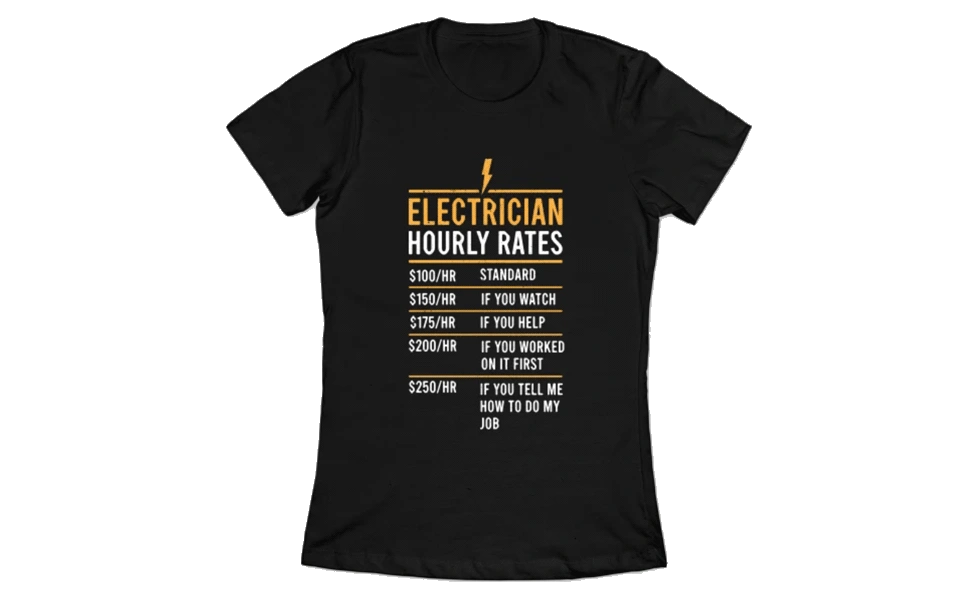 T-Shirt | TeePublic | by A Comic Wizard | 2 colors
Have you ever tried to fix a problem and somehow made it worse or offered unsolicited advice to someone who knows more than you? Hourly rates dictate that you'll pay more for making your electrician's job harder than needed. Show your understanding (and apologize) with this cheeky tee.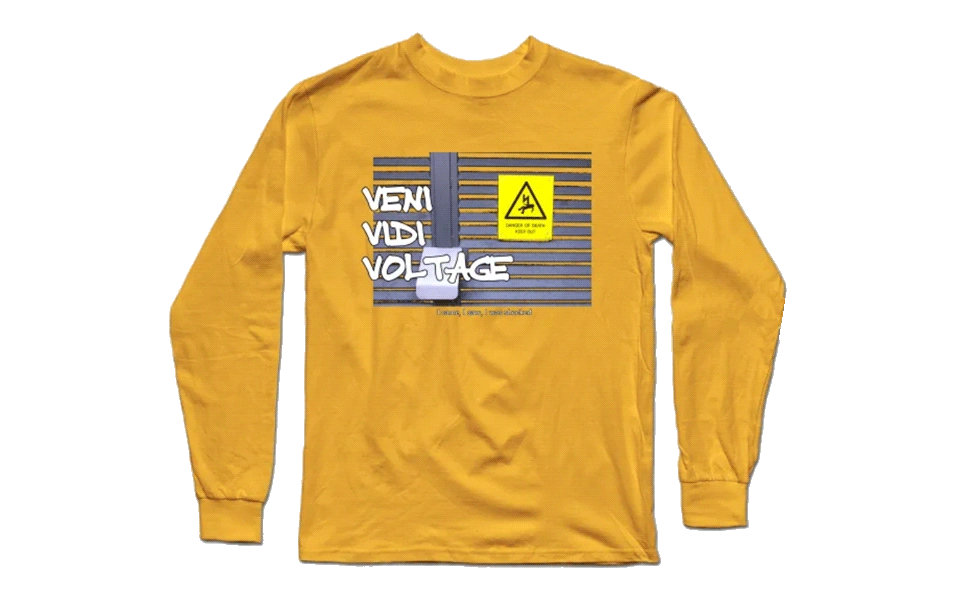 T-Shirt | TeePublic | by soitwouldseem | 13 colors
You've probably read Caesar's famous phrase "veni, vidi, vici," meaning "I came, I saw, I conquered." But for electricians, it's a little different. Gift them warmth (without an electric shock) and some laughter with this punny "veni, vici, voltage" long-sleeve t-shirt stating, "I came, I saw, I was shocked."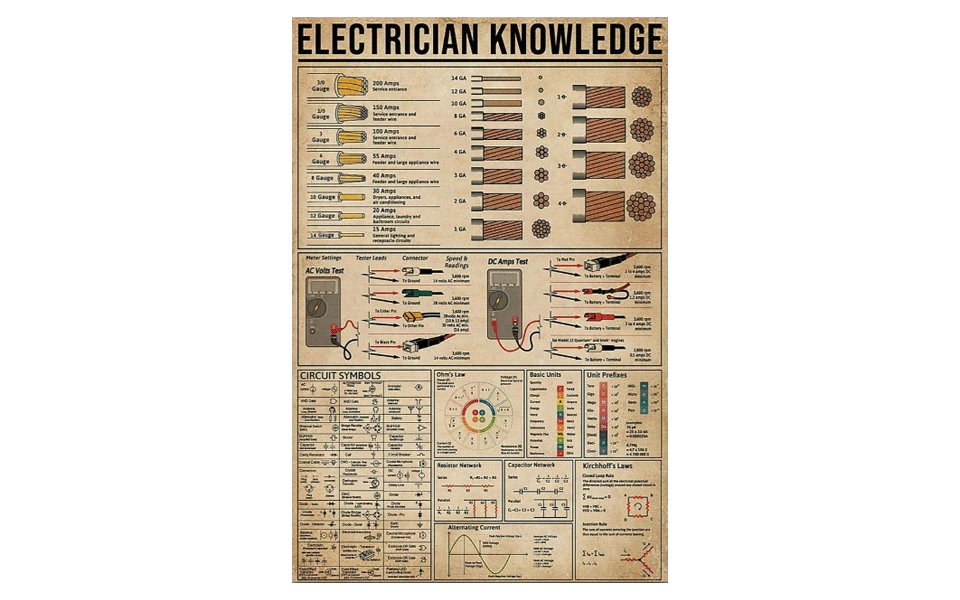 Poster | Daymira
Sometimes, someone's job can become their whole personality – but that's not necessarily a bad thing. It's a sign of their passion, right? With the gift of this fact-filled poster, they can share their knowledge with anyone who steps into their office and reflect on it when they forget.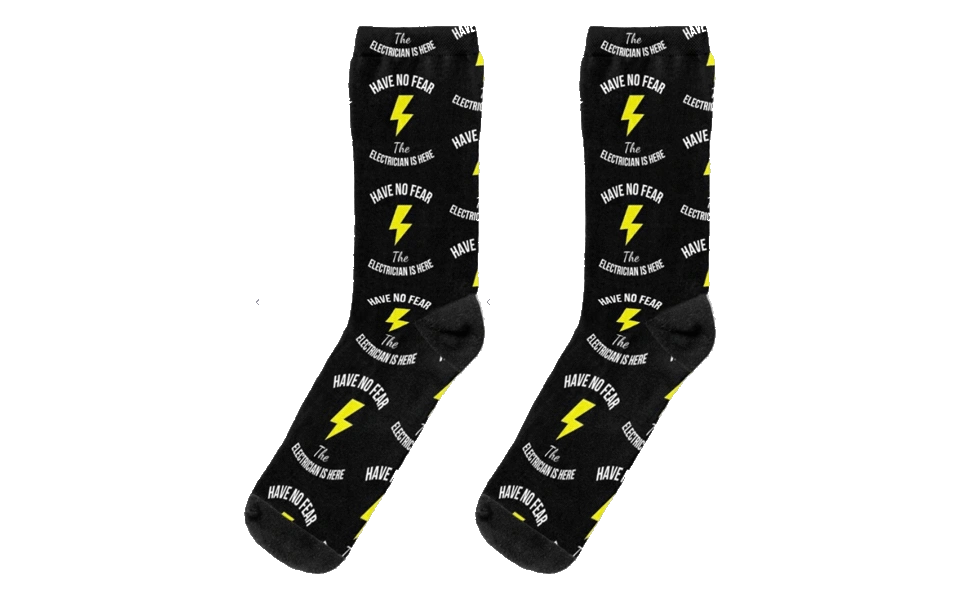 Socks | Redbubble | by Funnyluck
Add a spark to your favorite electrician's day with these 'Have No Fear, The Electrician Is Here' socks that are a perfect gift for anyone who appreciates humor on the job. These comfy, colorful socks will light up their feet and keep them grounded while they tackle any task.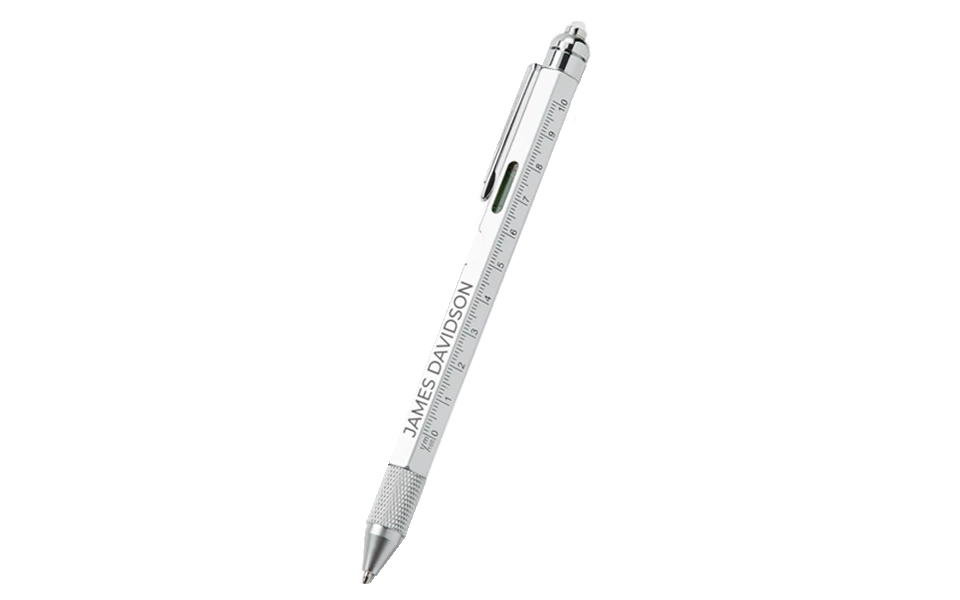 Multitool pen | Stethems
Durable, compact, and lightweight, this sleek aluminum pen is the ultimate multitool for any electrical job, featuring screw bits, an LED flashlight, a ruler, and more. With the customized touch of their name, it's a great gift for the electrician in your life and ensures they're prepared for anything.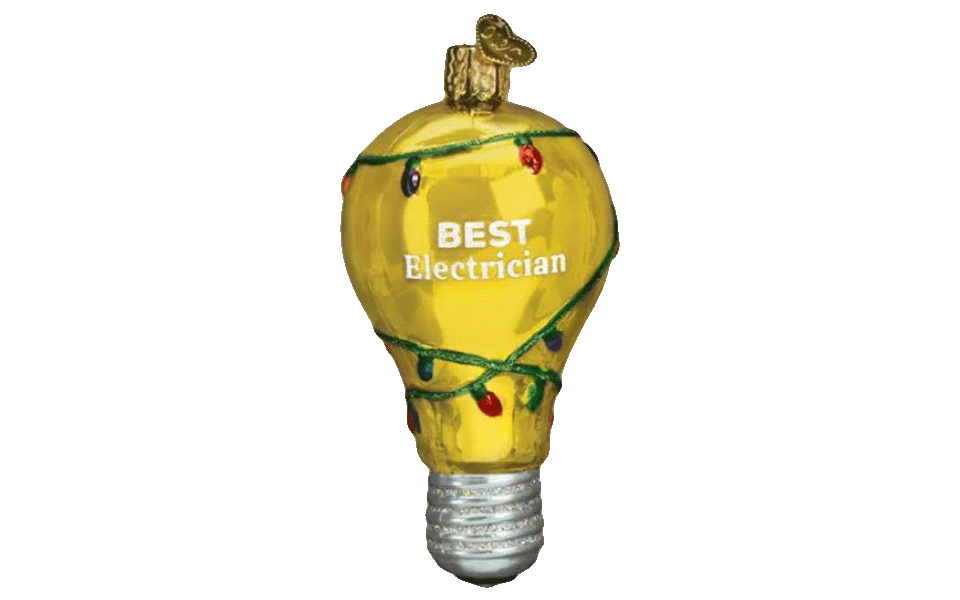 Ornament | Old World Christmas
As the holidays quickly approach, get ahead of the gift-buying rush and show your love and appreciation for the electrician in your life with this Best Electrician ornament. As you decorate your home, this thoughtful lightbulb-shaped bauble can hold a place of pride on your tree and in their heart.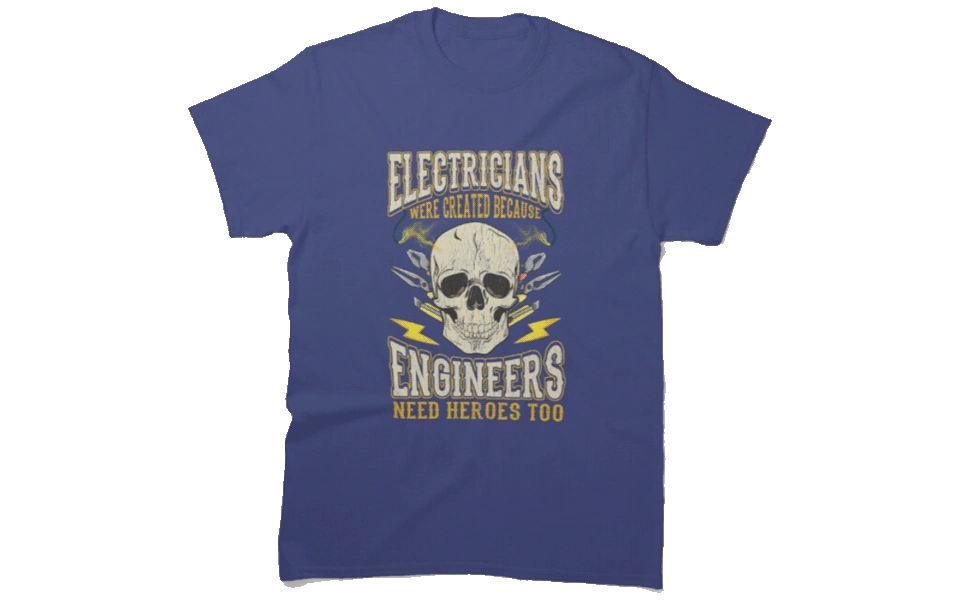 T-Shirt | Redbubble | by frittata | 19 colors
Everyone needs a hero, whether they realize it or not. For engineers, that happens to be electricians. At least, if you ask electricians, that's what they'll say. With this humorous tee, you can show your appreciation and pay tribute to the unsung heroes of the electrical field.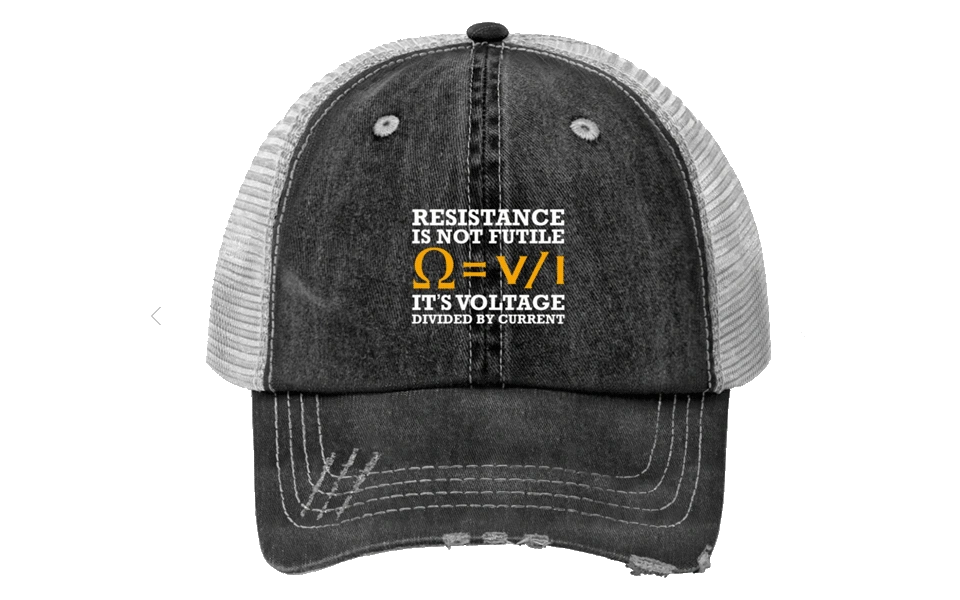 Hat | Printerval | by Greg Shane | 3 colors
While the Borg in Star Trek may say resistance is futile, electricians know better – and they even know the formula to calculate it. Whether your electrician friend is a Trekkie or just likes to share their knowledge, this clever hat can help them keep cool on the job.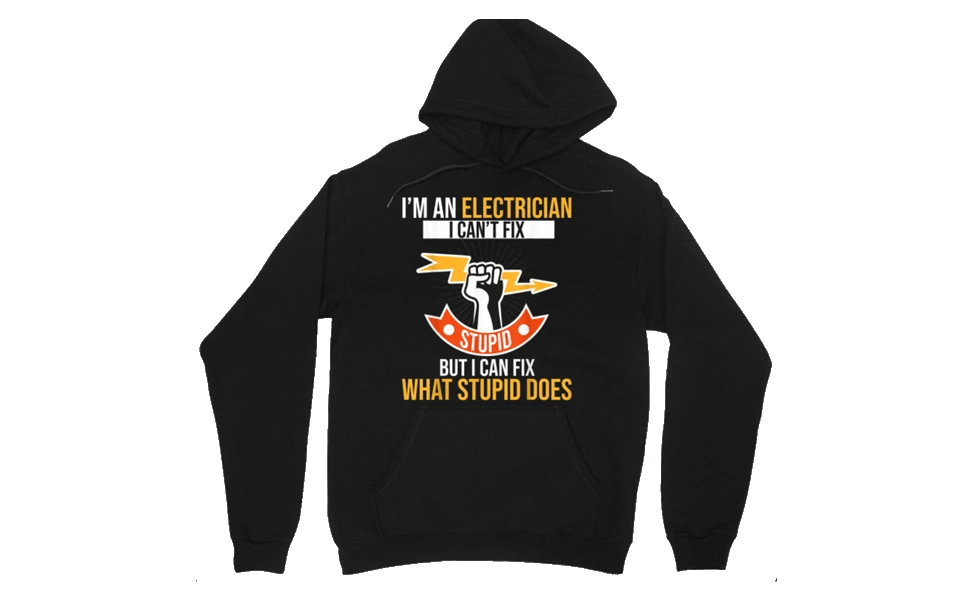 Hoodie | Artistshot | by GrantHahn | 24 colors
Worried that you made your problems worse by trying to fix them on your own? Take a breath, call your electrician, and prepare to acknowledge your stupidity in an apology. If you want to go a step further, poke fun at yourself with this soft, lighthearted hoodie as a gift.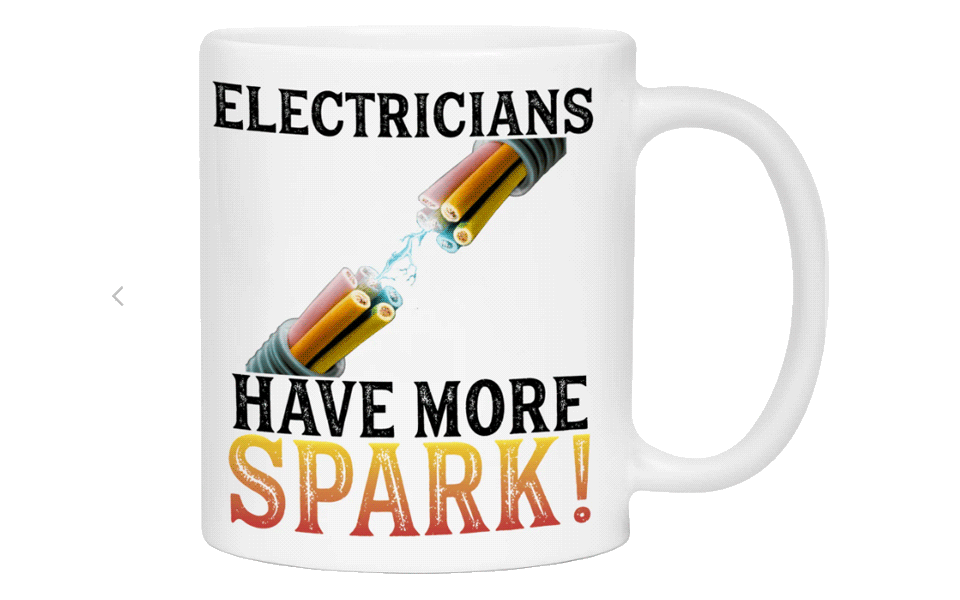 Mug | Ransalex | 2 sizes
If your partner is an electrician, you know you felt the sparks right away. Or maybe they've brought a little extra spark to the relationship. Let them know how you feel with this custom mug with a double-sided design that works for both left-handed and right-handed coffee drinkers.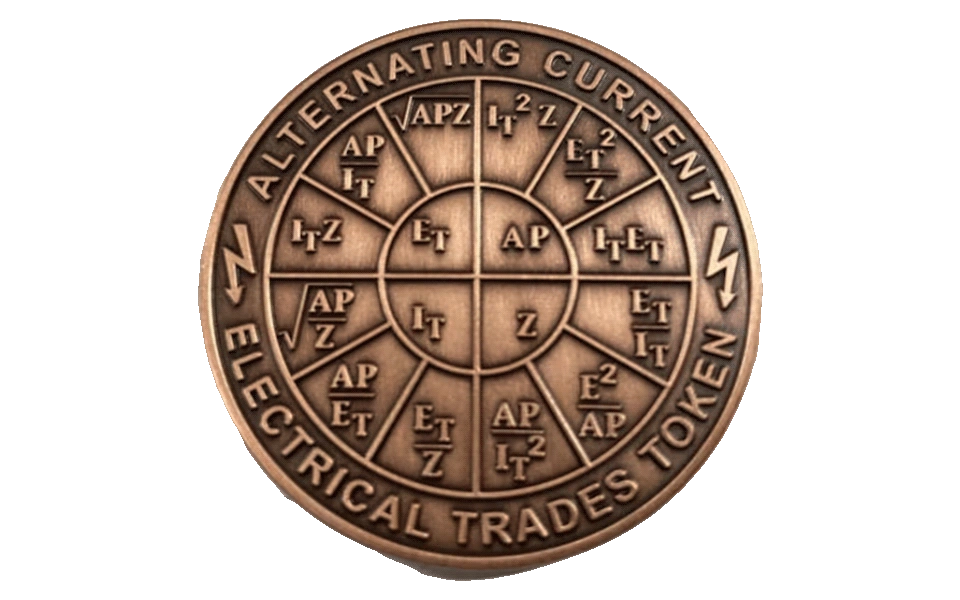 Medallion Coin | Etsy | by TNTGIFTSTORE
This solid copper medallion coin is a unique gift that can make an electrician's day just a little easier. The embossed token features the Ohm's Law power wheel with resistance formulas on one side and impedance formulas on the other, making them easy to remember and calculate on the job.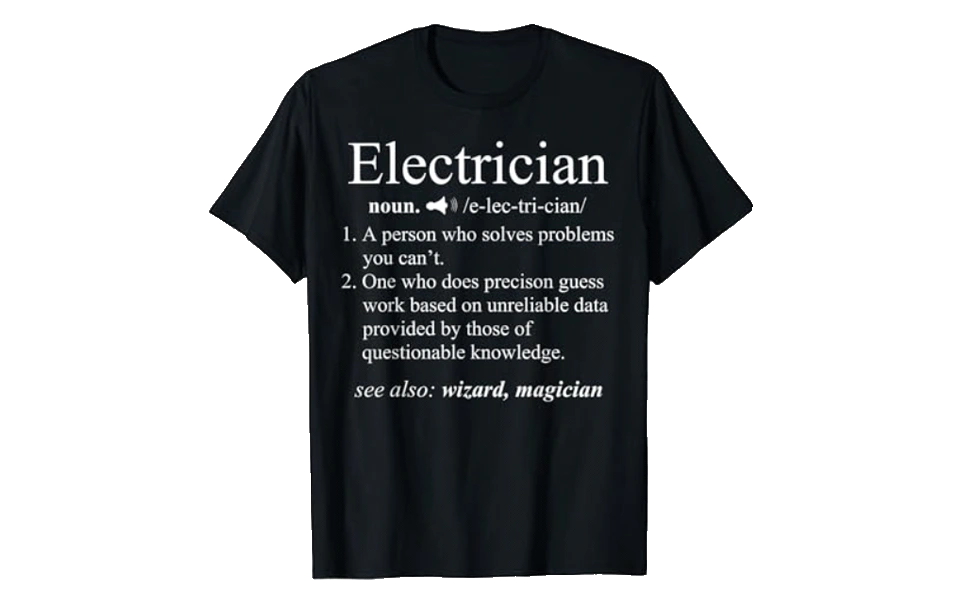 T-Shirt | Amazon | by Electrician Loves Shirt Gift | 5 colors
Electricians are essentially the real-world equivalent of wizards, with the precision of the work they do being close to magic. A perfect gift for the electrical enthusiast in your life, this t-shirt humorously outlines the true meaning of an electrician, celebrating their skills and wit – in sizes up to 6XL.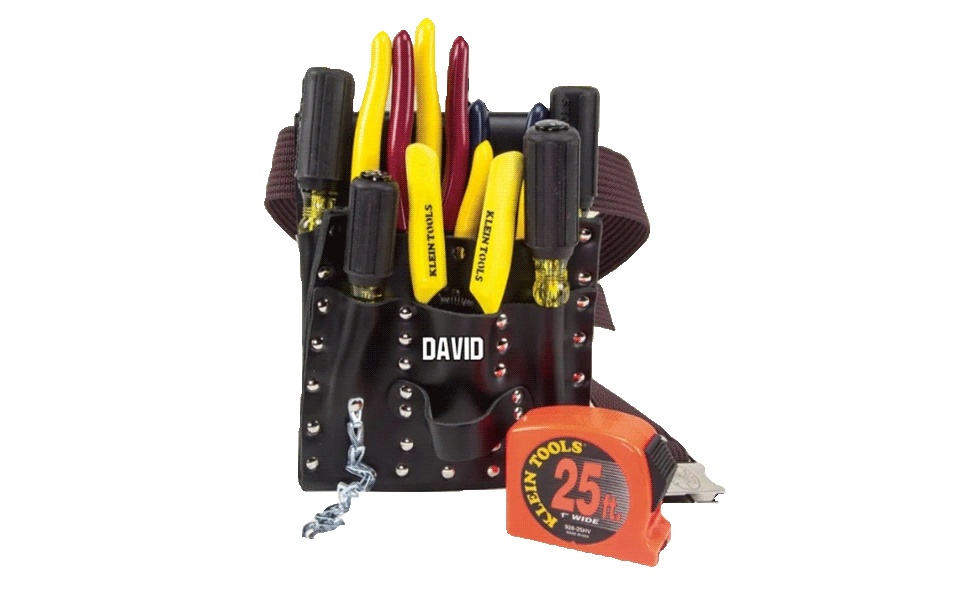 Ornament | Dilypod
This personalized electrician tool bag ornament is just "watt" you've been looking for to light up the holidays. Spark joy in your favorite electrician's heart and get them in the festive spirit with this thoughtful gift, customized to include their name and their preferred tool bag style.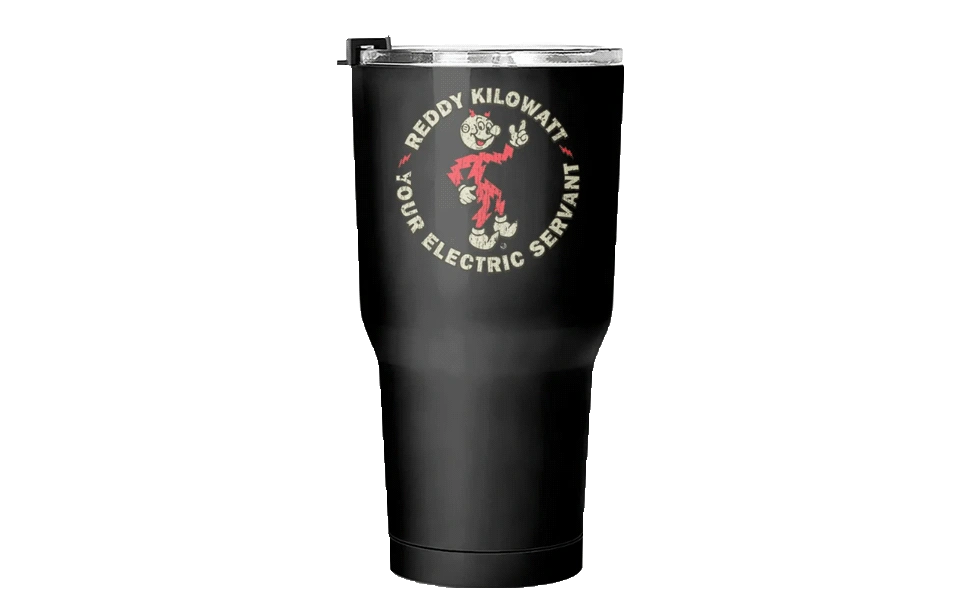 Tumbler | Printerval | by CharlottWilson | 10 colors
Reddy Kilowatt, nicknamed "your electric servant," served as the iconic cartoon mascot of the electric trade for decades before his eventual retirement. He soared in popularity with usage across hundreds of utility companies. For older electricians (or anyone who remembers him), this nostalgic-design drink tumbler is a great gift.
Give Your Loved One A Shock With A Gift for Electricians
Giving a gift that's tailored to the recipient is a great way to show you care. Tradespeople like electricians can be the light of your life, so make them feel at "ohm" with an electrician-themed shirt, accessory, or piece of art. If you know someone who helps keep the lights on, why not brighten their day or celebrate their birthday with one of our recommended gifts for electricians? No matter what you choose, a thoughtful gift will amplify the occasion. With Black Friday Sales and Cyber Week coming up, this is a perfect time to pick up something for that electrician in your life.