Designing for Specific Product Dimensions
We all want our designs to look as fly as possible across all products!
The question is, how do you make sure your designs are going to cover as much of the surface area of each product as possible? We got you covered :) (see what we did there?!)
To make sure your designs are printing well on products, you should keep dimensions and product surface area in mind.
First, let's take a look at file dimensions.
In the world of design, terms such as "file size", "resolution" and "DPI" are inescapable. A key rule when it comes to high-quality printing is that you need big, high-resolution files. The 'big' part of this rule refers to the resolution of your design (measured in pixels), as opposed to the size it occupies on your computer (measured in megabytes). It's the pixels that determine the quality of the printing. DPI (or "Dots Per Inch") refers to the number of physical dots of ink in a printed piece.
For the purposes of the TeePublic uploader, the best file size to ensure print quality is that which is outlined within the uploader itself:
"A high-resolution transparent .PNG at 150 DPI. Minimum dimensions of at least 1500px by 1995px (not including outer transparent pixels).
To enable all products, your file must be at least 5000px by 5500px."
The guidelines above will ensure that your design prints well across all products no matter the product, orientation, placement, or scaling.
Now that we got file dimensions covered, let's talk about product surface area! Basically, what that is is the space on which a design can be printed. Each product has its own printable surface area, which in turn, has its own minimum size requirements.
What does this look like in real life? You might find yourself enlarging a design on a mug in order to cover its whole surface area, and no matter how you place it, it does not seem to look right. Or perhaps you want to offer your designs on tapestries only and want to make sure you set yourself up for making art that will translate to that canvas the best. In these examples knowing the dimensions of the printable surface area of a given product might come in handy!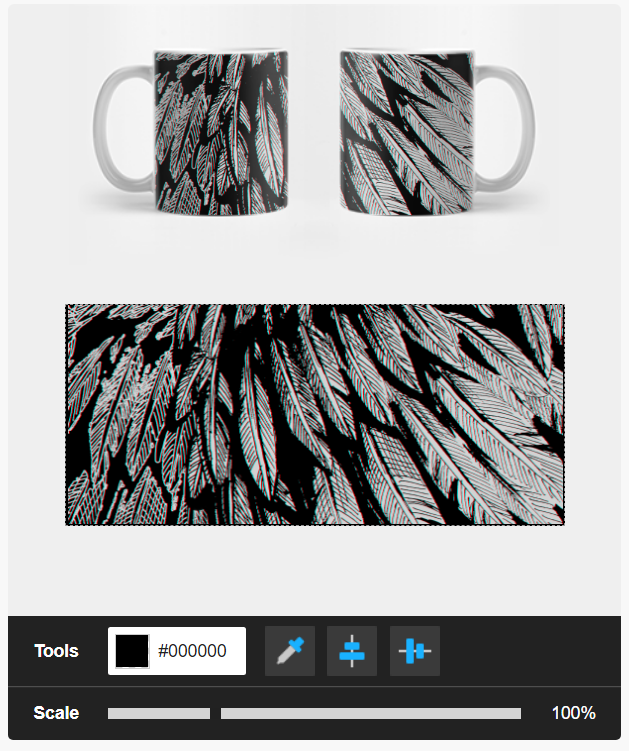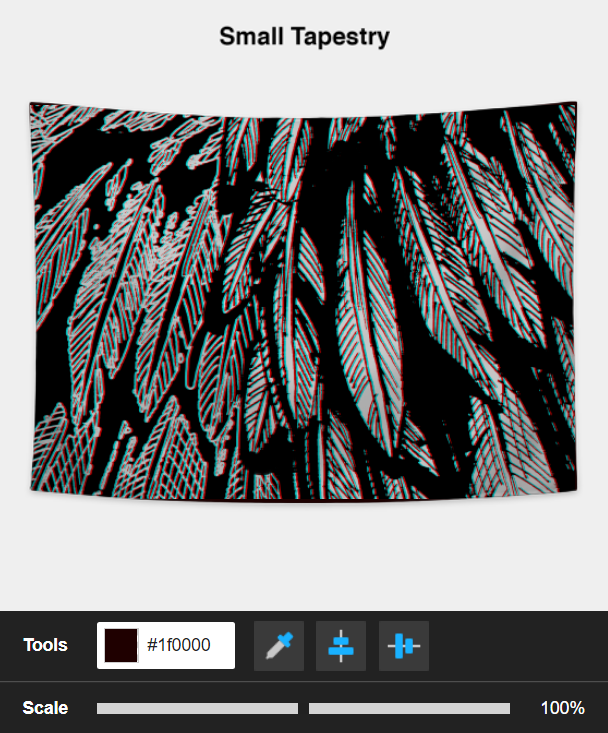 The list below contains the minimum pixel dimensions for non-apparel products: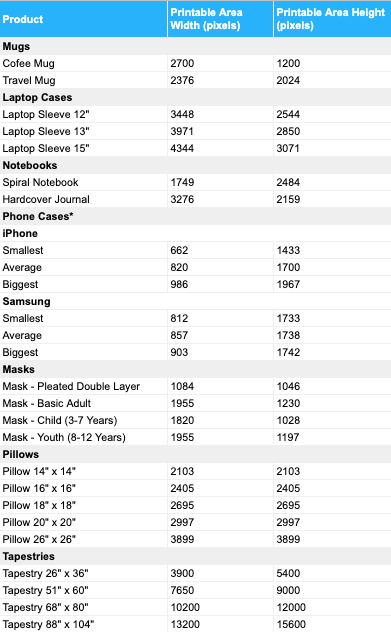 The list of phone case dimensions is constantly growing. After all, just when you think you got the newest phone another comes out. These average sizes will print well on all phone cases, especially once the designs are scaled within the uploader.
There is no single minimum standard for items such as stickers, magnets, wall art, totes, and apparel items due to a great variety in sizing.
And voila! Now you can cover those products with pure awesomeness :)