Here's 19 Funny Cruise Shirts for Your Group, Family
One of the best ways to celebrate an anniversary or plan out a group trip is taking a cruise. The smell of the ocean, the breeze running through your hair, and the all-inclusive bar make it a paradise on the sea that's a whole lot of fun. But you know what makes can make cruises better? Funny cruise shirts for your group.
Whether you're a frequent sailor of one of the top cruise lines: Virgin Voyages, Carnival Cruises, Princess or just getting your sea legs under you for the first time, you and your friends be the life of the party when you all are donning the same matching cruise-themed shirt. From puns to jokes to relatable memes, you're sure to see some smiles and laughs as you walk by. Before your next voyage, check out our top picks for the best funny cruise shirts available and start planning your wardrobe. You could even buy one for all the new friends you'll make from your on-theme outfits, or get a shirt for the whole family to help you keep track of your loved ones.
All aboard!
The Best Funny Cruise Shirts
Does your group want a theme for that cruise to Mexico? Are you a couple celebrating your anniversary or you're looking to bring some smiles to your next cruise? Whatever the occasion you're in the right place. Here are some of the best cruise shirts you can bring onto the boat.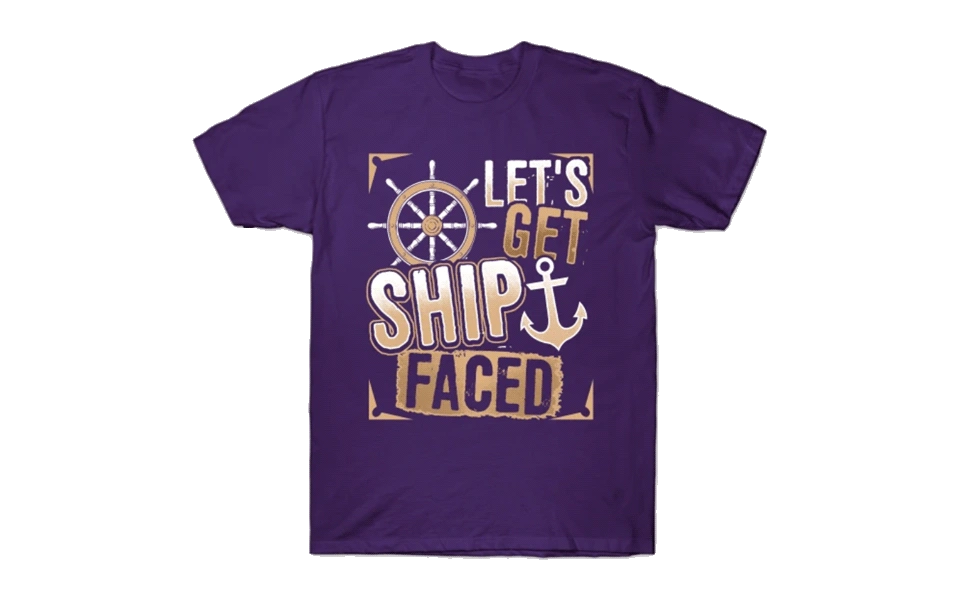 T-Shirt | TeePublic | by kdspecialties | 21 colors
Are you and your friends ready to get loose at the bar and drink until you have to get back to your cabin? Whether you're hoping to make friends with similar ambitions or just want to broadcast your drinking plans across your chest, this punny ship-faced tee is the perfect choice to get the party started.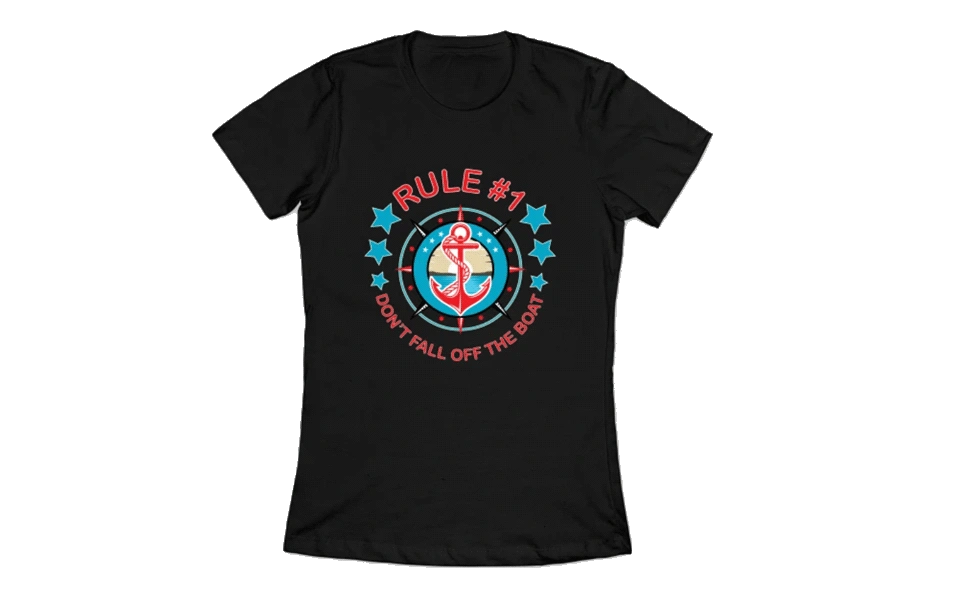 T-Shirt | TeePublic | by FilsonDesigns | 29 colors
Cruise ships have their own rules, but you've probably come on vacation with some rules of your own. The #1 rule? Don't fall off the boat. If your friends tend to tip over when tipsy, remind them of your rule with this cheeky tee.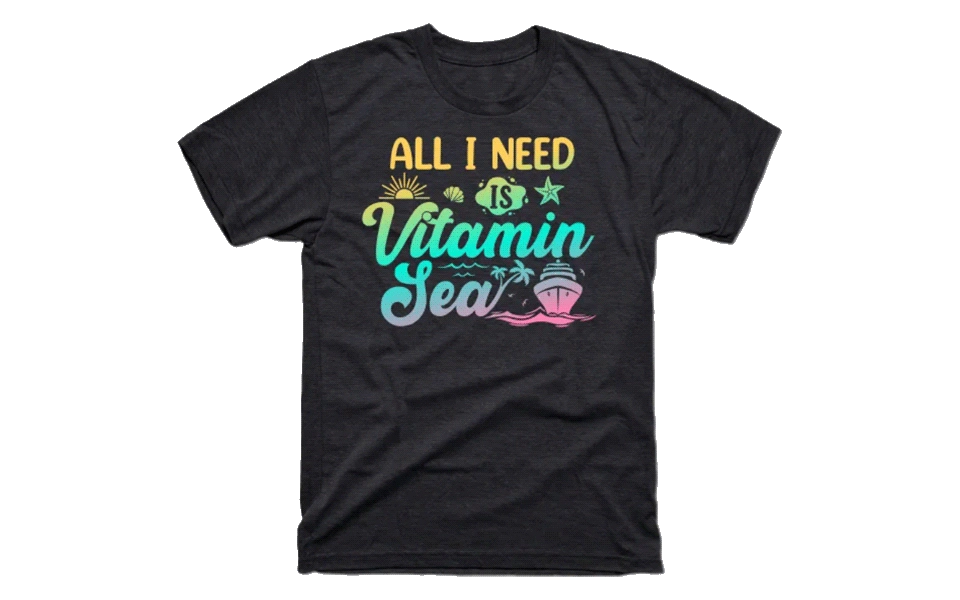 T-Shirt | TeePublic | by QualityDesign | 21 colors
It's a known fact that when you're eating good, you're feeling good. However, you still might be missing out on some important vitamins and nutrients – namely, Vitamin Sea, as this t-shirt suggests. Book your trip, pack your bags, breathe in the salty air, and get ready to set sail.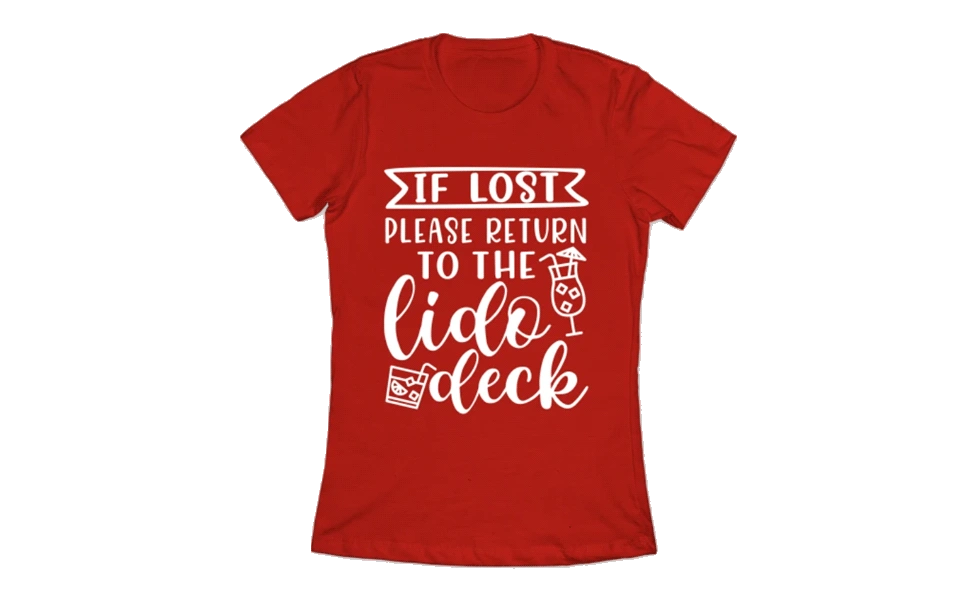 T-Shirt | TeePublic | by GlimmerDesigns | 25 colors
Navigating the decks on a cruise ship can be confusing when you're sober, so we can only imagine how easy it is to get lost once you've started drinking. Help others help you with this playful tee that directs you back to the lido deck's bar.
T-Shirt | TeePublic | by Shirt Tube | 29 colors
If you're excited about a family cruise but don't want to curse in front of the kids, this edgy yet appropriate tee offers a child-friendly version with a nautical twist – "Oh ship!" You can wear and share your excitement, and you can even get matching shirts for the whole family.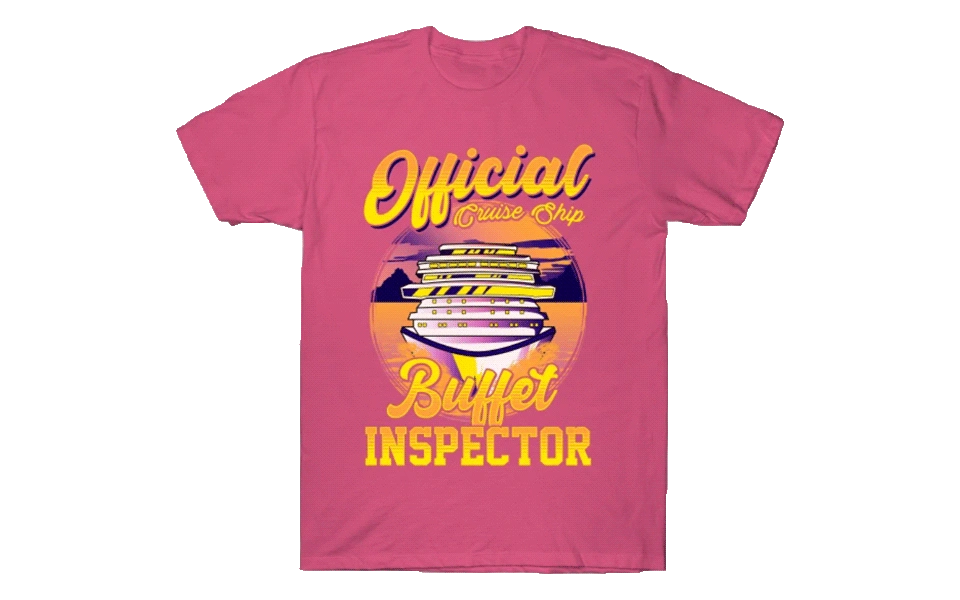 T-Shirt | TeePublic | by

theperfectpresents

| 22 colors
While unlimited drinks and complimentary ice cream are nice, those who are foodies know that the food available can make or break a trip. As you prepare to head down for a meal, throw on this tee to make it known in the buffet line that you're an official inspector.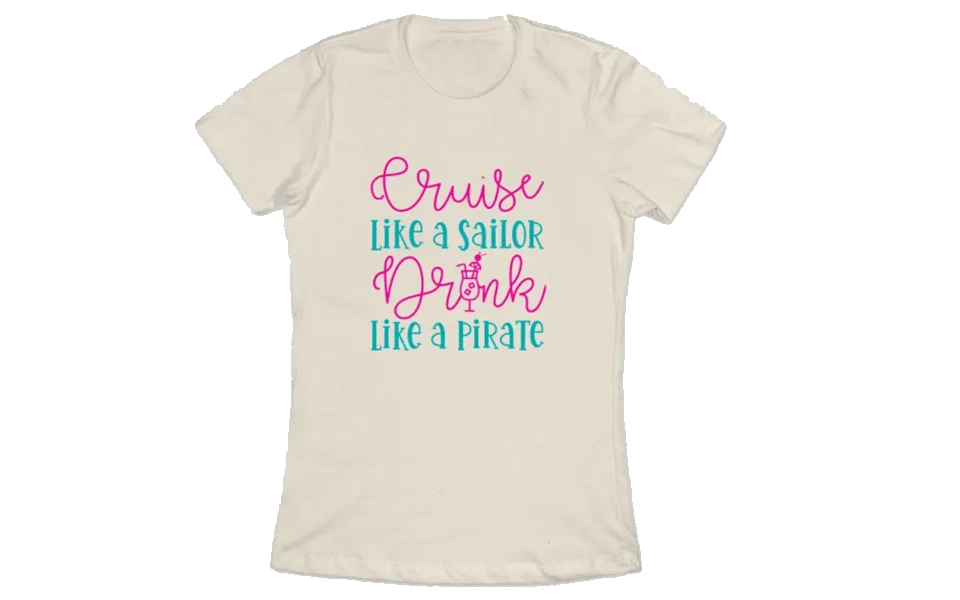 T-Shirt | TeePublic | by GlimmerDesigns | 13 colors
You've heard of swearing or cursing like a sailor, but what about cruising like one? Are you a fan of the pirate lifestyle – particularly, drinking in excess? Share some laughs (and some shots) at the ship's bar with this funny tee available in sizes up to 5XL.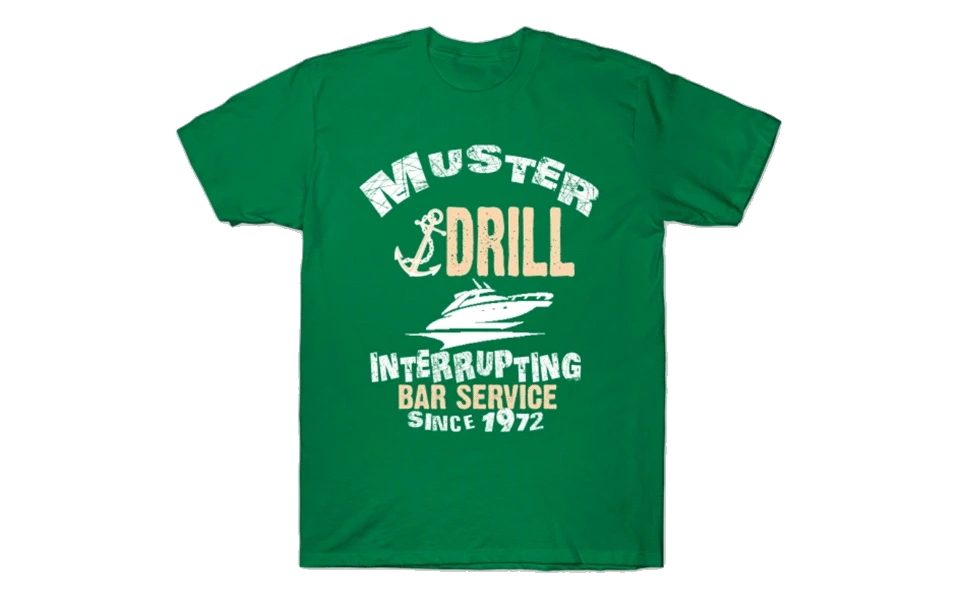 T-Shirt | TeePublic | by Darwish | 29 colors
If you've cruised before, you're familiar with muster drills. You could probably recite all the safety information from memory, and you'd much rather be sitting at the bar, tropical drink in hand. While you wait for the drill to end, you can use this t-shirt to express your dismay playfully.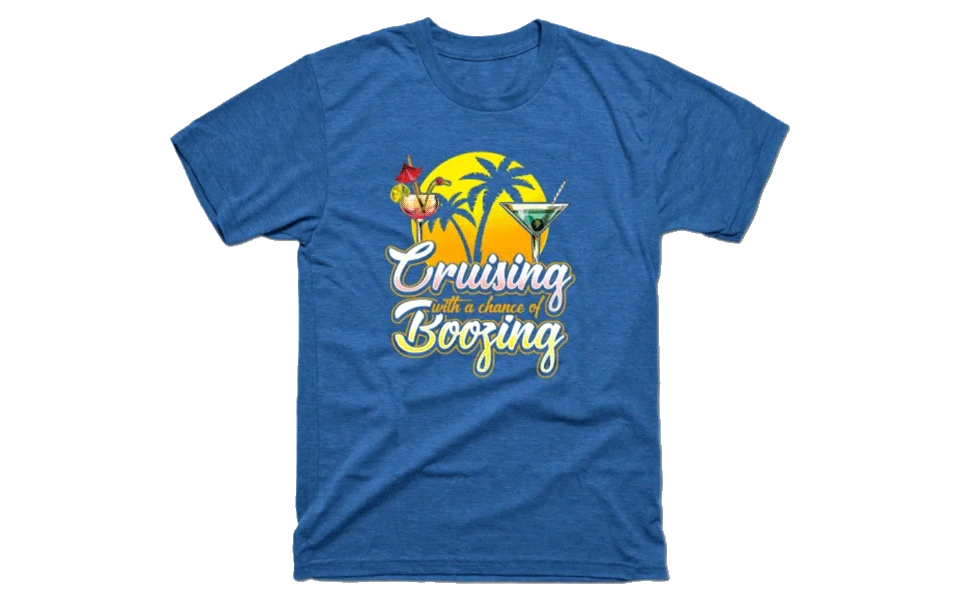 T-Shirt | Zazzle | by Just Be Formidable | 17 colors
Once you retire, you've got all the time in the world, and what better way to pass time than by cruising as often as possible? You can see the world, and it's cheaper than moving into a retirement home! Why not live your life one cruise at a time? This one is perfect matching couples shirt.
T-Shirt | TeePublic | by Meliafroggy | 28 colors
When someone's really trying your patience, it's said they're cruising for a bruising. But vacation is meant to be relaxing, so don't stress. Take a step back, look down at this tee, change bruising for boozing, and head over to the bar for a cold beer to cool your nerves.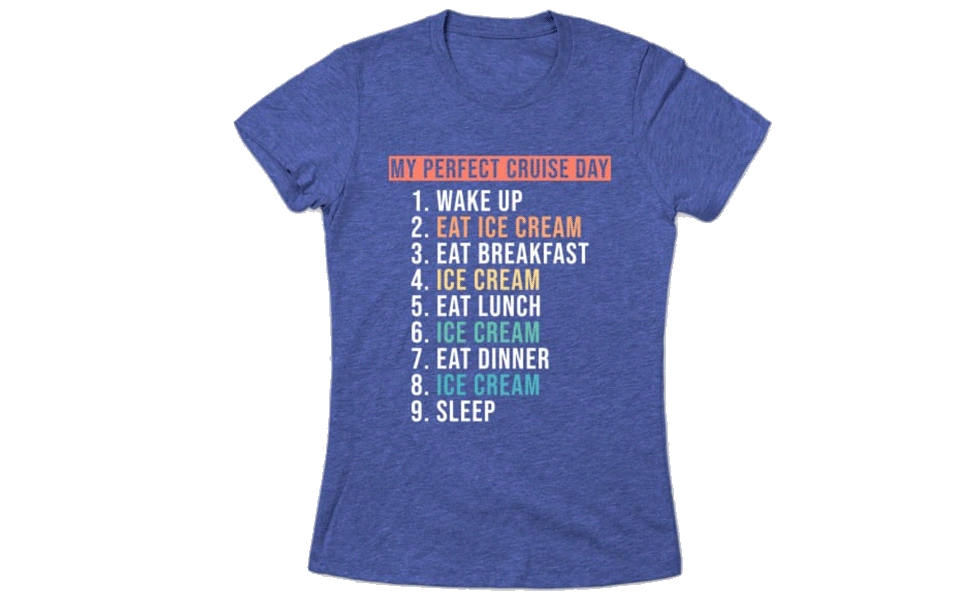 T-Shirt | TeePublic | by Rosiengo | 29 colors
While some folks may be all about the drink package, you're here for the free ice cream. If your perfect cruise day involves multiple trips to the Lido Deck for your favorite ice cream, this funny t-shirt can help you make sure friends will always know where to find you.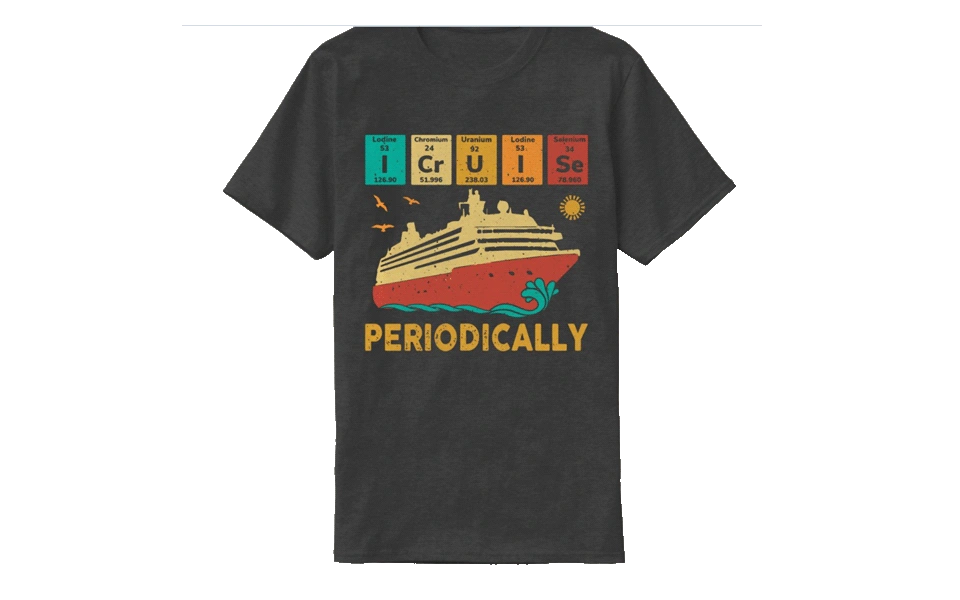 T-Shirt | Zazzle | by OXTEE DESIGNS | 17 colors
Science teachers, nerds, and even just cruise regulars will all love this cleverly punny tee. Declaring that you cruise periodically, this design playfully takes different elements from the periodic table to spell out the words "I cruise." Available in sizes from S to 6XL, it's a perfect fit for everyone.
T-Shirt | Zazzle | by Emily Jones Designs | 17 colors
Maybe your travel partner is a little anal-retentive about the planning portion of the cruise, and meticulous about schedules for shore excursions. Once they're on the ship, they'll finally relax. As you sail the high seas, poke fun while keeping tensions at bay with this silly tee that redefines OCD.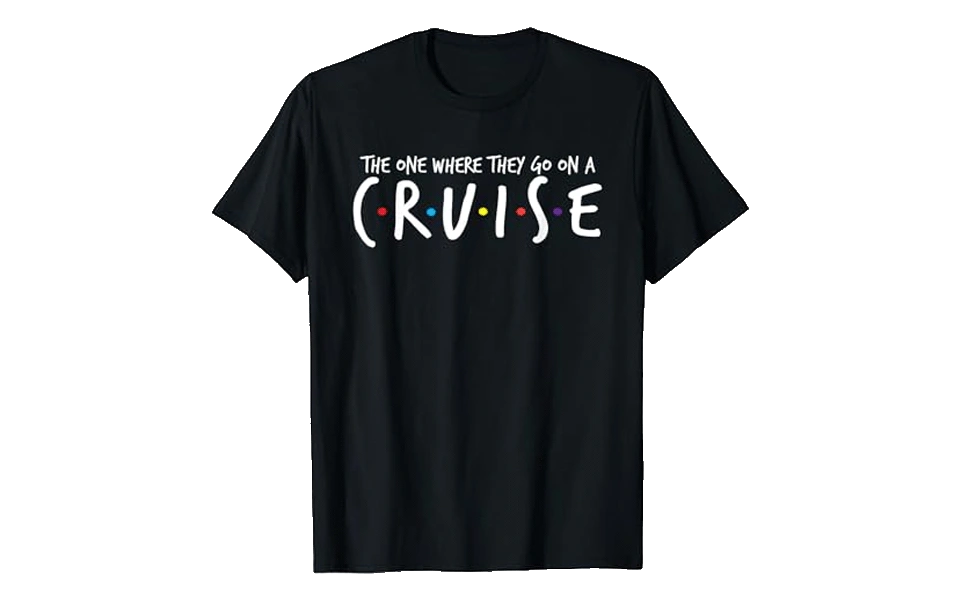 T-Shirt | Amazon | by Comovo Shirts Idea | 10 colors
This Friends-themed tee is sure to be a hit among fans of the show, with the design following the iconic "The One…" episode title format. You can match with a group of friends or just your partner (they're your lobster) while you drink, swim, and dance the night away.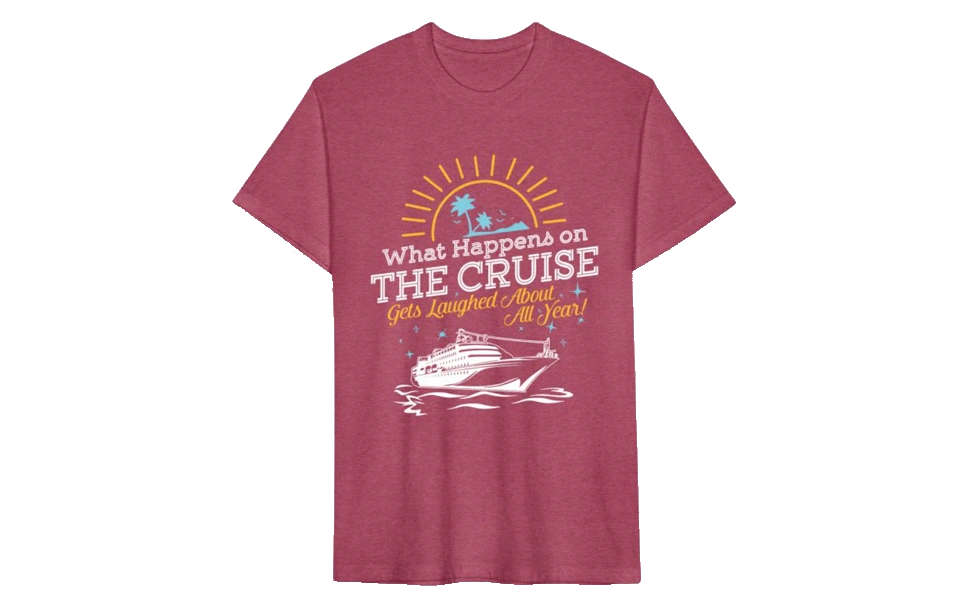 T-Shirt | Spreadshirt | by Le Vo Anh | 10 colors
What happens in Vegas, stays in Vegas, so the same should apply on a cruise ship, right? Wrong. On your floating Sin City, there's no forgetting the things you've done – whether you remember or not. Let your friends know they're in for a year of jokes with this playful tee.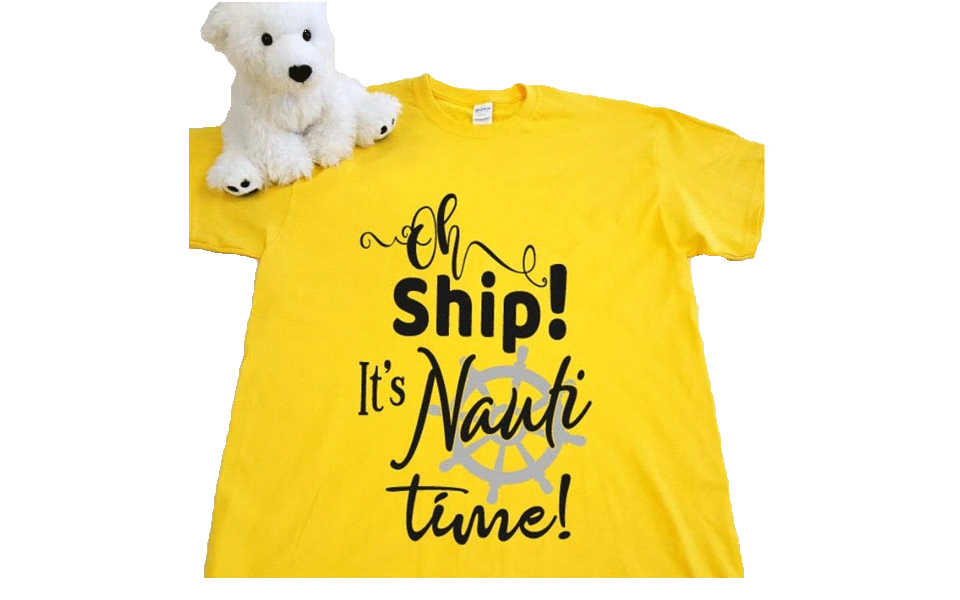 T-Shirt | Puddle Bear | 18 colors
As day becomes night, it's time to groove as the party gets kicking. If you're prone to getting a little frisky – nauti, if you will – when you've had a few drinks, we recommend making your way to one of the adult-only areas of the ship in this nautical-pun tee.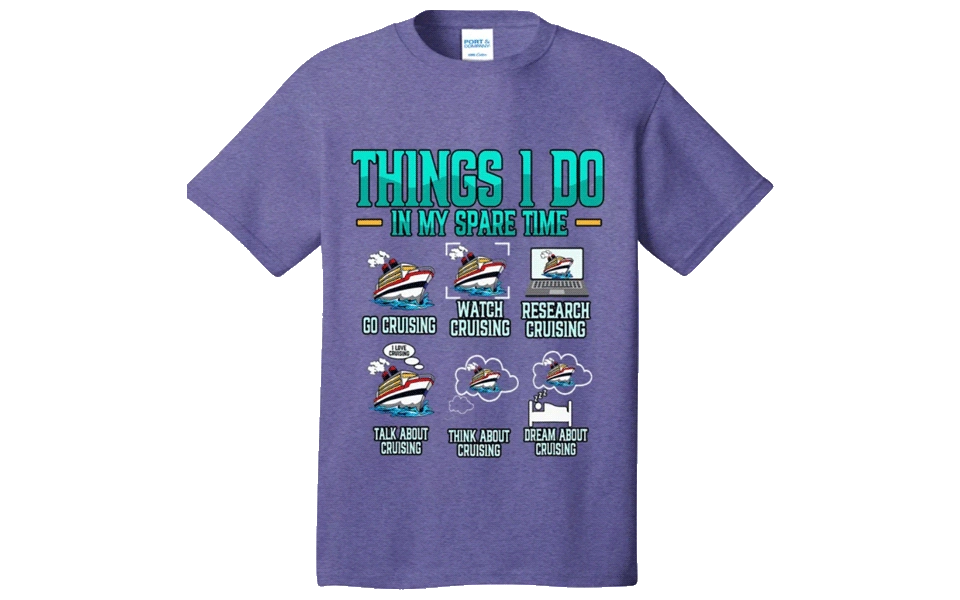 T-Shirt | Tee Shirt Palace | by LhoSTORE | 14 colors
Are you cruise-obsessed? You exist in one of three states at any given time; you're either planning your next cruise, you're on a cruise, or you're suffering post-cruise depression. The best use of your free time is obviously to plan more cruises, right? This tee would agree.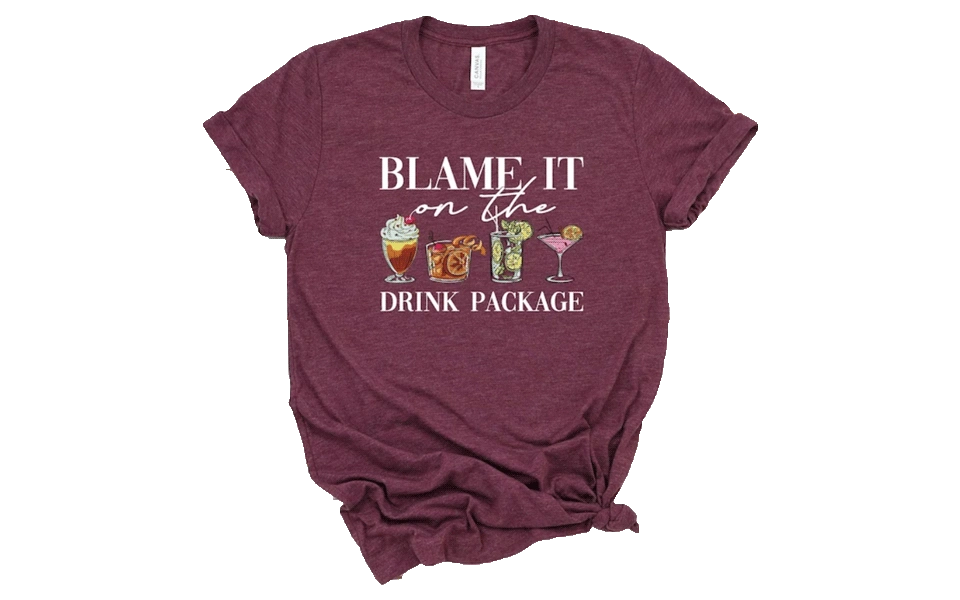 T-Shirt | Etsy | by rosebloomclothing | 14 colors
When you've got an unlimited drink package, who can blame you if you go a little overboard with your alcohol consumption? As long as you don't actually go overboard and into the water, we say drink to your heart's content – and blame any craziness on the drink package!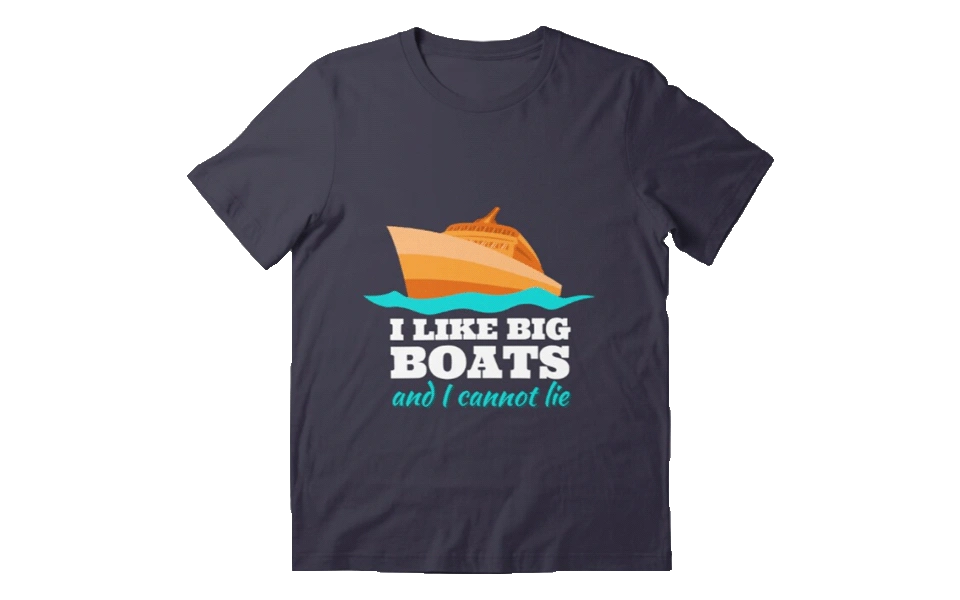 T-Shirt | Redbubble | by Quotes Gallery | 18 colors
If you grew up in the early 90s, you're probably familiar with Sir Mix-a-Lot's smash hit "Baby Got Back" and its most iconic lyrics. Combine your shared love of large glutes and going on cruises with this punny tee that proclaims you love big boats and you cannot lie.
Set Sail for Smiles With The Best Funny Cruise Shirts
If you're looking for a way to meet some new friends, stand out in the crowd, cause some smiles, and maybe even embarrass your kids, funny cruise shirts are for you. We've got a recommendation for everyone, regardless of if you hang out at the bar, take over the dance floor, or just like to relax. With a selection of colors, themes, and sizes for the whole family, look no further when packing for your next trip. Bon voyage!