TeePublic Spotlight: Anthony Oliveira AKA MEAKOOPA
Anthony Oliveira is a scholar, a podcaster, a comic book writer, a gamer–WHEW–and so, so much more! (He is also very, very Good At Twitter.)

He was so kind as to answer a few questions for us and we're so excited to share our interview with him below. Find out what Pride means to him, which design makes him extraordinarily happy (whose description references one of the best moments in PARIS IS BURNING, no less!), and how merch has allowed him to connect more deeply with fans and support the Rainbow Railroad, too.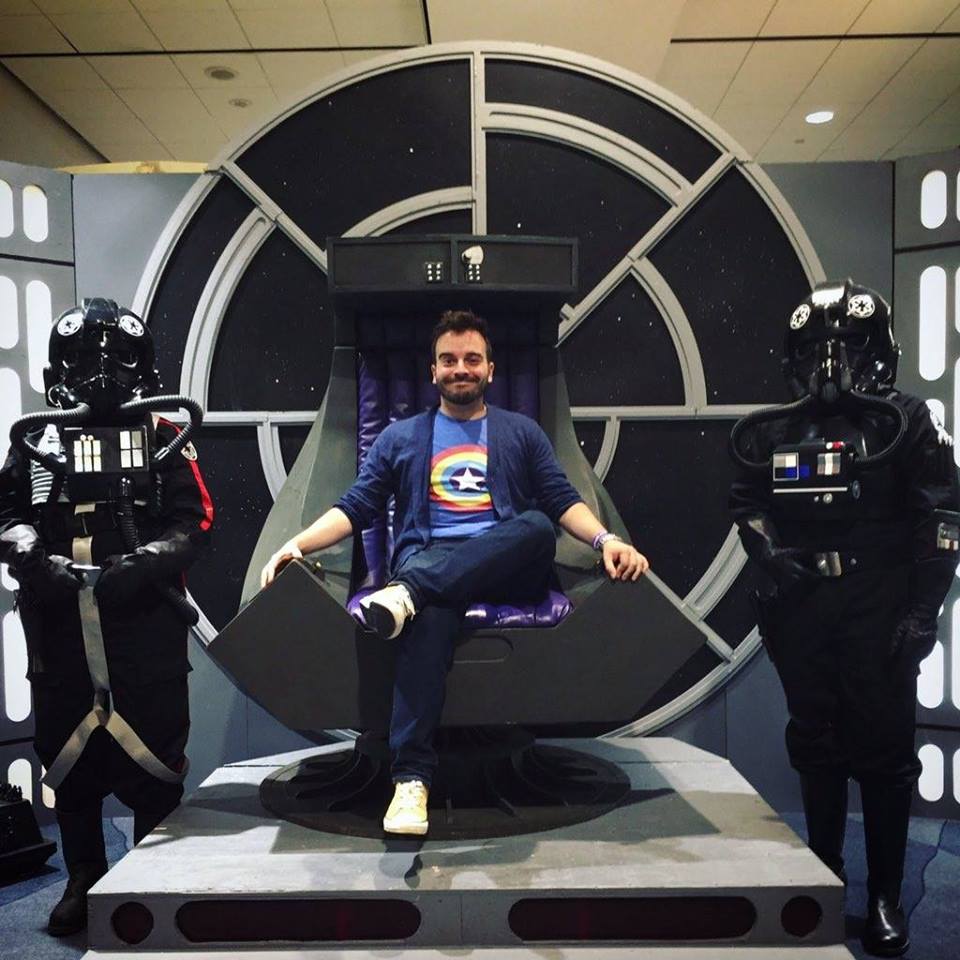 Anthony Oliveira, AKA MEAKOOPA
THE BASICS
How long have you been on TeePublic?
I've had a page on TeePublic for about a year now I believe! HAPPY PRIDE!


Where in the world do you call home?
I live in Toronto, Canada!
Run us through a typical day–what's your creative process like, in general?
I am, like many writers, quite nocturnal - I usually wake up late in the morning, and immediately head to a nearby coffee shop (I am very addicted to coffee), where I work for about 2 hours on whatever correspondence I have to do. Then a late lunch, and I set about on whatever project I'm working on - the latest comic script, or a prose piece, or something for the bookstore. If it's podcast day (which is twice a week) this is also when I record. In the late evening I usually take a break to go for a walk (lately usually with Pokémon Go on my phone...), get dinner with my boyfriend or maybe twitch-stream some video games with my sister and friends, and then I try to read for a few hours (lately a lot of comic book back issues for research!). My boyfriend and I will watch some TV before bed, which is usually at 3 or 4 am.
BEING ON TEEPUBLIC
How do you come up with new designs for your shop?
Many of them began life as tweets or as some strange turn of phrase or bizarre or striking image from the Devil's Party podcast - PARADISE LOST is certainly full of them! Lately, TeePublic has been gracious enough to lend me help from their bullpen, which has been a dream. (Ed. Note: The bullpen is an ever-expanding roster of TeePublic artists who help realize designs from conception to reality. If you have any questions, reach out to [email protected]) Working in comics has taught me there's no better feeling than the day an artist sends you something based on your work, and getting a t-shirt design has the same feeling.
Can you share some insight into how you've collaborated with your fans to bring your designs to life?
I am not a graphic artist, so I usually collaborate with someone - Ryan Somerlan, for example, made several beautiful prints based on striking passages from PARADISE LOST. For our Rainbow Railroad project, artist Jessica Struempf donated a design based on my "pissed off cockroach" tweet about queer survival, the proceeds of which went to help with Rainbow Railroad's important work getting LGBT refugees to safety.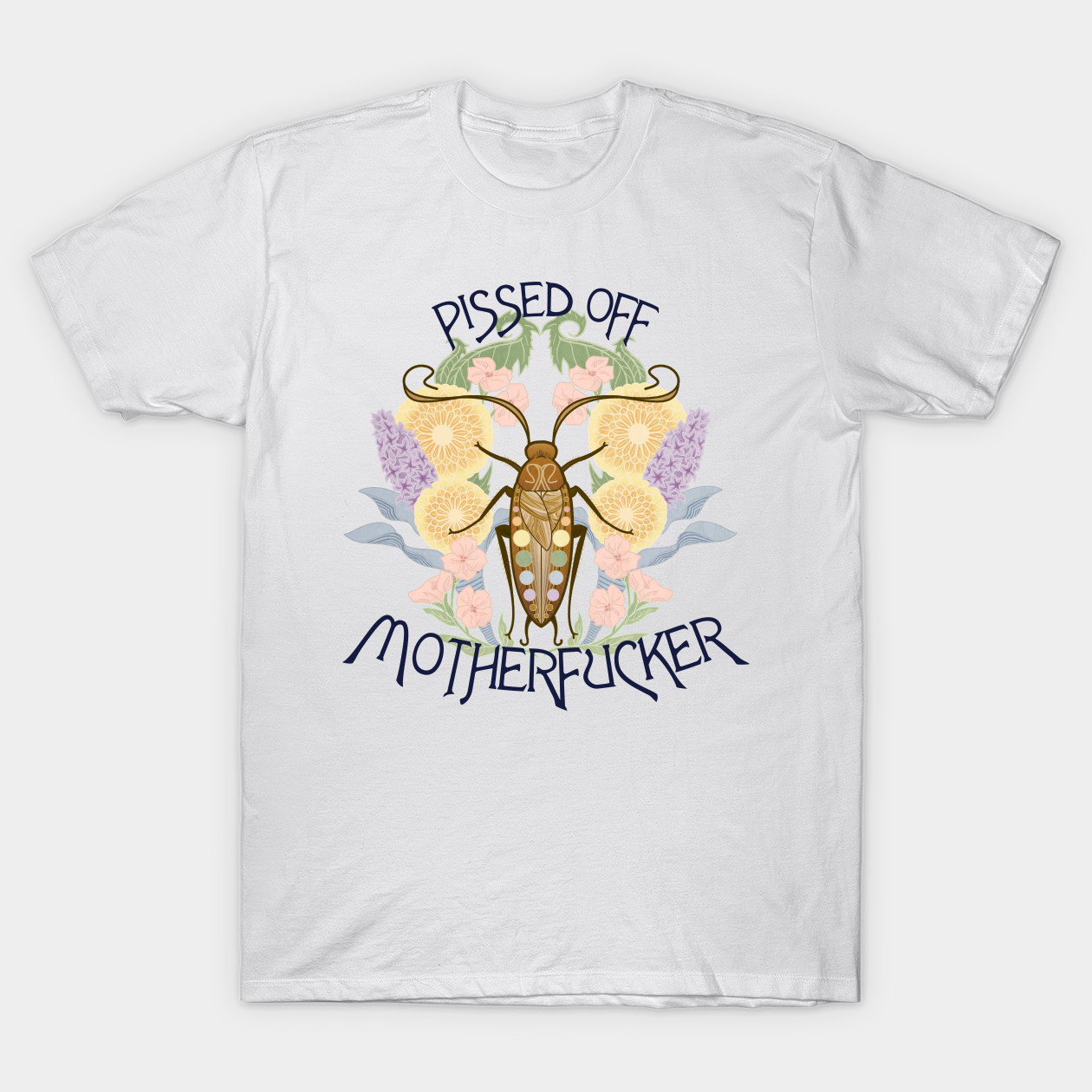 "Pissed off Cockroach Motherfucker"

Do you see a difference in the message that you're trying to convey through your account via curation vs creation?
I love featuring weird, strange, surreal, even ugly designs that I would never in a million years have thought of. One of my favourite shirts in the collection is of Bugs Bunny as Brunhilde from "What's Opera, Doc", riding seductively atop an enormously fat pony. It makes me extraordinarily happy.


What have you found to be the most rewarding outcome of sharing your and your fans' designs with the world?
I think the most fun part is seeing people's photos in them or hearing about how they sparked a conversation with someone else - I like the idea of people being able to connect with queer culture and a shared sensibility that isn't really represented.

I'm sure it's hard to choose, but what are your two favorite designs in your shop, and why?
Hmm... I love our new one, "BUCKY AND STEVE, NOT ADAM AND EVE!" which is a variation of a shield I used to confront anti-gay preachers at Pride a few years ago. I'm also very very fond of our "Art Thou That Traitor Angel?" shirt by Ryan Somerlan - Satan, at the bottom of the pit, waist-deep in the lake of fire, his eyes gazing up to the Heaven he has lost. I adore it.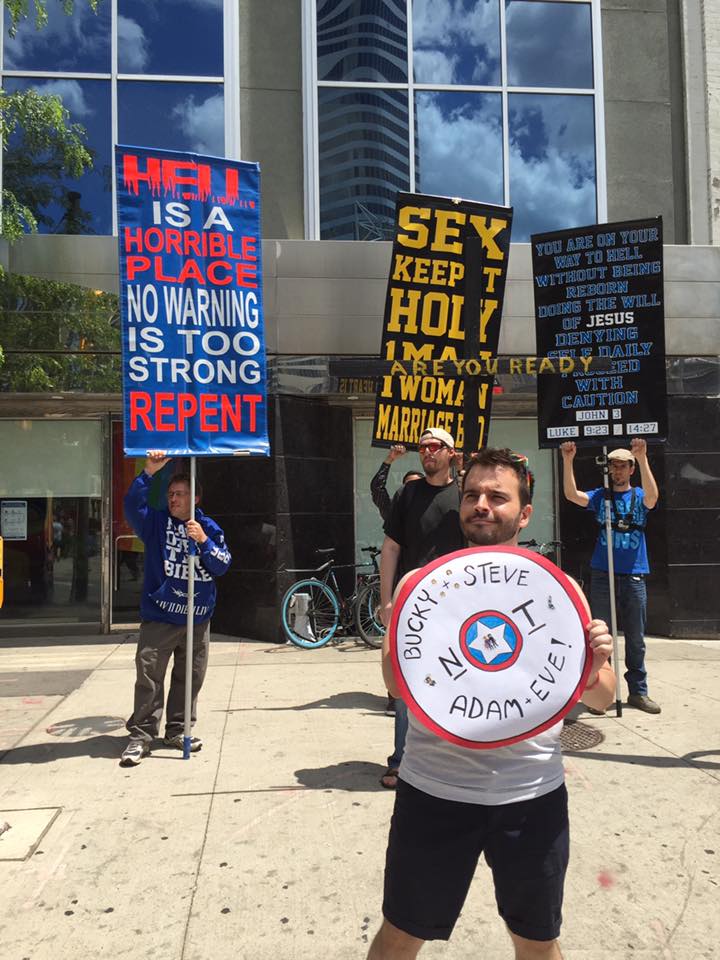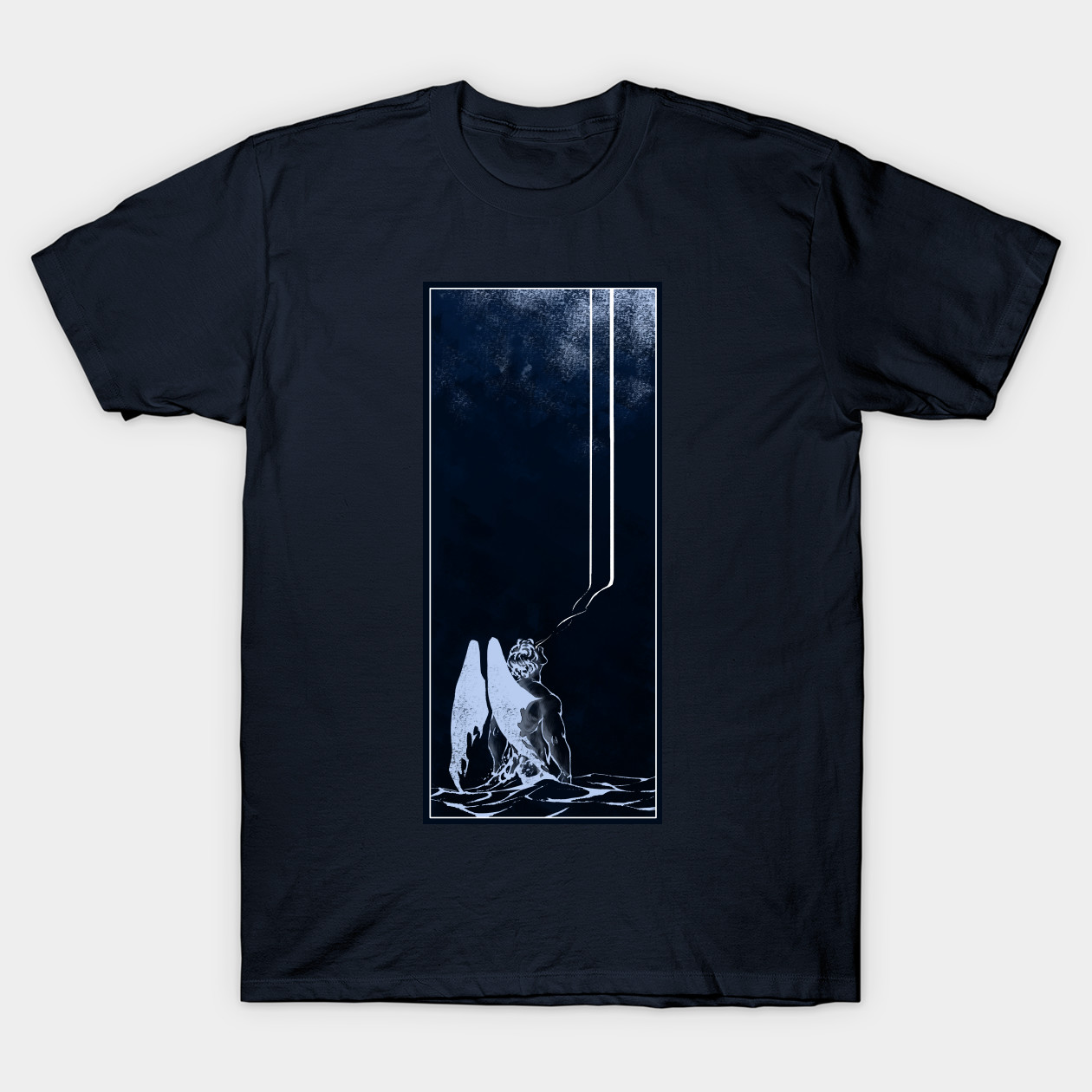 "art thou that traitor angel" by shojo_nosferatu
Pride is a riot.
- Anthony Oliveira
PRIDE!

What does Pride mean to you?
Pride is a refusal to be silent, and a refusal to conform. Pride is a reminder that rights are demanded, not given. Pride is a riot.
What are you doing to celebrate Pride this year?
I work in a queer bookshop/cafe - we'll be running a space in the village where people can come, chill out with their friends and a tea or a cocktail, and just be themselves amid the classics and cutting edge of queer literature!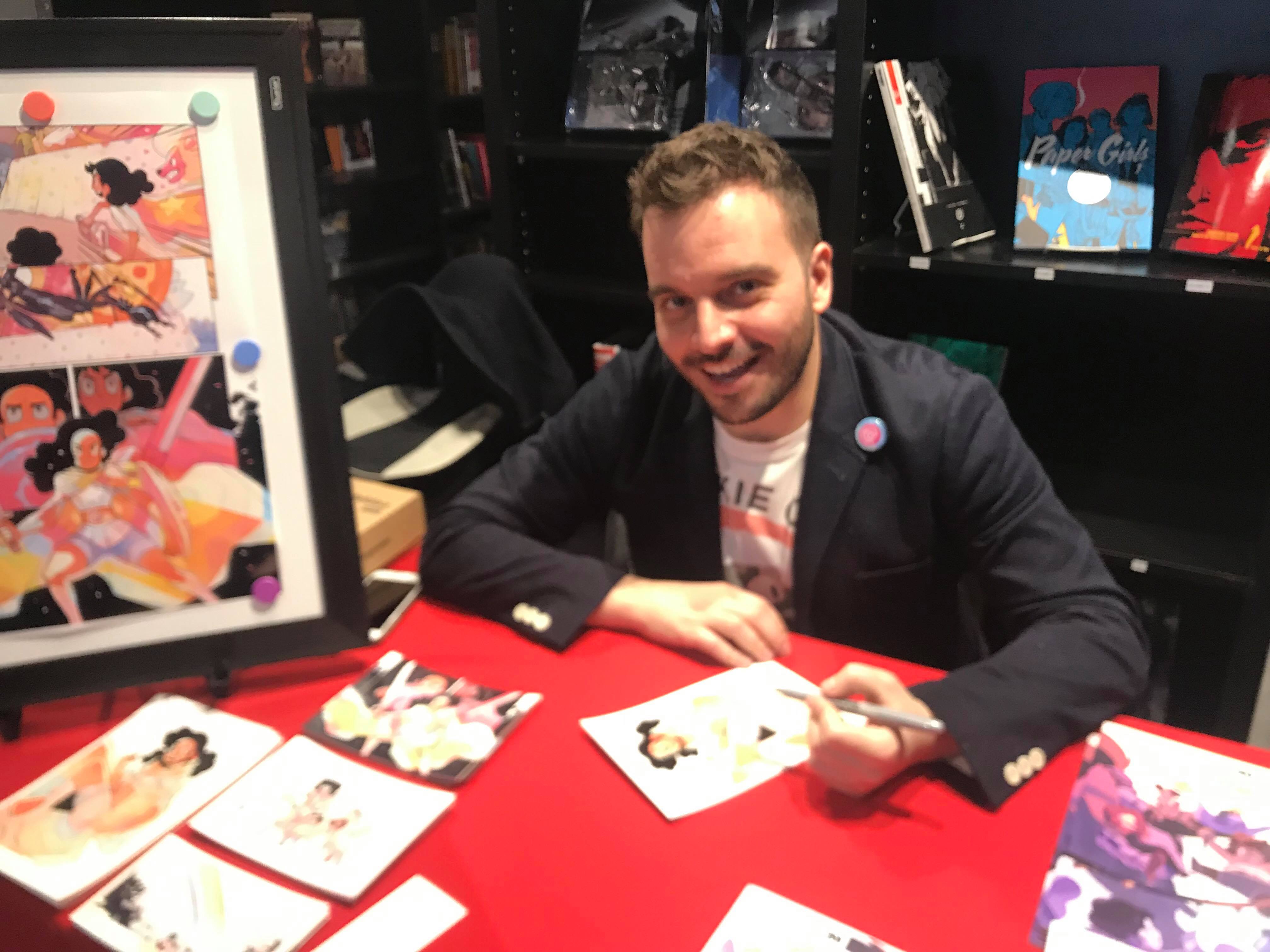 ---
Thanks so much for sharing a glimpse into your process, work, and life, Anthony!

For more from Anthony, check out the following: