How Can I Maximize My Success During A Sale?
When our site is on sale, it's your chance to spruce up your store and attract more shoppers! Here's how to do it.
Whether you're new to the site or you've been with us for a while, you may not know the best ways to take advantage of the resources we've created for you during this very limited time when traffic is at its highest. We've covered some of this information for you before, but this entry intends to dig into the why a bit further so that you can use this information to maximize your success.
Why Should I Care?
There are two very good reasons why you should care about the period of time that the site is on sale, backed up by trends and data:


1. Your fans will buy more
If you tell your fans that your store is on sale, your fans will more likely want to buy from your shop when it is on sale than when it is not. Classic tees, for example, normally retail for $20 but during the sale, drop to $14, a 30% decrease. If you were a shopper, wouldn't you want to buy two tees for the price of one-and-a-third? We thought so!
That our decreased prices are offered only for a limited time creates urgency, which gives you a reason to tell your fans to check out your shop, and which we know, based on past sales, inspires folks to buy all sorts of products.
(If you've lived through one Black Friday in the US, you already know that urgency creates the desire to buy!)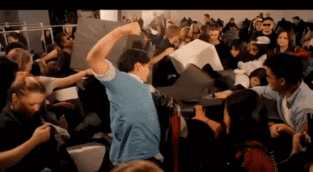 2. People are already in the mood to buy
Overall, we see a spike in traffic of 500% when the site is on sale.
Because more people are visiting the site than normal (many of whom are first-time shoppers who happened onto our site, enticed by the sale and our artists' designs), this is your chance to get your work in front of them.
Say, for instance, someone's visiting the site looking for a great Mother's Day gift and came to us because they saw a cute design on Google. But they're not totally sold on that design yet; maybe their mom is picky. For now, this shopper's just browsing.
This is your chance! Make sure that you get your work in front of that person by making an eye-catching, quality design that you effectively advertise to them by giving your awesome design a good title, nice description, and specific tags.
How Should I Use This Info?
For Your Current Customers:
The sale is an opportunity for you to show your fans how seriously you take your business. We offer two options for spreading the word in a professional way--
Ad Templates: On the first of the month and the day before the sale, we send out ad templates (see what these templates look like here) tailored to the major social platforms so that you can spread the news about the sale in your storefront to your network and beyond. So, what are you waiting for? Tell 'em that you have a TeePublic shop (and that it's on sale)!

Your audience wants to support you and your work. Don't be shy, show off your shop!
PlaceIt: Maybe you're sold on the concept of making ads during sale time, but you're less of a product layout person and more of a mockup person? We hear ya. That's why we've teamed up with PlaceIt to offer artists a 15% off coupon to create true-to-life mockups so that your audience can see what your work looks like IRL.
For Your Future Customers:
As we said above, the sale's not only for your current customers, but it's also an opportunity for you to make a good impression on your future customers--
Post New Work: While the site is on sale, it's a good idea to use this time to upload new pieces to your store. By having more designs in your shop than before, not only will you increase the probability that someone will find and appreciate your work, but you will also show off your impressive portfolio to people who might be stopping by, thereby creating new fans. And new fans mean new potential customers in the future.


Audit Your Design Descriptions and Titles: Because many of the visitors we have to the site during sale time are first-time shoppers who are simply browsing, it makes a lot of sense to make your design titles and descriptions as accurate and specific as possible. Get into the head of the shopper who will find your work: What will they be searching for? What words will they be thinking of when they look around? Use those keywords in your titles and descriptions, and you'll be well on your way to getting more traffic to your store!
We hope these tips and advice will help you maximize your success on TeePublic generally, and specifically during sale time, one of the most important opportunities you have as a store owner on TeePublic.
As always, if you have any questions about this, feel free to reach out at [email protected]