Affiliate Tips: How To Earn More Money With ShareASale
In order to maximize on your TeePublic merch store (and earn commission on your curated merch) you'll need to sign up for ShareASale.
What is ShareASale?
Imagine that for every product or service you have recommended to a friend somebody paid you let's say $1, wouldn't that make you a bit more money? A lot you say? Well let's dive in.
ShareASale is an affiliate network. It puts together advertisers just like TeePublic and affiliates just like you. You can promote any product from TeePublic to your audience and generate revenue while doing so.
The ShareASale network facilitates the relationship with TeePublic and it allows you, as an affiliate, to create custom links that track somebody else's purchase of a product, and then credit your account with the right amount of dollars.
For one, you need it because it helps you track down the earnings, create links and give you an overview on how well you're performing. Sales happen in real time, giving you insight on how well your promotion campaign is going.
And if you want to take it one step further, here's how you can generate reports from Shareasale to review your success so far:
You can track clicks, sales numbers and conversion rates.
You also get paid by ShareASale, directly to your bank account or by checks, automatically every month on the 20th for what you have earned in the previous month.
How does it work?
Let me show you an example, let's take this t-shirt: https://www.teepublic.com/t-shirt/1197534-nevertheless-she-persisteddwxqfazttswdre
You can then create a custom link inside ShareASale like this:
1.) Log into your account
2.) Select Links from the Tool Bar
3.) Click on "Create A Custom Link"
4.) Select Busted Tees as Merchant
5.) Enter Link
6.) Select Yes for Create License Plate Link
7.) Click Create Link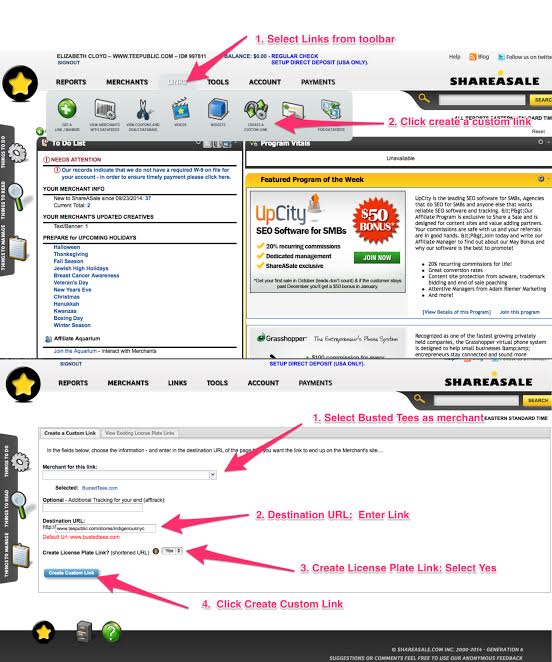 How do I sign up?
Find us on ShareASale, under Merchants and apply. Or you can click this link and follow prompts: http://account.shareasale.com/shareasale.cfm?merchantID=5108&storeID=2
We'll approve you and you can start creating the custom links just as shown above. That's it, you're good to go!
ShareASale alternative: Google Analytics
If you don't want to create an account with ShareASale and run your campaigns over there, we've got you covered!
The solution is to use Google Analytics instead, and while you don't have to be a Google Analytics wizard, it's nice to know your way around it.
We've written this comprehensive guide on how to integrate your TeePublic account with Google Analytics and track all your sales over there.
Still have questions? Check out our TeePublic FAQs or email affiliate@teepublic.com!