Affiliate Tips: Utilize your Newsletter for Great Merch Promos
Do you have a newsletter? Have you ever thought of using your newsletter for merch?
Newsletters have plenty of advantages. They help you connect with your audience regularly and they're quickly customizable. Best of all, they only get in front of the eyes of people who sign up for them, so the chance of burning out your audience is significantly lower. And because of this last point, your newsletter makes for a great place to share merch shoutouts!
So how about using your newsletter to promote your store? We've got some suggestions on how to make that happen:
Merch Corner
Adding in a "Merch Corner" to your newsletter allows you to do it all:
It establishes expectations– your audience knows that they will see something about your merch every newsletter. It's broad enough to cover anything you want to share: upcoming sales, new designs, a variety of products. It ensures that your audience is regularly seeing your merchandise, which is the best way to get clicks and turn them into sales.
"Merch Corners" are the easiest way to get your store in front of your audiences eyes and something we absolutely encourage you to try. Check out some examples on how C'est La Me set up theirs: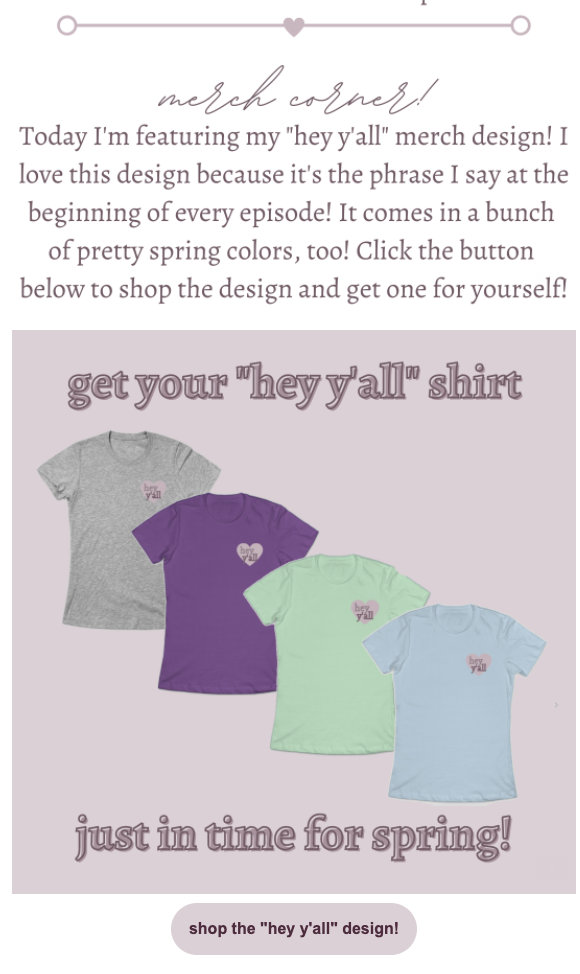 Sale Shoutouts and Special Deals
Sales are some of the best selling times. We always encourage you to let your audience know when your merch store is on sale, and your newsletter is another way to do that! Especially if you're already sharing sale details on your social media accounts, tacking it onto a newsletter just increases how many people are seeing your store is on sale (and then clicking in to check it out).
Best of all, you don't necessarily have to send your newsletter out on the days of the sale. If you've got our calendar on hand, you can share those dates and deals at any time!
Upside Down Tulips and Neurodiverging have some great examples in their newsletters: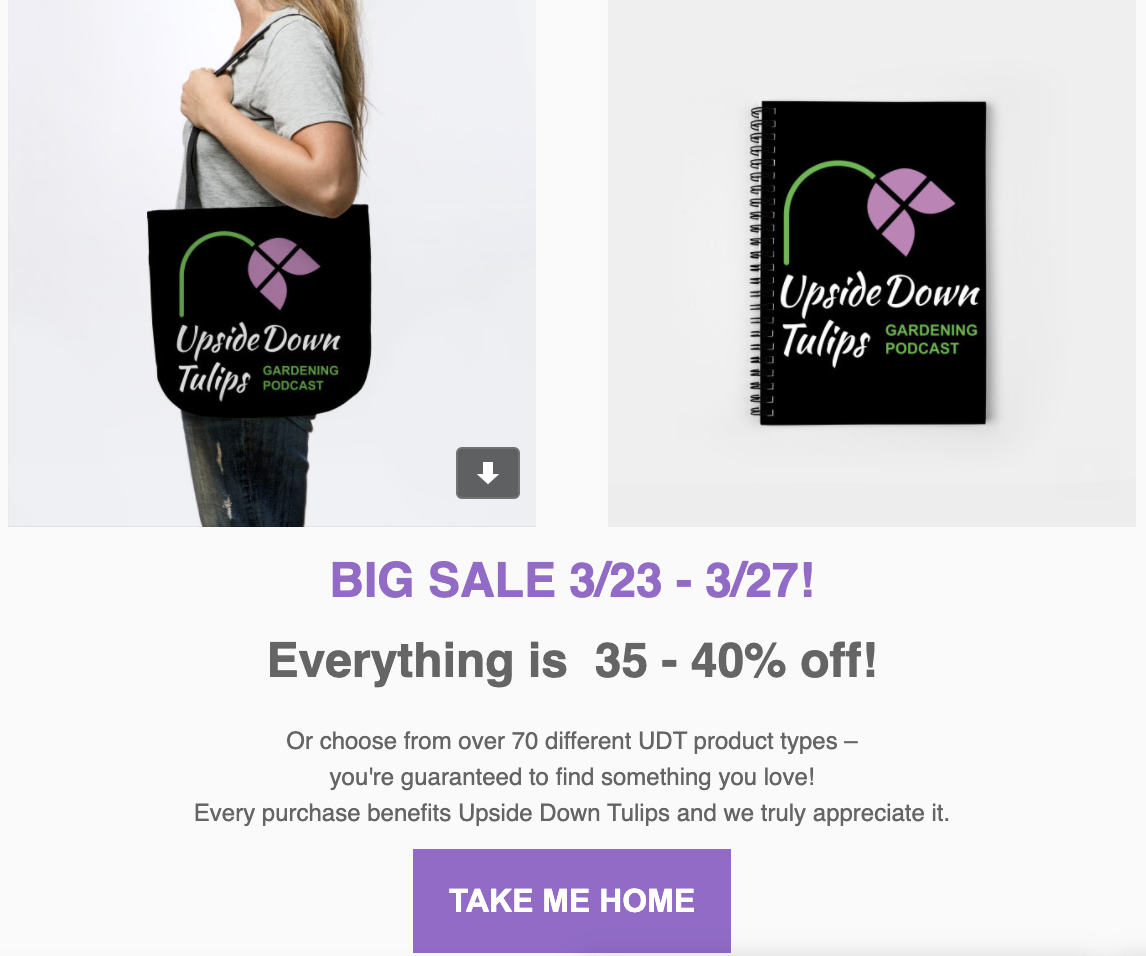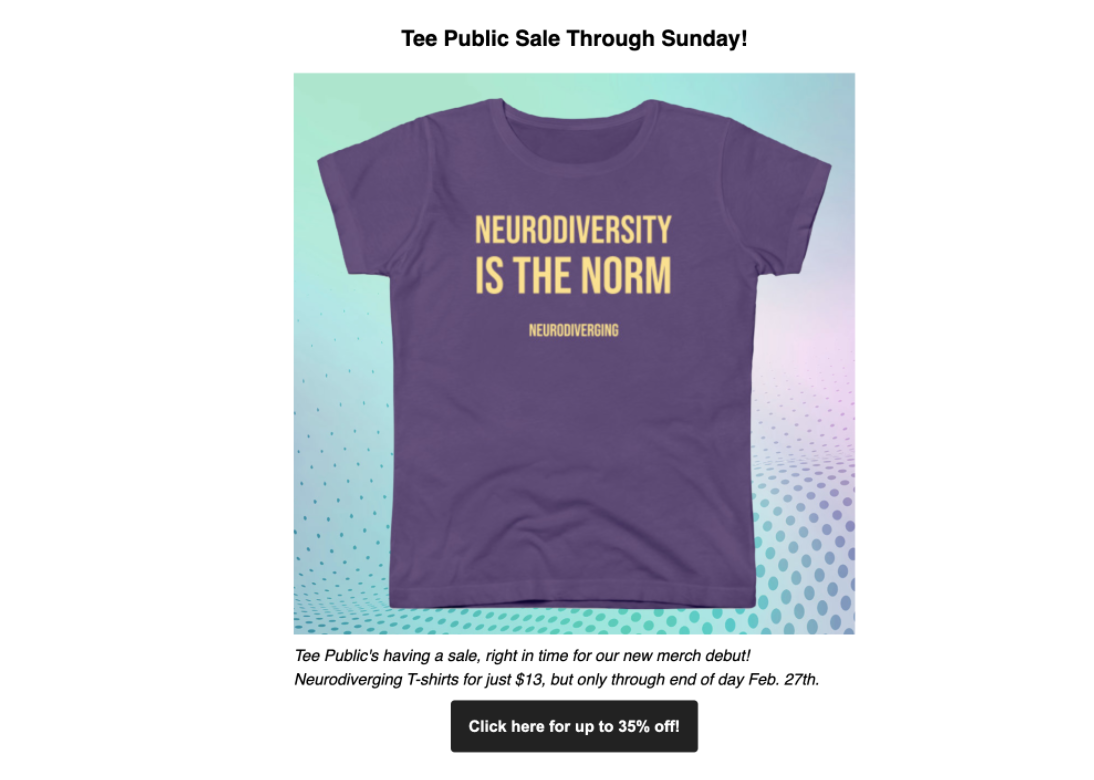 Or if you're doing something special with your store, for example, running a coupon code or running your own sale on a new shirt you can shout those out in your newsletter too. You can even make these special deals something only your newsletter subscribers will receive as a way to say 'thank you!'
Header/Footer
Including your merch store can be as simple as tossing a banner or image in your newsletter heading, or linking to your store in your sign off.
Your header is the first thing your audience sees and can pique their interest straight away. Healthy Home Hacks has a lovely banner at the start of their newsletter:

Throwing a store link into your footer is also an option. It doesn't have the same perks as everything we mentioned up above, but it's better than nothing! So if you don't feel like you have the time for a whole "Merch Corner" or to write new copy for every new sale or deal, then no problem. Toss your store link into your footer and call it a day!
Those are some of our favorite ways to include merch into your newsletter and we hope you'll give them a try!
If you have used your newsletter in other ways you've found successful, we'd love to hear it! Give us a shout at [email protected] and let us know. :)