How To: Design for the Direct to Garment Process
So you know how to the make beautiful art, but do you know how to make that art suitable for all products? Below, a quick guide to making your work suitable for our uploader and for our Direct-to-Garment (DTG) process.
First, the uploader:
The file uploader has a few requirements:
PNG with a transparent background (don't know how to make it transparent? Find out how here)
at least 40% opacity (what's opacity? Find out here)
8-bit color
1500px x 1995px for apparel and 5500 x 5000 px to print the largest size art print
When you upload, make sure they're RGB files; we convert them to CMYK using our own color profiles.
You're able to design in any number of colors you'd like. We can print them all!
For lighter colors, we print a white so that you can put your awesome design on any color item we have.
If you have white in your design, be sure to turn off the white apparel color option in the uploader. White ink will not print on a white shirt!
Fidelity of certain types of colors, however, may change.
Fluorescent colors, for example, print a bit more muddled than they appear on-screen. Instead, you can see how they will appear below: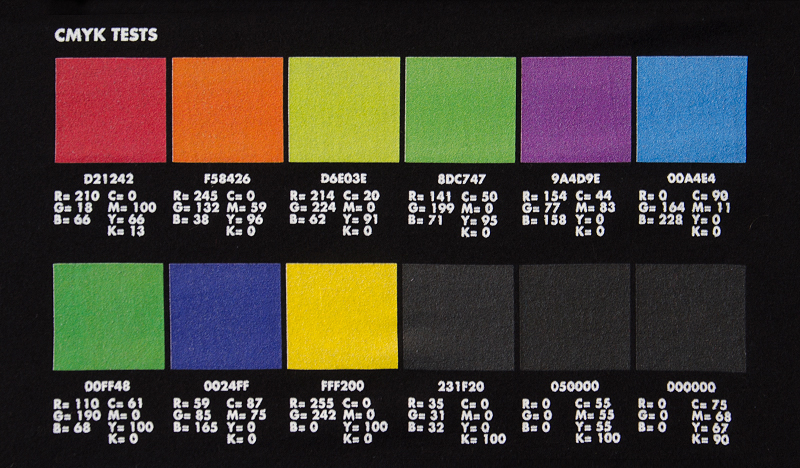 If you'd like to learn more about the specifics of designing for DTG, check the link here and, as always, keep the art coming!