The 15 Best Birthday Gift Ideas for that 90 Year-Old in Your Life
Life is something to be celebrated. Especially long lives – and that's exactly what birthdays are for. Birthdays are always a reason to celebrate, but some occasions are more special than others. Your first birthday, your sweet sixteen, becoming an adult at 18, being able to have a drink at 21, hitting 40, and reaching 50 are all notable milestones. However, those all don't compare to turning 90 years old. If your loved one has been lucky enough to be one of the 34% of women and 17% of men to reach their 90th birthday, that 90 year old love one deserves a special present. But shopping for birthday gifts for seniors can be hard. After all, they've had nine decades to get everything they want! If you want to get your parent, grandparent, or other loved one a special gift for a huge milestone, you're in the right place. Here are our favorite 90th birthday gift ideas that'll make the occasion memorable.
Birthday Gifts Ideas for 90 Year-Olds
It goes without saying, but it's worth saying in this case: ninety years is a long time. That said you don't have to spend more than a few minutes finding the perfect for a 90th birthday gift. Our hand-picked list gives you a gift ideas for nonagenarians but really they're great presents for seniors of all ages, so show your loved one how much they mean to you with a curated gift just for them. From funny shirts for that 90 year old to mugs to personalized jewelry. We covered a lot of ground for that special grandma or grandpa that's going into their tenth decade.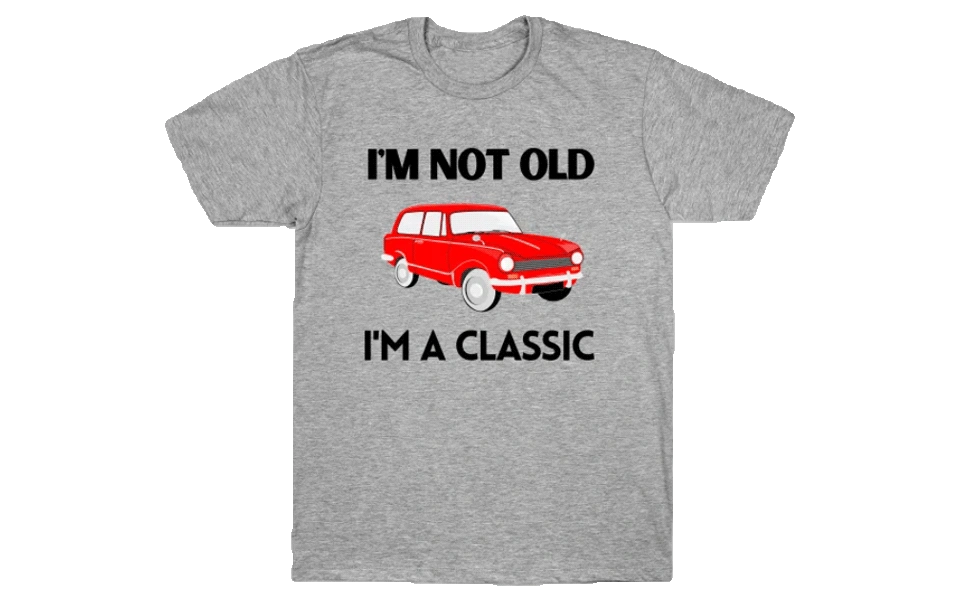 Maybe the person you're celebrating doesn't mind getting older, but they don't like to be called "old" even as they celebrate their 90th birthday. Do they like vintage or antique cars? Remind them with this tee that they're not old, they're a classic like a '57 Thunderbird.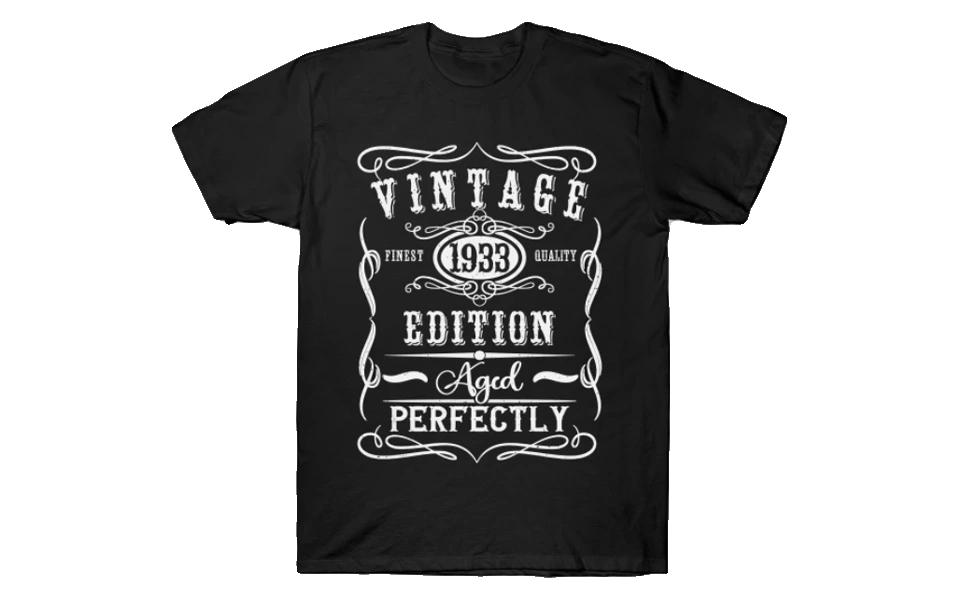 Like most alcohol, some people just get better with age, whether that be in looks or in spirit. Let your friend or loved one know that you think they've aged like a fine wine with this tee proclaiming them "vintage." In fact, as the shirt says, they've aged perfectly. The perfect gift for a grandma or grandpa that still likes a little whiskey in their morning coffee.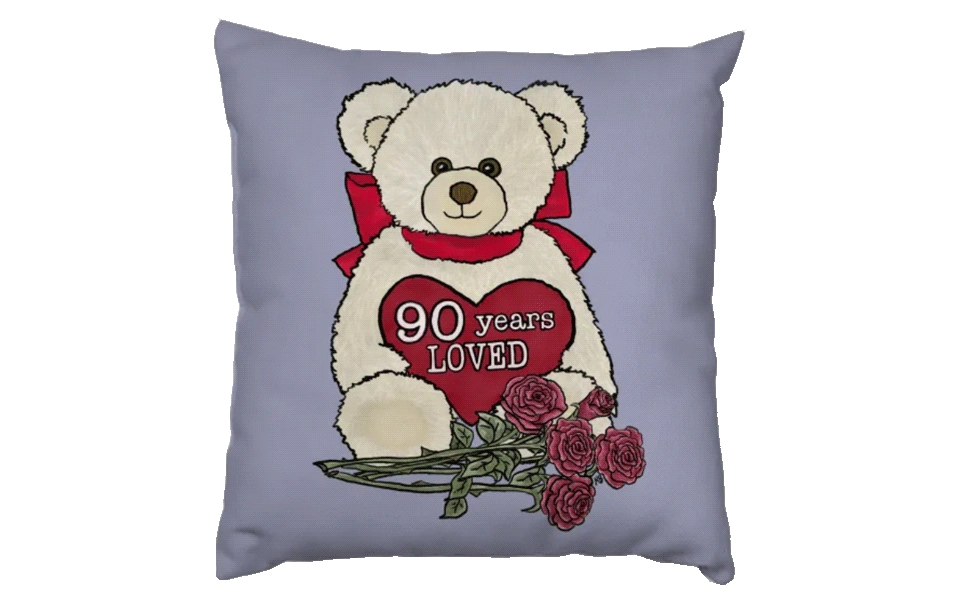 Show your love for your newly-90 parent or grandparent with this cute pillow. Featuring a teddy bear holding a '90 years loved' heart, it's a sweet gift they can display on the sofa or rest their head on at night, reminded of how much you care as they fall asleep.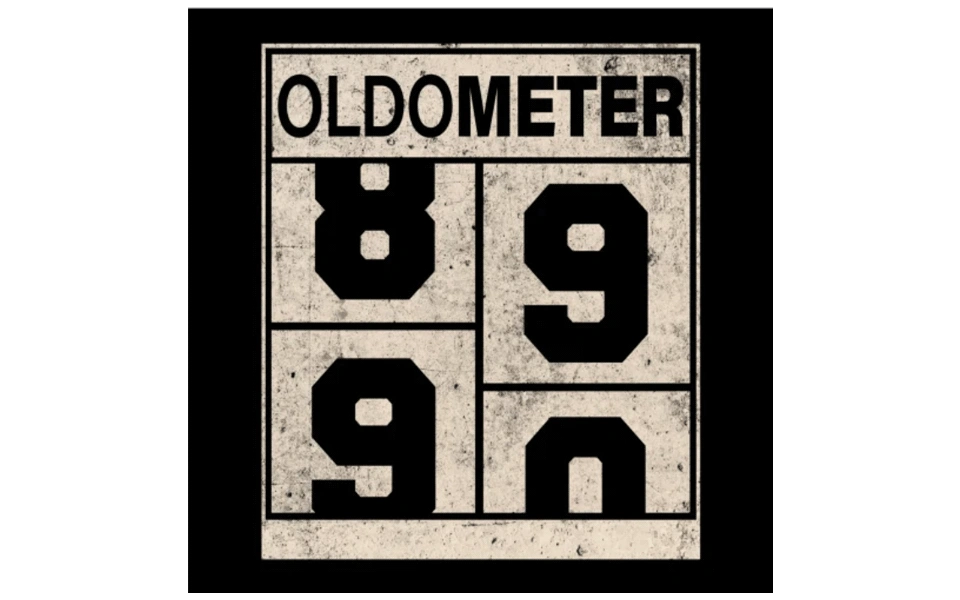 If you've ever driven or rode in an antique car, you've probably watched the mechanical odometer's numbers tick over. Playing off of "odometer", this funny print features an "oldometer" with numbers shifting from 89 to 90, making it a perfect gift for a car fan who's getting older.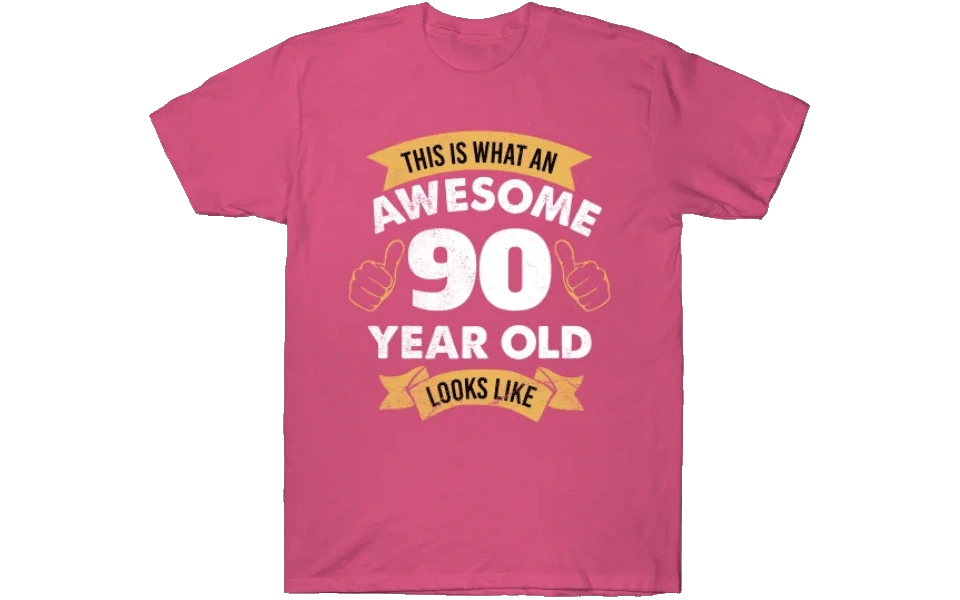 Turning 90 years old is really a milestone in life to be proud of. So if you have that happy, positive, active, curious 90-year old in your life, this proud-to-be-who-I-am shirt is perfect. Get it in pink, blue, lime green or any multiple of colors at TeePublic so they stand out (even when they're sitting down in their wheelchair).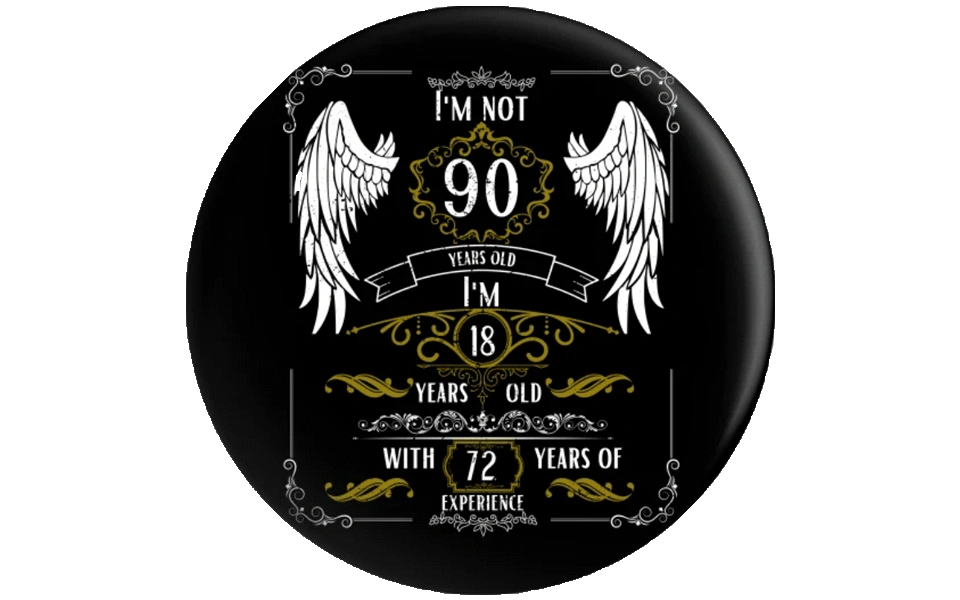 90 looks different for everyone, and some folks are young souls trapped in bodies that continue to age. Let the world know your birthday celebrant isn't 90, but 18 years old with 72 years of life experience with this festive pin they can wear as you celebrate them.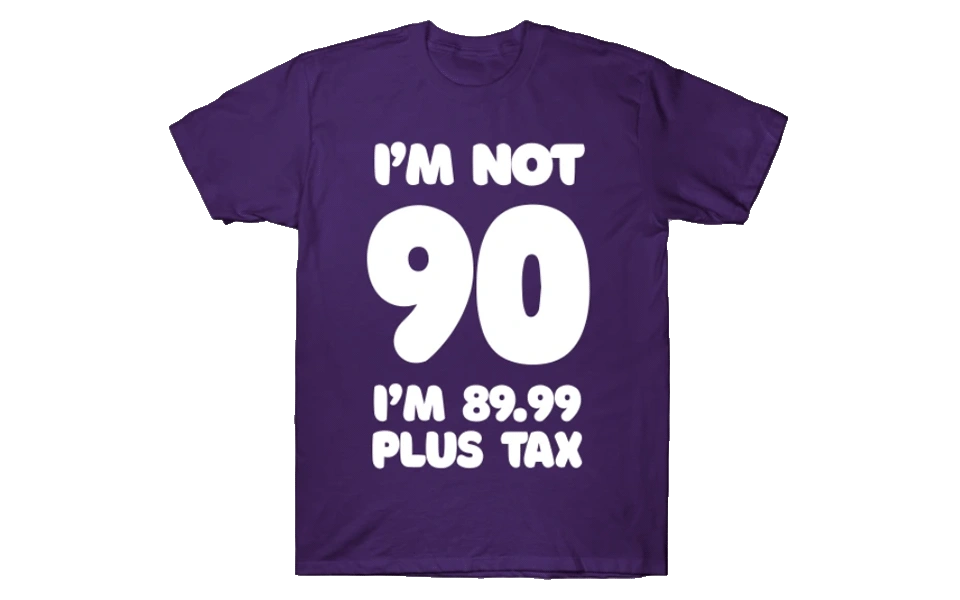 A perfect gift for those embracing their golden years, this 'I'm 89.99 Plus Tax' tee is bound to bring lots of joy and laughter. Add a dash of wit to the party – and some shipping and handling fees – with this humorous statement on aging. Purple not your color? Don't worry, this tee comes in multiple colors and for men and women!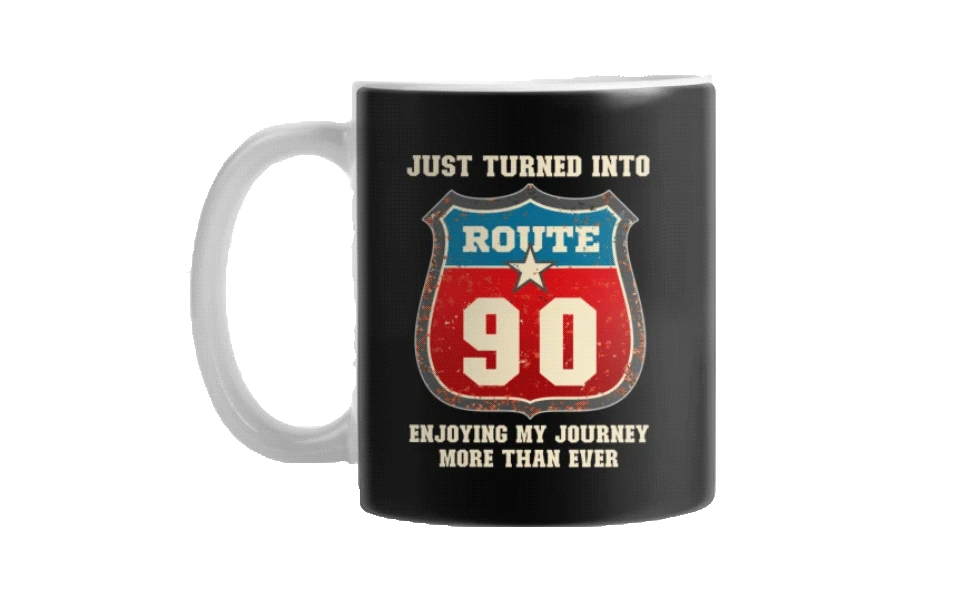 Life is a highway, a road your loved one has spent decades upon decades traveling. As another year turns, they're ready to begin the journey of their 90s – or turn onto Route 90, per this mug. If they're not limited by their age (and love coffee), it's a perfect gift.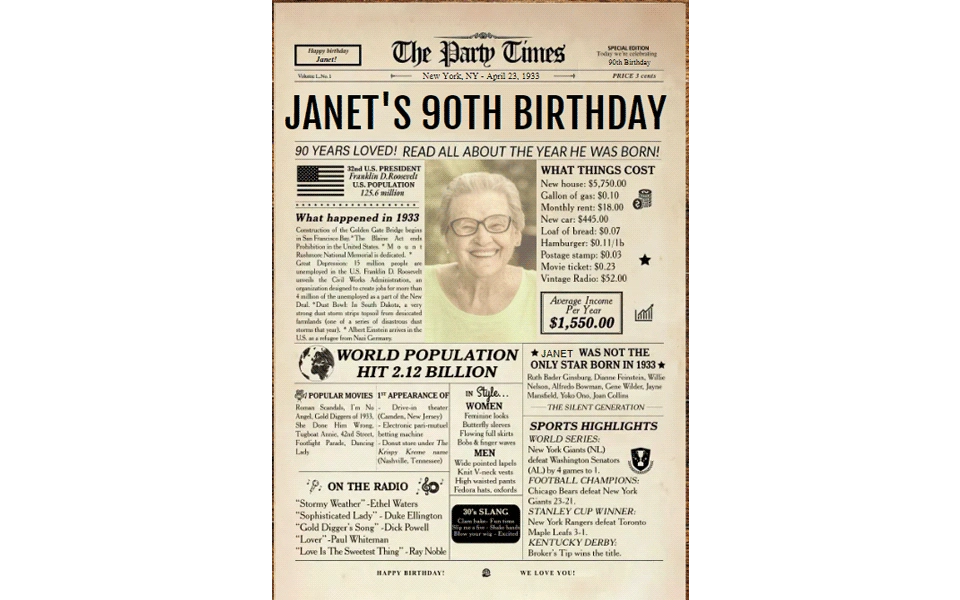 I love this. What better way to make your 90-year old loved one feel special than a customized vintage "Back in 1933" newspaper-style print reminisces on national and worldwide events that occurred the year your loved one was born. To make it more personal, this thoughtful gift can be custom-made with their name, picture, birthplace, and even a newspaper title of your choosing!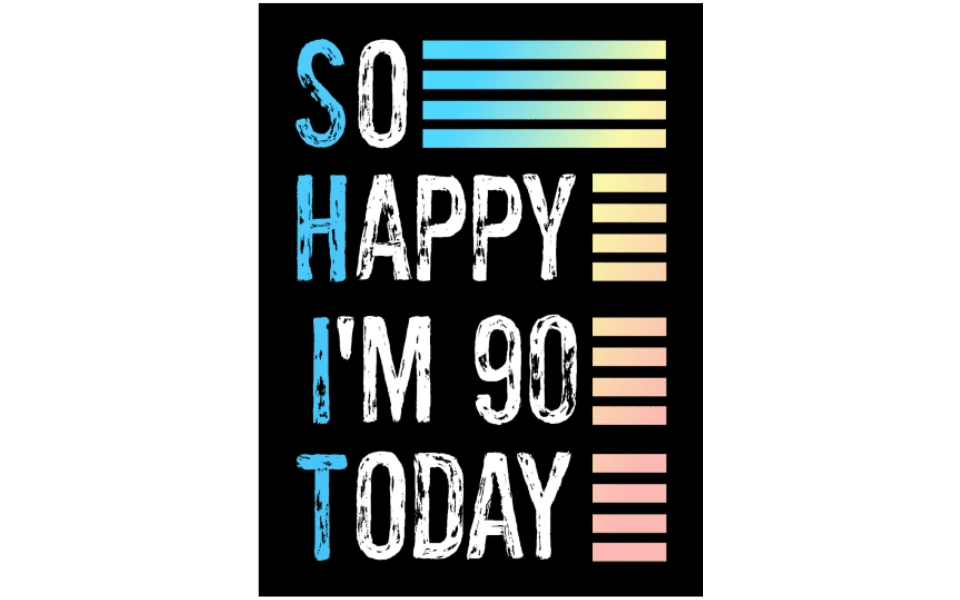 Some people would just prefer to not think about their age. If your loved one isn't thrilled about turning 90 but still has a great sense of humor, this poster and art print lets them show their "excitement" with a hidden message that reveals their true feelings.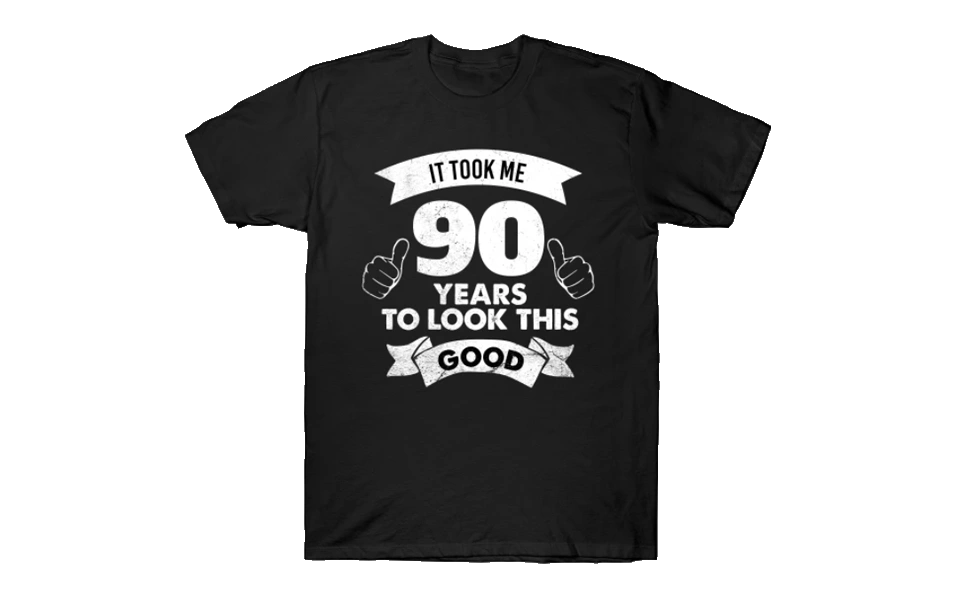 Was your family blessed with good genes? Does Grandma or Grandpa look young for 90, or constantly get told they look great for their age? Acknowledge your agreement of their incredible looks with this t-shirt that proclaims it's taken them 90 years to look this good!
Is there someone in your life who just hates celebrating their birthday? Or maybe they're a bit.. grumpy? Do they refuse to acknowledge they're another year older, maybe insist they won't be turning 90? If your loved one finds humor in flipping the bird, they'll love this 89 (plus one) middle finger tee.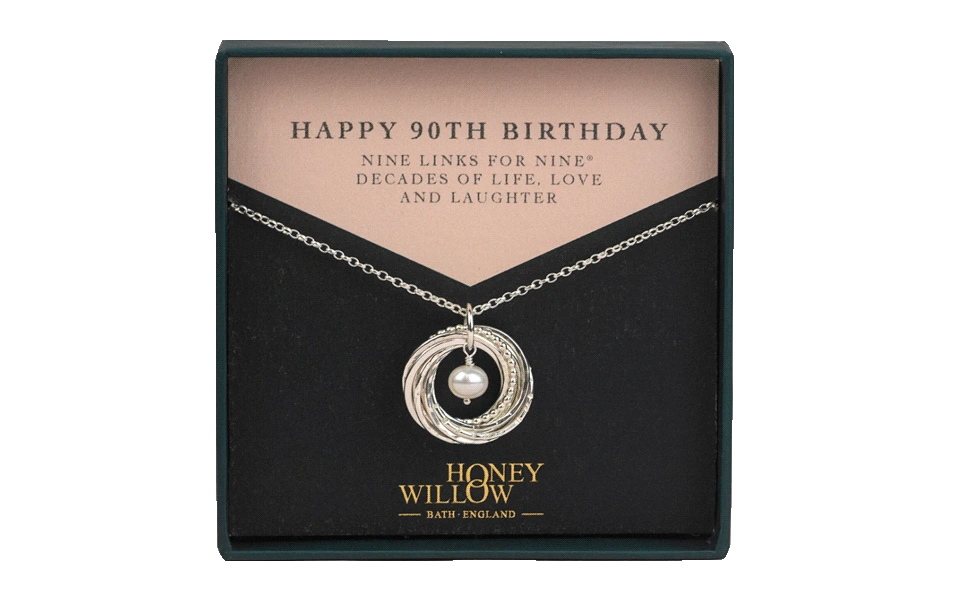 You can never go wrong with jewelry for a birthday, especially when it has a customized touch. This handmade necklace features nine linked circles, each representing a decade of Grandma's life, centered around her birthstone, offering a special gift that shows just how long her love has filled the world.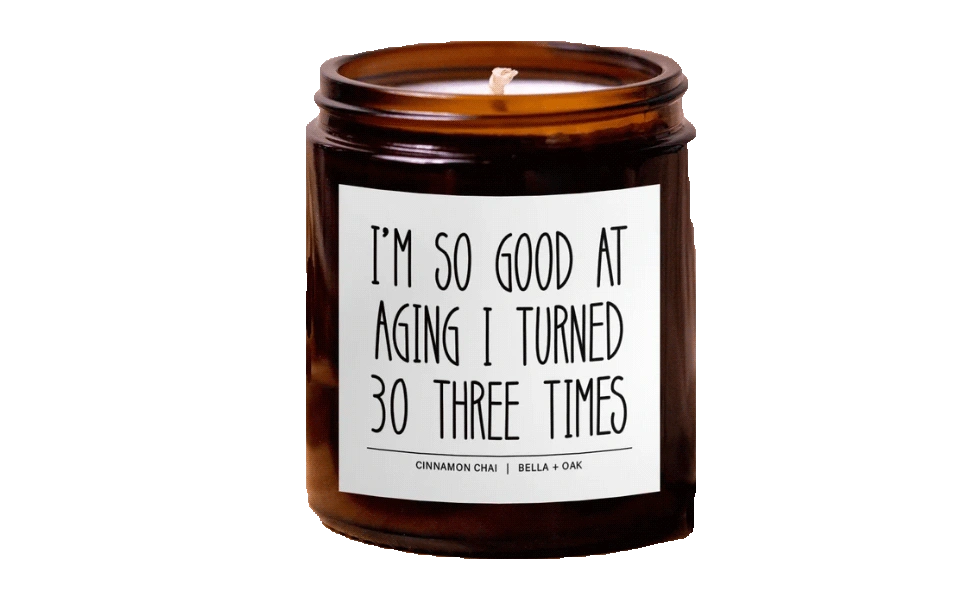 Age can be touchy, though some wear their age with pride. If the birthday man or woman has aged particularly well, they'll appreciate this scented candle that states they're so good at aging, they've turned 30 three times now! With 7 scent options, you're sure to find one they'll love.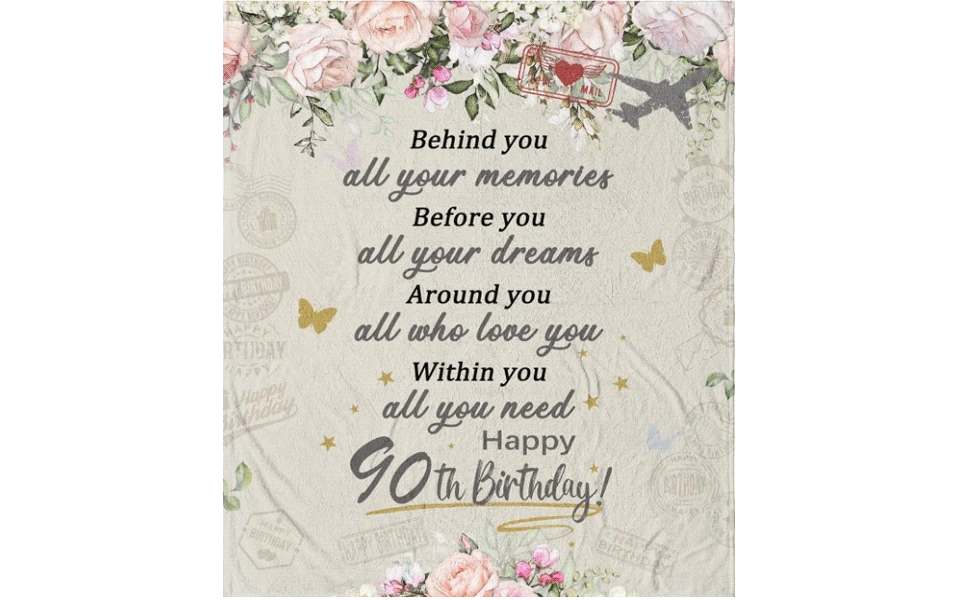 This simple blanket brings lots of love and the gift of warmth – literally The floral design also includes a sweet poem reminding Mom or Grandma that everyone and everything she needs exists right here with her, and her dreams still lie ahead while she lies under the blanket's comfort.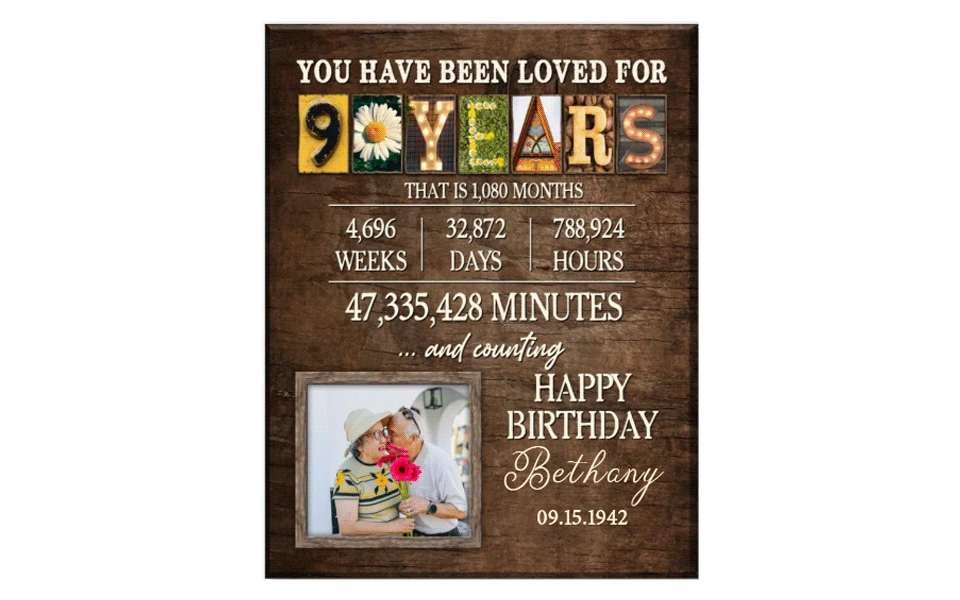 Ever wondered what 90 years looks like in months, weeks, or even minutes? Now you and your parent (or grandparent) can visualize it with this birthday canvas. Featuring a breakdown of months, weeks, days, hours, and minutes, this print shows 90 years of love in the little moments.
Make Their Special Day Even More Memorable With The Perfect 90th Birthday Gift
Buying gifts can be hard, especially for a special event like celebrating nine decades of life. It's even harder to scour the internet looking for one that really fits your loved one's personality. Are they into cars? Hate birthdays? Take pride in their experience? Fortunately, our 90th birthday gift ideas include something for everyone. You only turn 90 once, so why not make your loved one's milestone even more memorable with a gift that marks the occasion? Whether it's your parent, sibling, aunt, cousin, or friend, they'll love one of the handpicked gifts from our list.